Genre: TV Pilot – Thriller
Premise: When a naked woman shows up in the middle of Times Square covered head-to-toe in tattoos, a special FBI unit realizes that the tattoos are some kind of treasure hunt… but for what?
About: Let's be honest. Nobody's really pining for the next NBC show. The Peacock's been trying to play cards at the cool kids table for a couple decades now and failing miserably. I've seen mom jeans with more swag. But I think they're finally realizing that if they don't change, their feathers will wither and die. The Big 3 networks are being squeezed out slowly enough that they don't quite realize it, and it's the young guys with no power inside these companies who are screaming: ACT NOW! A cool show at least gives you some leverage, and Blindside is a show they're putting a lot of hope into. Not only did it snag THE hottest actor that EVERY network in town wanted for their show in Sullivan Stapleton, but it had the coolest poster title page I've seen in a year reading scripts. Blindspot is a JJ Abrams 7 course mystery box feast. And that is both its biggest strength, and most crippling weakness. Creator Martin Gero has written for the HBO show, Bored to Death, as well as for BOTH Stargate shows.
Writer: Martin Gero
Details: 4th draft (Jan 18, 2015) – 61 pages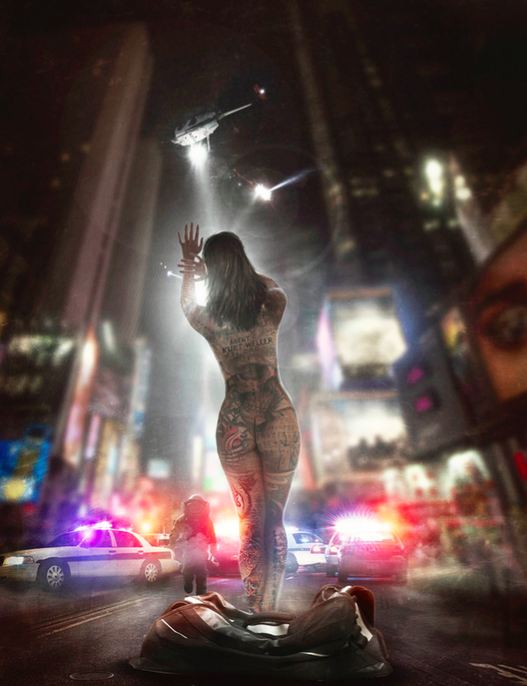 Pilots are funny. You have to give us something so captivating that we'll want to come back for episode 2. But you don't want to give us something so big that there's no way episode 2 (and 3, and 4) can match it. Who wants to go Coney Island after you've been to Disney World? After reading Blindspot, I'm wondering how it's going to make every ride Magic Mountain.
I mean, we have a scene where a subway train must race to avoid an underground tsunami. And we also have a man who's trying to blow up the Statue of Liberty. What's episode 2 going to be about? Preventing the space station from falling out of orbit? Episode 3? Going back in time to kill Hitler?
Blindspot is a ride and a half. But something tells me it's unleashing a hurricane so strong, it has no choice but to run out of steam by the time it hits land. It's the kind of experiment that's worth taking though in this ultra-competitive market. If you're going to set the bar, you might as well set it high.
Blindspot starts out with an immediately arresting image. A naked woman emerges from a bag in the middle of Times Square covered in tattoos with no memory of who she is. One of those tattoos reads simply: "Kurt Weller – FBI."
Cut to Kurt Weller, a member of FBI's CIRG unit (Critical Incident Response Group). No idea how this group's different from every other FBI unit, but that's not important when you see Weller being a BADASS and taking down an Ariel Castro type before he can kill the four women he's been holding hostage in his house for a decade.
Weller's notified afterwards of our mysterious Jane Doe and her artistic rendering of his name on her back. They do some tests on the poor girl but she can't remember a thing. It's Weller who realizes that her tattoos are some kind of treasure map. He keys in on one that leads them to an address where a Chinese man lives.
It's here where Jane first learns she speaks Chinese, and, oh yeah, CAN F*&%ING TAKE PEOPLE DOWN WITH THE FORCE OF RHONDA ROUSEY. Clearly, Jane's had training. But from who? From where?
A clue at the house leads them to Cho who they quickly learn is on the run. A video he's left on his laptop indicates that he's going to destroy the Statue of Liberty. Weller and Jane rush to stop him and as they get closer, it's less clear who's conducting the train. Is it Weller? Or is it Jane?
I don't think it's a spoiler to say they prevent Lady Liberty from being destroyed, but it's afterwards when the real fireworks fly. Maybe, just maybe, Mysterious Jane is Weller's long-lost sister. And maybe, just maybe, she was a co-conspirator in this little amnesia party. But why? What is it, exactly, that Jane plans to do once she regains her memory?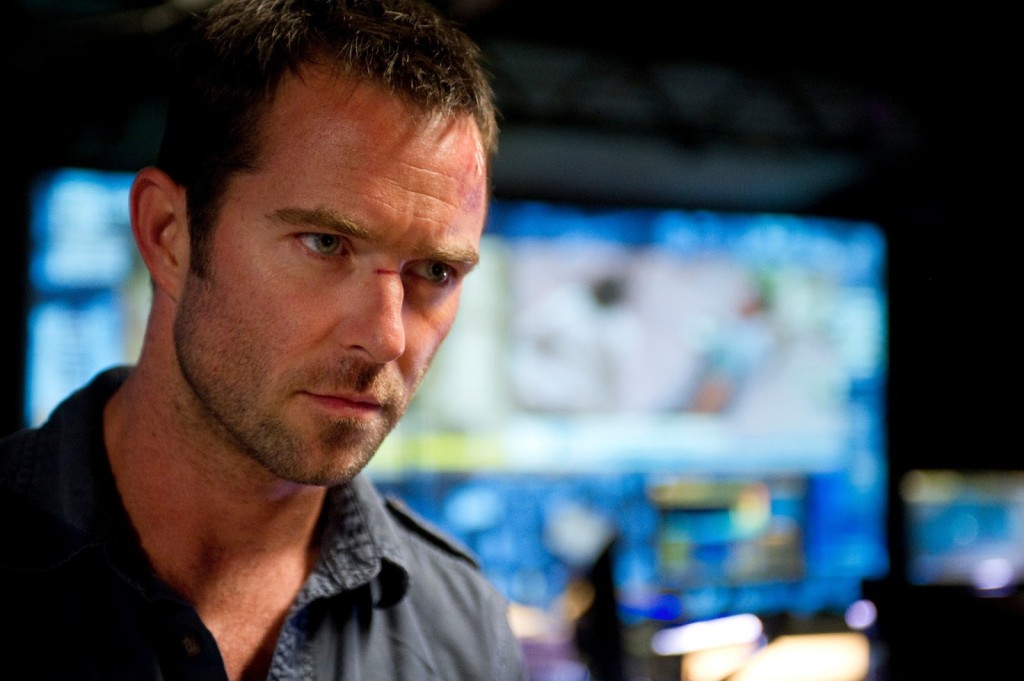 Sullivan Stapleton
Somewhere, between approving a digital X-Wing shot and adding a deeper Chewbacca roar, JJ Abrams is smiling. If there's a pilot that celebrates Abrams' mystery box method more than Blindspot, I haven't read it. Jane Doe is a mystery. Jane Doe's tattoos set up a mystery. Weller's sister disappearing when he was young is a mystery. Our Chinese man on the run is a mystery.
But as a wise writer once told me. "Yeah sure, you can mystery box your script to death. But at a certain point, if that's all there is, people will get bored." Indeed, I think Blindspot falls a little too much in love with its own mysteries, and ignores some of that emotion you need in order to connect with the audience. Which is what we were just talking about yesterday with Furious 7.
It's funny because a couple of weeks ago I reviewed AMC's "Badlands," and complained how although it set up a lot of intriguing relationships, it lacked the multiple mystery boxes required to pique our curiosity for future episodes. Blindspot does the opposite. It gives us all the mystery boxes we could ask for, but doesn't do anything on the relationship front.
If you're forced to choose between these two, I'd much rather you focus too heavily on relationships than mystery boxes. That's because TV, more so than film, is CHARACTER DRIVEN. We have to see a future with the characters, since we plan on being with them for years. Mystery boxes are a lot like heroin. Their emergence gives us this big initial high, but that high dies out quickly. And then what do we have left? Character exporation, whether it be between characters or within the characters, reaches the audience on a much deeper (and more lasting) level.
That's why I loved Lost so much. Sure that show was Mystery Box Theater, but you can't deny how intensely it explored its characters. It devoted half of every episode to flashbacks specifically so we could explore the characters. That may be the biggest lesson here. If you can write a pilot that pulls off the mystery boxes AND character exploration, you've probably got yourself a winner.
I'm torn on what to rate Blindside. Despite its shortcomings, it moves breathtakingly fast. I may not know these characters as well as I wanted to after the read, but how many 60 page scripts can be read in 30 minutes? And not just because the writing is sparse – but because the plot is so well-paced.
And it's FUN! We can't dismiss the fun-factor after seeing the way Furious 7 dominated the weekend. The average person isn't like you and me, nitpicking every little issue in a story. They're people who like to unwind and watch something entertaining. Blindspot is definitely that. So for that reason alone, you should probably check it out.
[ ] what the hell did I just read?
[ ] wasn't for me
[x] worth the read
[ ] impressive
[ ] genius
What I learned: If a script is very strong in one area, chances are it's weak in another. Identify that weak spot and address it. Blindspot's strength is that it moves exceptionally fast. It's an extremely well-paced script. But a big reason for that is that there's no character exploration. The script's fast cause it doesn't have any of those slower scenes that explore character conflicts or character problems. You need those in a script (especially a TV script).