Genre: Period Drama
Premise: Set in the 1700s, Knifeman chronicles the birth of modern surgery.
About: Knifeman is one of the lucky pilots that survived AMC's in-house contest where only the best pilots, as voted for by the employees, make it to air. Knifeman is written by Rolin Jones, who created another AMC series, Low Winter Sun, which didn't make it past the first season. Rolin has also written for Friday Night Lights, Weeds, and the United States of Tara.
Writer: Rolin Jones (created by Ron Fitzgerald and Rolin Jones) (Inspired by the book, "The Knife Man: Blood, Body-snatching, and the Birth of Modern Surgery" by Wendy Moore)
Details: 50 pages (AMC CUT #3, 12-16-13 draft)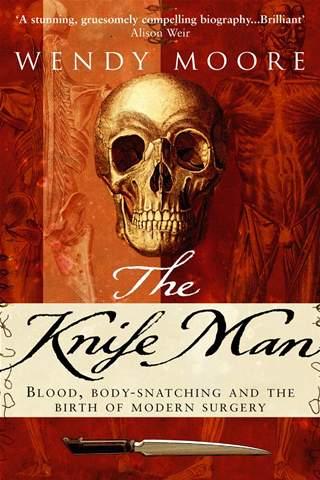 We're reaching a new era in television that I suppose was inevitable. So many damn channels are getting into original programming that the supply is usurping the demand. Shows are paying more and more to advertise their arrival but their premiers come and go without a whisper. Someone told me The Strain debuted a few weeks ago. I had no idea. "Salem?" A pilot I reviewed a while back. I guess that's had an entire season already? You could've fooled me.
It seems like there are 5 "buzz-worthy" shows on TV at any one time and if you're not one of those shows, nobody cares about you. Those shows, at the moment, appear to be Game of Thrones, The Walking Dead, Orange is the New Black, Scandal, and The Good Wife.
As for why I picked Knifeman today, it's because AMC cares more about its scripts than any other network besides HBO. So even though I don't have much interest in 18th century surgery, I knew the script was going to at least be interesting. And it was.
It's the 18th century and a bad time to be a human being. You get a head cold on Wednesday, you could be picking out your burial plot by Saturday. But you know, doctors are still doing their thing. They're selling patients on the equivalent of frog blood, but the patients don't know any better, so everyone goes along with it.
In this medical mediocrity, we follow two doctors. One is Julian Tattersal. He's an esteemed doctor/surgeon at St. Stephen's Hospital. Then there's his brother, John Tattersal. John is technically a barber. But in his spare time, he jacks recently deceased bodies from the local cemetery, cuts them open, and explores the human anatomy, looking for new ways to perform surgery and save people.
John is desperate to get in on this whole St. Stephen's gig, but for some reason, his brother Julian looks down on him, and refuses to help him get a job. Ya see? Nepotism doesn't always pay off.
Eventually, the two find themselves fighting for the same client, a man who's accumulated a nasty blood clot on the back of his leg. Julian says the only way to help him is to amputate the leg. John disagrees. He says he can get in there, tie off the artery, and the circulation will move around the problem spot. No amputation needed.
Even though John is very unofficial, the man chooses him because he wants to save his leg. The finale is the big operation, and – spoiler alert – everything seems to go well until John is finished, when the artery is tied up and the man drops dead. The end.
I'm far from understanding TV pilots as well as I do features, but I know enough to say that Knifeman does not deliver on the pilot front. First of all, the show feels way too small. If you look at a previous AMC pilot, Turn, there's a bigger overarching storyline about the United States trying to gain independence. It added stakes and urgency to the more personal storylines that the characters were engaged in.
There's none of that here. This literally has only two storylines. Julian doing work at the hospital and John doing work in his apartment. It's way too simple and way too general.
You also need a series of hooks in a TV show, whether those hooks are teasing the segment after the commercial break, teasing the next episode, or teasing the entire series. Give us a giant monster walking through the trees (Lost). Give us a potentially deadly cancer diagnosis (Breaking Bad). Give us a sister who was supposedly abducted by aliens (The X-Files). There weren't any hooks teasing anything here, so I rarely found myself interested in what was going to happen next.
For example, the end of the pilot (spoilers) has John killing this guy during surgery. And that's it. Where's the reason to watch the next episode if the question's already been answered (he's dead – oops)? We certainly don't get the sense that killing this man is going to put John in danger. He made it clear to the man (a servant) and the man's owner that he could die during the surgery.
And that was another thing about this that made it small. There were no stakes! I mean why is John working on a servant? Someone whose life doesn't mean anything?? If he dies, so what? Why couldn't it have been someone of importance in the town? Now there's some real shit on the line. If John fails, his career is over before it starts. If he succeeds, he'll be a superstar. But no, it's just a nobody who nobody cares about. And that seemed to be the theme throughout. If there was a choice between making something big and important or small and insignificant, the latter was chosen.
What I was hoping for was that, as both John and Julian worked their way through the surgeries, they'd start noticing some spooky unknown disease inside the bodies, perhaps the start of a plague. And they realized they weren't equipped to deal with this problem if it spread. That's the kind of long-standing "problem" or "hook" I was seeking from this episode but never got it.
Honestly, I don't know where this show goes from here. I don't know what the episodes are going to be about. A pilot's supposed to bring up a lot of questions that we want answered. But the only real question seems to be whether John will become an official doctor at the hospital. I'm not sure I care enough about that to keep watching.
The only time the script really came alive was during the surgeries, when the gooey bits of human flesh oozing and pumping inside the bodies were bandied about. I started to wonder – is the only reason they made this show so they could show gross surgeries? They wouldn't make an entire show just to show that, would they? And yet blood and guts were the big star here.
With all that said, I do see the potential of this world. There's something weird and unsettling about the imagery in Knifeman. A hack of a barber doing stolen cadaver surgery in his dark apartment, surrounded by jars of brains and hearts and livers – that's something you can build a show off of.
They just haven't created a story yet. You need more than incisions to keep people tuning in every week. If they figure that out, Knifeman is going to be a nice offbeat alternative to the bigger shows on television. If not, it's going to end up like a botched surgery on E.R.
[ ] what the hell did I just read?
[x] wasn't for me
[ ] worth the read
[ ] impressive
[ ] genius
What I learned: It's risky if the only thing going on in your TV show is the immediate on-screen stuff.  It's better if there's a bigger overarching storyline or problem to give the show some gravitas.  The big mistake here was that Knifeman was only about these two surgeons and nothing more.  It needed something with some scope that hinted at a bigger story.  If we feel a show is too small in scope, we have a hard time seeing it last.