A quick thought on the Emmys.  Breaking Bad dominated with 5 wins in important categories, taking out True Detective, which only received one (for directing).  Mad Men shut out again.  Has that show lost its juice?  Also, why is Game of Thrones ignored at the Emmys?  Is that just a show for geeks?  Is it because 75% of the writing is exposition?  Do voters not take it seriously?  Share your thoughts on the Emmys in the comment section…
Genre: TV Pilot – Drama
Premise: When three high school girls do a porn video for some quick cash, the repercussions of their actions take a toll on the small town where they reside.
About: Sea of Fire was originally a Dutch show, ported over here for an American treatment. The show is being described as a modern-day Twin Peaks (I will confirm after reading it, that it is nothing like that show). This draft of Sea of Fire was written by long time TV writer, Steve Maeda, who's written on such shows as The X-Files, CSI: Miami, and Lost. – It should be noted that this is not the final draft. They would later bring in one of Shonda Rhimes's writers (on Grey's and Scandal), Jenna Bans, to do a rewrite, where she changed all the character names. Whether that means they just wanted different names or they totally scrapped this draft by Maeda, is yet to be known.
Writer: Steve Maeda (original show written by Frank Ketelaar & Robert Kievit)
Details: 60 pages (1/19/13 draft)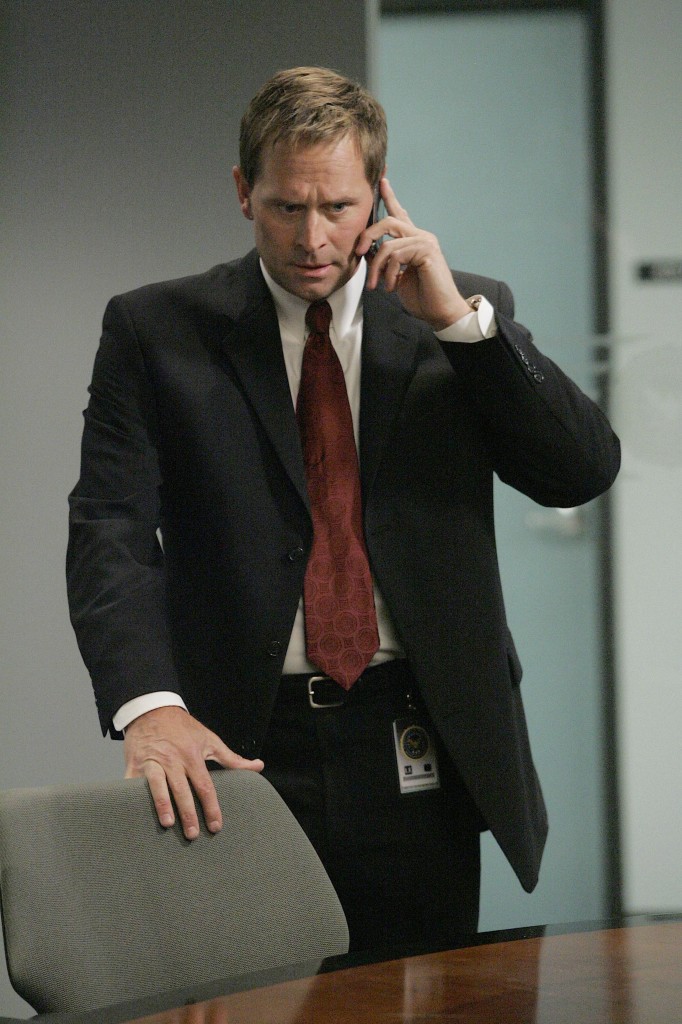 "Whoa whoa whoa. Say that again. My daughter's in what??"
When someone throws these ingredients at you, you're thinking, at the very least, you're going to read something interesting:
1) 3 high school girls secretly create a porn tape.
2) The town they live in finds out about it and the tape's repercussions slowly destroy said town.
3) Adapted from a Dutch television show.
4) Said to be David Lynchian.
This is the kind of scandalous subject matter that if you take chances and push boundaries, you can create something epic. Unfortunately, that's not what we get here. Instead, "Sea of Fire" is like a cross between the recent 90210 update and that show "Revenge." Now I've never seen Revenge, but I'm going off their over-the-top promos, where someone's always dying, coming back to life, cheating, or getting pregnant. Sea of Fire is very much in that mould.
It follows three 17 year-old girls in the town of Santa Cruz, California. There's bad girl leader, Megan, gorgeous second-in-charge Polly, and third wheel, Elena. When we come into the story, Elena is pissed at Megan for reasons that will be revealed later. But Megan couldn't care less. Being the bad girl that she is, she's already off stealing a dress for tonight's party.
Which is ironic because her father, Mark, is a cop. When we meet Mark getting ready for work, he checks his e-mail to find that someone's sent him a preview link to a new porn site. Mark is shocked when he sees that the girls in the video are Megan, Polly, and Elena.
Now this is sensitive stuff. Mark can't just put the site on blast. He doesn't want anyone to find out his daughter was in a porno. So he approaches Polly's dad, Peter, to get his take. The two agree that they should keep it quiet for now, and they definitely can't tell Elena's dad, who would go insane if he found out.
It just so happens Elena's dad is having his 50th birthday party tonight, which all the adults and all the children will be attending. It's here where Mark finds his daughter and questions her about the site. Megan is defiant. "So?" she says in that carefree way only teenagers can pull off. She wanted the money.
In the meantime, Elena storms out of the party for what is believed to be porno PTSD, and is chased by her drunk boyfriend, Slater (yes, her boyfriend's name is Slater), towards a cliff. The two get in a fight, she scratches his face, Slater passes out, and when he wakes up, Elena is gone.
Slater stumbles back to the party, where he's immediately questioned as to the whereabouts of Elena. When he says he lost her, an impromptu search begins. But when questions start getting asked, everybody's individual secrets prevent would-be clues from being revealed. And for that reason, it doesn't look like poor Elena will ever be found alive.
I want to start off by talking about false hooks. A false hook is when you hook us with one element, but then the show or the movie really isn't about that element at all. So here, we're hooked by this idea of a scandalous porn video. That's the unique factor that pulls us in. But Sea of Fire really isn't about a porn tape. It's about a girl who's gone missing. And isn't that the premise for every other show on television?
So I felt a little duped. On top of this, it drives me crazy when writers fudge the catalyst moment. The catalyst moment is the moment that propels your story into motion. So here, it would be the disappearance of Elena. If you cheat as a writer – if you artificially hide what happened when there's no reason that the moment should be hidden other than that you want to create a mystery – that's cheating.
Here's how the disappearance plays out. Drunk Slater is near a cliff with Elena. He's yelling at her, asking her what's wrong. He grabs her. She scratches him to get away, he falls on the ground and…COMMERCIAL BREAK! When we come back, waddaya know! Slater is conveniently passed out. When he wakes up, Elena is gone. This conveniently sets up a multitude of possibilities of what could've happened (Elena fell off the cliff, she ran away, Slater did something to her and forgot, she was taken). But the moment is so manufactured (why would someone pass out after getting scratched, drunk or not??) that we don't buy it.
And now, the entirety of the show – the next 100 episodes – is built off a catalyst that was a cheat. I can't stand that. Why not just have Elena walk into the night to get some air then never come back? That would've been so much more honest and terrifying (our imaginations would've gone crazy trying to conceive of what happened). I guess because with the scratches, that makes Slater a suspect, a plot point they can play with early on. But if you're sacrificing a believable catalyst to get that plot point, is it worth it?
Sea of Fire also had a bad case of "old people trying to write what they think young people sound like and are 7 years behind" syndrome. So the teenage characters were using ill-fitting words like, "A'ight" and "True dat," – real cringe-worthy stuff. If you're older and you want to write teenage dialogue, go over to Youtube and search videos of teens talking. Don't go off your memory, as your memory is typically way behind. Teenage-speak is constantly evolving. If you're behind on it, the story loses credibility.
I'm not saying Sea of Fire is all bad. It's soapy (REALLY soapy – like you won't need to bathe for weeks after watching it). But it niftily gives all its characters secrets that prevent an easy case. For example, Polly's mom, Kristen, is cheating on Polly's dad. When Kristen and her lover leave the party for a make-out session, they see troublemaker Freddy break into a construction site. When Freddy is later tabbed as a suspect in Elena's disappearance, Kristen can easily provide an alibi for him, but of course won't, since she would then have to admit to her affair.
There was a lot of stuff like that in Sea of Fire, and for the most part, it worked. But there's a big difference when you see all these soapy elements in a show like Sea of Fire, which is taking itself seriously, and a show like How to Get Away With Murder, which is just having fun. You know "Murder" is silly entertainment so you go with it. With Sea of Fire, you get the feeling it's aspiring to be more, so the over-the-top soapy stuff sometimes undercuts the drama.
But it's weird. One of the things I've noticed since focusing more on TV is that it draws a lot more on its soapy elements that I'd previously thought. Even some of the most esteemed shows, like Game of Thrones, are essentially about who's sleeping with who, who just got pregnant, who murdered who, and so on and so forth. But I'm not sure how a show like Game of Thrones gets away with it while Sea of Fire comes off looking cheesy. I'd love to hear your thoughts on this.
It's important to note that when I don't like one of these pro scripts or pilots, they're still pretty solid. I mean, this is definitely better than all the amateur scripts submitted to the site. But I couldn't shake the feeling the whole time that I was reading "90210: The Edgy Version." Maybe the creators felt the same way, which is why they brought in Bans? Either way, I hope they figure it out. It's definitely an intriguing premise that I don't feel was utilized to its full potential.
[ ] what the hell did I just read?
[x] wasn't for me
[ ] worth the read
[ ] impressive
[ ] genius
What I learned: Tell us your story through action and dialogue. Do not tell it through description. If I see the bartender discreetly place his hand between married Kristen's legs and she seems to like it, and this is then followed by some flirty banter between the two, I don't need the writer to tell me in the description: "And that's when we realize it. KRISTEN IS HAVING AN AFFAIR." I think it's pretty clearly implied that Kristen's having an affair already. (note: I've heard professional writers complain that when they try and be subtle about this stuff, dumb execs don't get it, which requires them to be more on-the-nose in subsequent drafts. So that may be the case here. But it's still a practice I'd avoid as a spec writer, as it can easily ruin a shocking moment).