Scriptshadow 250 Contest Deadline – 80 days left!
Genre: TV Pilot – Drama
Premise: A group of Appalachian rednecks declare war on the local government when they're told they must leave their mountain.
About: WGN continues their slow move into scripted television. They've been happy with Salem and Manhattan (liked the Salem pilot, Manhattan, not so much) and now want to add another player to that list, with Titans getting a 13-episode order. Titans comes from Rescue Me's Peter Tolan and Paul Giamatti, as well as playwright Peter Mattei, who wrote this first episode.
Writer: Peter Mattei
Details: 70 pages (6-3-14 draft)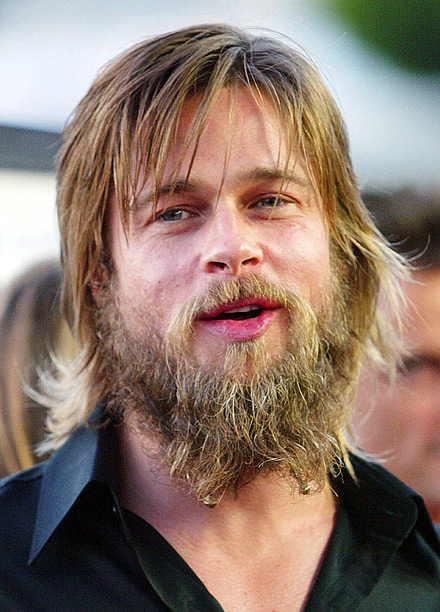 Brad Pitt can obviously play a redneck.
One of the nice things I've noticed about television's reinvention is the 13-episode order. As you know, networks have always ordered 22 shows, which is an insane amount of television to write in such a short period of time when you think about it. This is why old-time television was so boring. You had to have a procedural or recurring format (cops, detectives, medical, law) in order to keep the episodes easy to write (it's easy to have a new murder every week, a new emergency, a new court case).
10 and 13 episode orders are way more serial friendly. Since you don't have to come up with so much product, you can move away from the pre-formatted dynamic and start telling more long-form stories. This is why TV has gotten so good. It's basically become a bunch of long movies.
Today's show is no different. It's about Appalachian rednecks. Would you have been able to make that show in 2002? No way. Every network exec with a beamer would have said, "Where's the show past episode 5?" And the thing is, there may not BE an episode past 5 but at least these same execs now know that it's possible with all these past successes. I mean when you think about how long Breaking Bad ran without a single set-structure episode, it's kind of amazing.
So does Titans have that kind of longevity?
Not sure how many redneck clans you know but these Appalachian gypsies run a different kind of operation than you and me. While we might, say, go to a movie with our dads, fathers and sons in the Kentucky Mountains like to beat each others' brains in for entertainment. And that's how we meet Big and Lil Foster, members of an extended backwoods clan known as the Farrel's.
The group is both infamous and above-the-law in these parts (we get to know them doing a Walmart run where the workers watch them steal a thousand dollars worth of items, their mouths agape like they've just seen Justin Bieber) but their dominance is coming to an end.
The state of Kentucky sees dollar signs under the mountain they're squatting on in the form of coal. The Farrel Clan has faced threats like this before. But this one is official. It's coming straight from the government.
The Farrels turn to their group elder, 75 year-old wheezing wheelchairing cancer sufferer Lady Ray Farrell. Lady Ray is not one to claim that violence solves all, but this appears to be a declaration of war, and so, she announces, that's what they must prepare for.
Speaking of Lady Ray, it's no secret her time on earth is as limited as toothpaste in a redneck supermarket. So a mix of power-hungry hillbillies are squaring up to take her place. Big Foster is the leading contender, but he's no favorite of Lady Ray and getting her endorsement seems to be the key to winning the election.
Instead, it's Asa Farrel, a dark horse, who has the inside track. The only Farrel to have gotten an education, it was just a week ago that Asa tried to kill himself. But having seen the light, he's back with something the Farrel clan has never had on its side before – knowledge. Big Foster is quick to sense Asa as a threat and puts him on his shit list. The question is, how far will Big Foster go to become the new leader? For a community that basically prides itself on being inbred, I'm sure the answer is: far enough.
Titans is a pilot with a lot of potential that's about as messy as the redneck clan it follows. With that said, it's so different from everything else out there that you can't look away.
The script's strong-point is the set-up of an impending redneck-versus-our-necks war. You sense that these gypsies will do anything to keep this mountain, and that's the kind of suspense that'll keep an audience coming back week after week.
Strangely, as soon as that war is mentioned, which is around the midpoint of the pilot, the script switches gears to a set of new storylines and gets totally lost in the process. It gives us a scene where the Farrel's rob a random old man in town, followed by the beginning of a Farrel moonshine business followed by a kid killing his father after getting drunk on said moonshine.
On the one hand, it makes sense to start setting up story threads for future episodes. But it seems weird that we'd set up this giant war in the first half of the script only to move on to more mundane stuff in the second half. Every script should build to its finale, whether is be a feature or a TV episode, with the biggest event coming at the end. We needed the announcement of war to come at the episode's conclusion. Sure, we get a murder, but since it's born out of a moonshine storyline that only commenced 10 pages ago, it felt tacked on and anti-climactic.
Another frustrating thing about this episode is that there are all these hints that things are going to turn supernatural, yet they never do! Half the time I'm waiting for the group to turn into werewolves (wolves are a big thing on their mountain) and the other half for someone to perform a magic spell. In the very end of the episode (spoiler) we see the ground rumbling above a grave. Does this mean we're now going to get a zombie show???
I think you owe it to the audience to tell them what your show is about in the pilot. I don't see how it works if you keep your main hook a secret. At the very least, have the ending shot tell us, and let that be the cliffhanger. A rumbling ground isn't enough. Audiences don't have the patience these days to be dicked around. They have too many options.
It's also interesting to note that we're seeing yet ANOTHER sitting king who must choose his/her successor storyline. We saw this with Game of Thrones, Empire, Badlands, Tyrant, and now Titans. Some of you may be wondering WHY everybody's picking this storyline. Are they all just copycats who can't come up with their own ideas?
The answer is CONFLICT. This concept sets up a group of people fighting for the crown, and when you have that, you have conflict, deception, betrayal, and DRAMA built into the premise. You always want to come up with an idea that does the work for you. If you set up a story where a bunch people are all fighting for the same thing, the story is going to write itself. If you set up a story where a group of people are all trying to be better people, you'll have to work a lot harder to find the drama since it isn't naturally there. That's why this setup is so popular.
Titans is a little like the moonshine its characters produce. It's not the most pleasant way to drink, but in the end, it still gets you drunk. There's a messiness here, for sure. But the subject matter is so unique, I can't help but see the potential in the show.
[ ] what the hell did I just read?
[ ] wasn't for me
[x] worth the read
[ ] impressive
[ ] genius
What I learned: Titans only did this for a page, but it was enough to frustrate me. The end of your script should be the FASTEST PART OF THE SCRIPT TO READ. Everything's coming together so our eyes should be racing down the page. I don't understand, then, why writers write some of their thickest paragraphs in the final 10 pages (4 and 5 line paragraphs when the rest of their script is 2-3 line paragraphs). Minimalize your action lines in the final act. If there's a lot that needs to be explained, rethink the act until there isn't a lot to be explained. And if you absolutely need a lot of words to tell the reader what's going on, break your paragraphs up into smaller pieces.