Genre: TV Pilot – Period/Drama
Premise: (from AMC) Set in the summer of 1778, "Turn" tells the story of New York farmer, Abe Woodhull, who bands together with a group of childhood friends to form The Culper Ring, an unlikely group of spies who turn the tide in America's fight for independence.
About: "Turn" is a new show that premieres on AMC this April. For those hardcore fans of Billy Elliot ("Go Billll-ly!") who are waiting for that Kickstarter campaign to fund a sequel, here's a consolation prize. Billy Elliot himself, Jaime Bell, is starring in "Turn" as the main character, Abe. Writer Craig Silverstein has written on shows like Bones and Terra Nova.
Writer: Craig Silverstein (based on "Washington's Spies" by Alexander Rose)
Details: 60 pages – 11/01/12 draft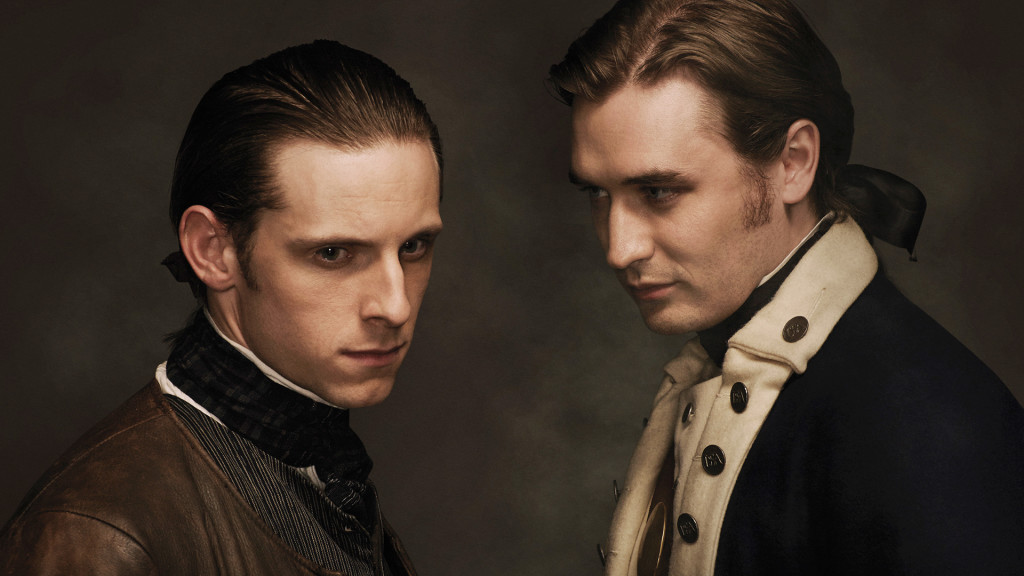 One of the things I'm still trying to figure out is if it's harder to sell a feature script or harder to get a TV pilot on the air. The more I look into it, the more I'm finding that it's really hard to get a show on the air. When you're outside of it, and you see new shows on TV all the time, you just assume everyone who wants a show gets one.
But I suppose that's the same way I saw movies before I moved to LA. There were so many of them, I erroneously assumed that all you had to do was write something reasonably competent and you could start planning your red carpet poses. Once you entrench yourself in the industry, however, you realize how few of those coveted golden tickets are being handed out.
Personally, I think the TV industry is about to enter a tough phase. Everything's looking rosy now, but what everyone's finding out is that just because you come up with a hip unique idea, it doesn't mean people are going to watch it. The competition is so fierce and spread out amongst so many platforms and channels, that more and more shows are arriving with a thud. AMC found that out when they premiered Low Winter Sun.
I mean what if I told you that JJ Abrams was producing a supernatural show and Gravity director Alfonso Cuaron was going to direct the pilot episode. You'd say, "Home run," right? Well, I don't know if you saw the pilot or not, but Believe is a lot closer to a strike-out than a home-run. And that gets you thinking – if THOSE GUYS can't create a sure thing, then who can??
Well AMC takes a lot of pride in their development style and their shows, so let's see if they've gotten back on track with a formula.
It's Connecticut, 1778. Now my history is a little rusty. But I thought that was 2 years after American gained independence. That doesn't appear to be the case though, as Connecticut, as well as many other states on the East Coast in "Turn," appear to be under English rule. Maybe we only signed our Declaration of Independence in 1776, but it took us a few more years to actually get everyone else to realize it?
Jesus, I couldn't even tell you what year Scriptshadow started. Why am I trying to give you a history lesson about America?
Anyway, a young farmer named Abraham Woodhull is struggling to get his cabbage crop ready to sell (everyone knows, if you need quick drama, add cabbage), but it turns out half of it is rotten. Woodhull's forced to sell the remaining cabbage on the black market, where he can get a higher price, but while he's away, a key British general is killed, and he's blamed!
Luckily, Abe's father is in tight with the British (he even lets them stay at his house!) and convinces them to let his son go. Since Abe's father's maid knows how to cook a mean pulled pork sandwich, the British figure they'll overlook Abe's errant ways and blame some other innocent soul.
This would end up being costly, however. Soon after, Abe's approached by the rebellion (sorry, I only know how to use Star Wars terms sometimes) and asked to start SPYING on the British so the Yanks can get a leg up on when and where they're being targeted.
To complicate matters, Abe must include his secret childhood love interest in the ruse, even though both he, and her, are married to other people! Scandalous! With his lover's house being at the top of a hill, it's viewable by all, and therefore the perfect hill to send messages from.
His lover starts using special laundry drying combinations to alert the Americans when and where the British are going to attack next. Can you believe that! We're alive today because of somebody's laundry! Which reminds me that I have to do my laundry. Hmm, I wonder if my laundry will save someone someday.
How will Abe justify a life where he's lying to the person he loves most in the world (his father) and loving a woman who he can never have in his life (his childhood sweetheart), all while trying to run a business and not allow anyone – his wife, his friends, the Redcoats – to find out that he's helping America win their independence? You'll have to watch Turn to find out.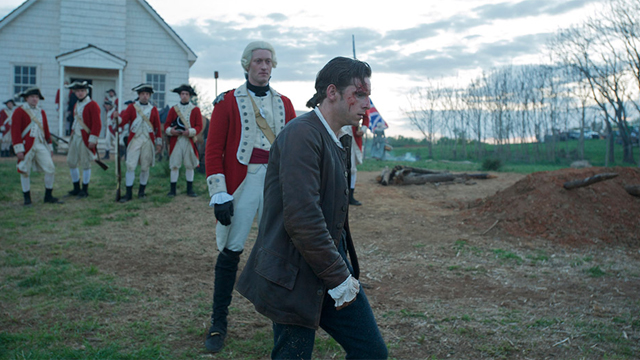 Despite being off my rocker, I knew I was going to like Turn within a couple of pages. It had a really good opening scene specifically because it said "f*ck you" to the period piece.
What I mean by that is, when a reader opens a period piece, they're expecting boring men in costumes to talk about politics and the latest price of silk. Your job is to let them know that you're not going to be that writer. You want to tell a story. Doesn't matter if it's 1778 or 2278. You're going to give them a compelling dramatic scene that could work in any script.
So here, we're coming in just after the British have massacred a group of American soldiers. The liefeless soldiers are on the ground, and a British soldier is going to each one and PLUNGING his bayonet into them to make sure they're dead. But we learn something early on that the British soldier doesn't know (dramatic irony!). The final American soldier is still alive!
The British soldier gets closer and closer. When he gets to our soldier, he JAMS his bayonet down, only for the American to spin out of the way and stick his own knife in the British soldier's groin, then killing him soon after.
But there's another problem. The rest of the British soldiers are up on a nearby hill, waiting for this soldier to finish the job. So our American must discreetly switch uniforms with the Brit. When he stands, he's immediately spotted by the other soldiers, but since he's facing the other way, they assume he's still their soldier.
They ask him what's taking so long, and in order to sell the ruse, he has to go back through all of his soldiers, soldiers he was fighting with 15 minutes prior, and stab them one by one with his bayonet.
It's a wonderful scene, and it draws its power not from anything distinctly "period," but from a clever use of suspense and dramatic irony. A lesser writer might not have shown that our soldier was still alive as the bayonet got closer. They might have waited until the British soldier tried to stab him before revealing the American was alive (there goes the suspense!). They also might have had the American run for it right afterwards. But Silverstein knew he had a great scene in the making and so he milked it, creating a SECOND leg to the scene where our American had to pretend to be a British soldier. It was really good stuff.
"Turn" is also a show that utilizes one of the most powerful storytelling techniques in our writing arsenal – the secret. Give your character a secret and make the stakes of revealing that secret HIGH (such as death), and you can captivate an audience for hours.
This is why spy films and TV shows (Alias, for example) do so well. The main character is usually hiding something from everyone else, which means there's subtext built into every scene they're in. When Abe is forced to lie to his father in front of the British, we feel his struggle. We could never feel that if we didn't know he was lying, or if there was no lie to be told in the first place.
Go ahead and try it. Give one of your characters in your current script a big lie, then put him in a scene with people who would be negatively affected by that lie, if it came out. I bet you you'll have a pretty good scene.
There were simple other things that worked too. People didn't say to each other on-the-nose lines like, "Oh, the crops are rotten again." We SHOWED Abe bend down and check his cabbage, only to find maggots on it. By disgustedly hurling the cabbage into the field, that's all we needed to know the cabbage was rotten. Much more effective than a dialogue line (always SHOW, don't TELL).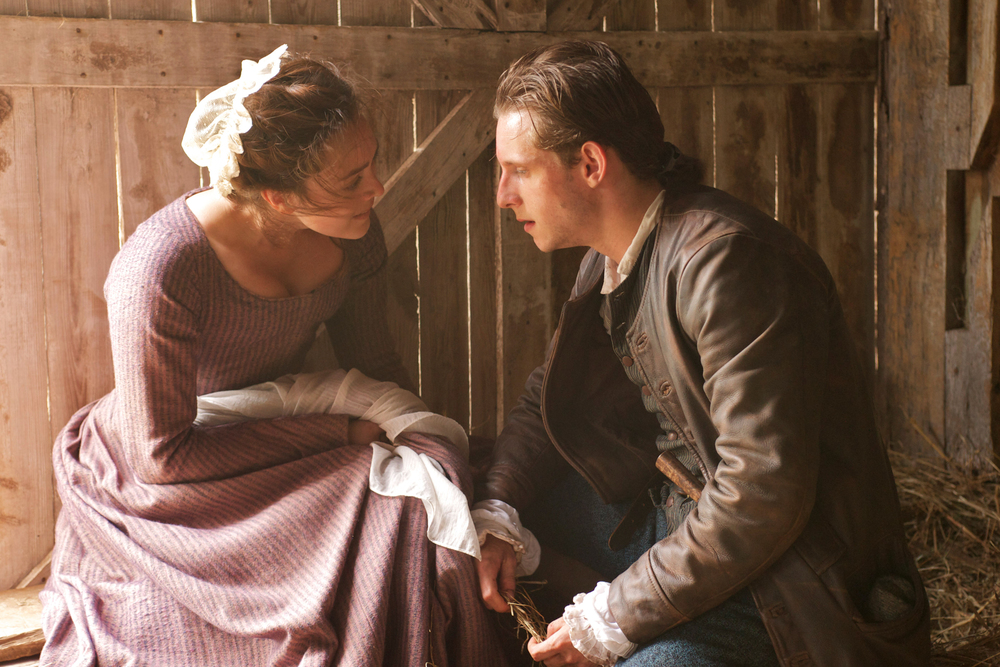 Silverstein also avoided a common period piece pitfall, one that many amateurs make – slow plodding scenes they believe are excused by the fact that it's "period." Despite it being 1778, most scenes here were taut, driven by some urgent need from one character or another.
For example, when Abe goes to his old girlfriend's place (Anna) to set up their first signal, Abe isn't allowed to just sit down, have a lemonade, and talk about whatever comes to mind, no worries in the world. He had to be quick. He couldn't be seen with Anna, less others get suspicious. So the two are trying to talk about a million different things at once, but Abe must leave, terrified that the British could be back at any second. There was never a "safe" feeling in this script. Everyone was always looking over their shoulder, worried about something. And those are the things that elevate a script, that give it that next-level dramatic punch.
The only bad thing I have to say about "Turn" is that I could care less about the Revolutionary War! Go Paul Revere. Go Johnny Appleseed and Paul Bunyan. I love all you guys. But when I have free time, I'm not checking out how many soldiers got knee wounds in the Battle of Terre Haute. It just isn't my thing. And as I've stated before, a script can only wow you so much if the subject matter isn't your cup of tea.
So I'm afraid some of my rating has to be dumped along with that tea into the Boston Harbor. And just a day after St. Patty's Day. Still, this was a really well-written pilot. Definitely worth checking out if you can find it. Or just wait until April.
[ ] what the hell did I just read?
[ ] wasn't for me
[xx] worth the read
[ ] impressive
[ ] genius
What I learned: Sometimes the threat of danger is more compelling than danger itself. Anna was living alone until a slimy nasty British General was positioned at her home. You knew this guy was bad news, that it was only a matter of time before he did something awful to Anna. But the thing was, it never happened. It didn't have to. Just the THREAT of it happening was enough to put us on edge. Writers are so obsessed with having something terrible happen, that they forget the IMPLICATION that something terrible is going to happen can have so much more power.
What I learned 2: When in doubt, add cabbage.