Genre: Drama
Premise: A record executive in the 1970s suffers a mid-life crisis and goes back to his roots, hunting out new talent for his dying record label.
About: With Boardwalk Empire ending, Martin Scorsese and Terence Winter needed a new show to do for HBO. Enter rock n roll! And because it's Scorsese, you better believe it ain't set in modern day. Part of me thinks Scorsese hasn't reached 2014 yet. He's about 30 years behind us. So for him, he's actually directing contemporary cinema. As for Terence Winter, besides creating Boardwalk Empire, he also wrote Scorsese's The Wolf of Wall Street, a bunch of Sopranos episodes, the 50 Cent movie Get Rich or Die Tryin', and even a couple of episodes of Xena: Warrior Princess.
Writer: Terence Winter
Details: 59 pages (Revised Draft, April 4th 2013)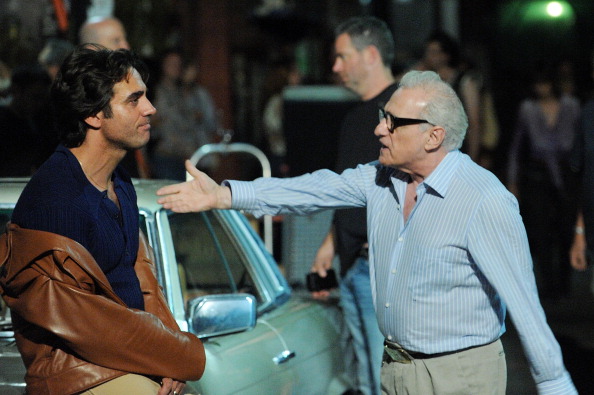 Bobby Cannavale will star in the new HBO project
Do I think Scorsese repeats himself a little too much? Ummmm, maayyyy-be? I mean, he definitely has a formula down for how he tells a story. And back in the day, when that approach was new, it was fun. But now, because it's the only thing he does, you feel like you know all the beats of his stories before he does. Once the viewer is able to predict everything, there's no reason to keep watching.
When you couple that with rock and roll as a subject matter, you're walking on thin ice. Rock and roll is SO hard to do well because cliché is woven into its DNA. There's a reason "sex, drugs and rock and roll" is one of the most popular phrases in history. Those things are always lumped together and as a viewer, there are only so many times you can see a musician ruining his career with drugs.
You gotta find a different way to do it. And, as I mentioned, with Scorsese directing, I was worried whether that could happen or not. Still, I held out hope that I'd be surprised. Let's see if I was.
It's 1973. 40-something Richie Finestra is a record exec at the dying American Century Records. The last remaining big band they have under their label is Led Zeppelin, and it looks like they're going to jump ship too.
At American Century, we meet Richie's team, which includes a combination of young A&R kids who aren't finding enough new music and a bunch of middle-aged guys who are trying to hold onto the past.
Over the course of the pilot, we experience a group of flashbacks, when Richie was an up-and-coming exec, as he signed a talented young black musician named Lester. Richie promised Lester that if he made an album for him, he'd let Lester record an album of the music he loved, which was Blues. But that never happened, and now, sadly, Lester has become Richie's driver, his musical dreams long forgotten.
As the days pass, Richie finds himself more and more frustrated with the direction of the company, and decides to make a radical change. He demands a divorce from his wife. Then he downgrades his position at the company to talent scout. He's going back out there and do what these young bucks can't – find music.
But the plan is thrown for a loop when Richie finds himself at the home of a couple of business associates and things get out of hand. During a fight, one of the men is accidentally killed, and Richie and the other associate decide to toss him into an alley in the hopes that the cops will think someone mugged him. Needless to say, a homicide detective shows up at Richie's work the next day asking questions. We'll see just how long Richie and his secret can last.
Okay, first question. Was it cliché? Yes. Pretty much every character here did some kind of drugs. Just once – ONE TIME – I'd like a character in a music movie not to do drugs. A character who shuns it. What's the harm? Having one original character in this world? Because I'm pretty sure not EVERYBODY did drugs in the 70s. Although if they did, it would at least explain the fashion of the time.
The story itself was okay I guess. When you're doing a period piece, you're doing historical fiction. And when you're doing historical fiction, you're trying to educate (in an entertaining way) the viewer on the subject matter, whether it be casinos, money, the mob, whatever.
So I was really looking forward to learning new things about rock and roll in the 70s. I was disappointed. There's nothing new here if you've seen Cameron Crowe's Almost Famous. And that's not good. With a movie, you only have a limited amount of time to get into details. With TV, you have an unlimited amount of time. TV thrives BECAUSE of the details. I get that this was just the pilot, but seeing a hot young singer bang a chick then pull out a heroin needle and shoot up, or watch two executives binge on coke until they were clueless… I saw that stuff 40 movies ago.
And it's tough. I realize that you have to show SOME drug use since it's rock and roll in the 70s. But there's got to be a more original way to do it.
The one original and memorable aspect of the pilot was the Lester storyline. You know right away something's up with Richie's chauffeur, since we never see his face. And you know pretty quickly that this up-and-coming singer in the flashbacks, Lester, is probably him. So the dramatic irony feeds this aspect of the story. We know Lester's career is doomed from the get-go.
But I thought RICHIE was going to be the one to screw him over. In the pilot, it's nobody's fault. Stories become more interesting when your protagonist's' choices drive the drama. So if our main character isn't responsible for this man's dried up life, then where's the conflict?
And I don't like mushy main characters, protagonists stuck in that boring middle-ground. Jordon Bellforte (The Wolf of Wall Street) isn't KIND OF a greedy crazy asshole. He IS a greedy crazy asshole. I wanted Richie to have more wrong with him. I wanted him to be that record exec who rips off artists for his own personal gain. He's done it his entire life and finally, now, he reliazes it's wrong. He wants to change. Instead, Richie has no conviction. He's not responsible for much of anything that's wrong here. He's just around.
In the end, I'm looking for three things from this kind of TV show. I want to learn something new about the subject matter (we learn the intricate nature of how casinos work in Casino), I want strong interesting characters that I care about (like Henry Hill in Goodfellas), or I want a cool story. There were little flickers of that stuff here (a quick scene about how a record contract works, the Lester storyline, the murder) but for the most part, this felt like a retread of stuff we've already seen. I couldn't get into it.
[ ] what the hell did I just read?
[x] wasn't for me
[ ] worth the read
[ ] impressive
[ ] genius
What I learned: Inner conflict. You have to look at your character and ask, "What is the main conflict within this man?" "What is the thing he's at odds with every day of his life?" Because if you can find a strong conflict within a character, you're 90% of the way to creating a complex character. So with Richie, I was hoping to see him battling the fact that he screws singers over every day. He signs them to contracts he knows they'll never make a penny for, and reaps the profits for his company. And it seemed to be heading in that direction with the Lester subplot, but it never quite got there.