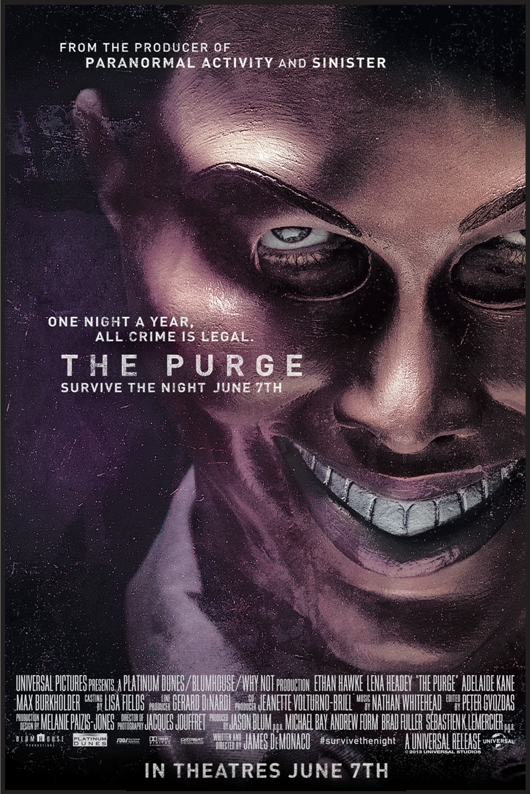 I love seeing movies break out and do a lot better than they're supposed to. Hollywood likes to think that they have it all figured out. They've got formulas. They've got formulas FOR their formulas. They can give you opening weekend numbers for a film six months before they've even shot it. As the industry continues to move closer to the way the rest of American businesses are run, a specific understanding of how each product is going to do is vital to their business plan. But every once in awhile, something still surprises them. And it absolutely KILLS them. Because even if a film does ten times better than they think it will, somebody fucked up – why didn't they know that would happen?
This is why I love trying to figure out why a movie broke out. Obviously, directing and marketing and star power are going to be huge factors in any movie's success. But it always comes back to the screenplay. Every trailer, every poster, every marketing campaign, every great acting performance – all of those things stem from the screenplay. And when it comes to the screenplay, there are two things determining a film's success at the box office: The first is concept. You gotta give us an idea that will make us come to see the film. And the second is execution. This will determine if people come back again and if they tell their friends to see it.
Now what surprised me as I looked back at the box office over the last couple of years was that there was no out-of-nowhere mega breakout hit. There was no Paranormal Activity or The Blair Witch. No My Big Fat Greek Wedding or Slumdog Millionaire. So maybe the studios ARE getting better at knowing what works and what doesn't (or maybe it means they're not taking enough chances). However, there were plenty of movies that over-performed. Here are five of them, and what they can teach us about screenwriting.
The Purge
Projected box office: 20-25 mil
Actual box office: 65 mil
What The Purge teaches us is that the clever high concept idea will never die. If you can come up with a cool exciting premise, somebody will buy your screenplay, it will be turned into a movie, and that movie will do well. The Purge asks the question, "What if for one night every year, there were no laws? You could commit any crime you wanted?" That's why people went to see this movie, because of its concept. To demonstrate the value of this, consider a near replica film that came out later in the summer, You're Next. Both films were about a family stuck in a house being hunted by people with masks. But You're Next didn't even come close to doing The Purge's box office, despite being a better movie. Why? Because it didn't have that catchy concept. It's why I beg and plead with you guys that before you spend the next 6 months to 2 years writing a screenplay, make sure your concept is something people will be excited to see. Not "want to see." But BE EXCITED to see.
We're The Millers
Projected box office: 60 mil
Actual box office: 142 mil
I reviewed this script way back in the day and wasn't impressed. It felt flat and generic. However, I always thought the idea was good, so I'm not surprised people showed up on opening weekend. But the reason this movie went from a solid opening weekend to nearly 150 million dollars was the script, the script, the script. The script REALLY improved, becoming less about random funny jokes, and more about the relationships and the growth of the characters. When you write a comedy, you want to focus on change. You want all of the characters to grow and become better people by the end of the story. Amateur screenwriters think this is cliché and cheesy and avoid it. Professional screenwriters know it's the trick to make the movie feel complete, feel like it was worth the ride. If the people we're watching can change, we think we can change. Which makes us feel good, which makes us talk about the movie fondly afterwards. Which makes our friends want to see it. We're The Millers buttered itself up in heart. It was about a non-family becoming a real family. It wasn't just funny. It made you feel good.
The Hunger Games
Projected box office: 125-175 mil
Actual box office: 408 mil
The Hunger Games might seem an odd movie to include on this list, but not in any producer's wildest dreams did they think this film would hit 400 million.  Many people chalk this up to the YA novel phenomenon (which has only begun to hit us, for better or worse) but don't fool yourselves. Hopeful YA books-turned-movies Beautiful Creatures and The Host couldn't crack 30 million. So Hunger Games was by no means a sure thing. To me, there were a couple of key ingredients to the film's success. First, IRONY. With film, the right ironic angle can be like audience crack. And here, it's as ironic as irony gets. Kids fighting in a game to kill each other. Kids aren't supposed to fight to the death, so we're intrinsically drawn to that idea. But I think a lesser known ingredient to the film's success was the simplicity of Hunger's idea. Remember that in this day and age, you gotta be able to sell a movie to an audience within seconds, which is why so much emphasis is put on the logline. If you can't explain your screenplay in one simple sentence, how are producers and studios going to explain it on a billboard? Or in a 30 second TV spot? All you need to know about The Hunger Games is that a game is being held where kids are trying to kill each other. You immediately understand the film. I must've seen that Beautiful Creatures trailer 7-8 times and I STILL can't tell you what that's about. It's too confusing. The Host was a little clearer, but not really. This girl is taken over by an alien host. But why? And what happens then? It doesn't sell itself easily. Back to the crème de la crème of YA adaptations, Twilight – a girl falls in love with a vampire. Simple and to the point. I'm not saying that every single script you write needs to be boiled down to one easy sentence. I'm saying that if you're writing the kinds of movies you hope to sell to a mass audience, they do.
Argo
Projected box office: 60-70 million
Actual box office: 136 million
Argo is one of wackier studio movies I've seen do well. Its success can be broken down into two key categories. First, it's a combination of two subject matters that aren't supposed to go together. Making a Hollywood movie meets saving Americans in Iran. Those two worlds don't mesh. That intrigued people enough to show up. But Argo's box office came mainly from word-of-mouth. In other words, it succeeded because of its well-executed story. So you might be surprised to know that the film has the most traditional structure of all the films on this list, and maybe even the top 20 films of 2012. Argo is a case study in GSU. You have the goal – go save the Americans in Iran. You have the stakes – if they get caught, they'll be held hostage or worse. You have the urgency – they only have permission to be in Iran for a few days. So they have to do this fast. I don't mean to promote my book here or anything, but this is about as clean a setup for a story as there is. GSU, or traditional structure, may have been used by thousands of films throughout history, but THAT'S BECAUSE IT WORKS. It's the best way to tell a story, hands down.
Silver Linings Playbook
Projected box office: 65 mil
Actual box office: 132 mil
Got to give it to David O. Russel. He took two films with indie premises (The Fighter and Silver Linings) and turned them into big box office hits. That isn't easy to do. While there's no doubt Silver Linings Playbook benefited from the casting of two hot actors (Bradley Cooper and Jennifer Laurence), that's not the reason it made so much money. Cooper's "The Place Beyond The Pines" didn't make any money. Nor did his "The Words." And I'm still looking for a single person who saw Jennifer Lawrence's "House At The End Of The Street." There's a lot more at play here. In fact, Silver Linings does a couple of really smart things. First, it takes a genre and flips it on its head. A romantic comedy between two depressed crazy people. This is one of the easiest ways to make your spec stand out, by giving us a new take on a genre. Never forget that. Second, it gives us two really interesting characters. A bi-polar OCD semi-autistic guy with anger issues, and a clinically depressed slutty neurotic girl. We don't ever get to see those characters on the big screen, and we definitely don't get to see them going after each other in a romantic comedy. So that was new and exciting. But what I loved about Silver Linings was that it knew it needed boundaries. It knew that crazy doesn't work without a focused narrative. Cooper's character's goal to get his ex-wife back coupled with the dance competition narrative is what allowed these characters to be so nuts without the film running off the rails.
And so there you have it. My belief on why those movies did well. With that said, it's also important to admit when you don't know jack shit. And there were a few movies that succeeded over the last couple of years that have straight up baffled me. Like Lincoln. That film made 180 million dollars. I didn't think it'd break the million dollar mark. The script is all talk talk talk. Zero action. The trailer made me think of something I was forced to watch during History class. I know Spielberg directed it and Daniel Day Lewis acted in it, but the similar-in-tone (and theme) Amistad didn't do any business, and while Day Lewis is an amazing actor, he's hardly box office gold. So I have zero idea how that movie did well and am open to suggestions. I'm surprised "42" made 95 million. That film looked really generic (though they did market it well). Didn't think Ted would get anywhere near 220 million. Uber-generic Safe House's success still shocks me.  So yeah, I still have questions. But that's what makes analyzing these movies and their success so fun.