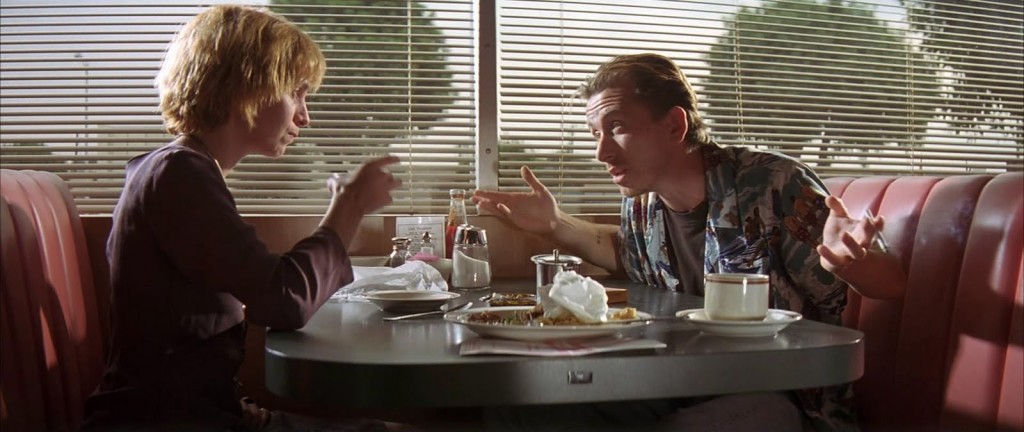 Dialogue!
All this week, I'll be putting one of YOUR dialogue scenes up against a pro's. My job, and your job as readers of Scriptshadow, is to figure out why the dialogue in the pro scenes works better. The ultimate goal, this week, is to learn as much about dialogue as we can. It's such a tricky skill to master and hopefully these exercises can help demystify it.
Our first scene introduces us to Boyd, a washed up cop, and Dominique, a drug addicted jazz singer. Boyd has just driven Dominique home from the station after she was released from a solicitation charge. As she gets out, she invites him up to her apartment for a drink. This is where the scene takes place (in the apartment). Outside of the car ride they just shared, this is their first conversation.
Boyd grabs a bottle of the good stuff off the makeshift bar.
DOMINIQUE: Not that one. That one's for show.
Fishing inside a cabinet, Dominique produces the exact same bottle. She pours them both a drink.
Curious, Boyd sniffs his bottle, then sniffs what she's poured. He smiles knowingly.
BOYD: Thanks.
Dominique's on one side of the large canopy bed. Boyd's miles away, on the other side. Morning light creeps around the drapes.
BOYD: I saw you once.
DOMINIQUE: 
Don't be coy, detective. I see you in the back, watching me. You think I don't, but I do.
BOYD: 
One, remind me to pick a new spot. And two, it was a long time ago, Chicago. A club called Mister Lucky's.
DOMINIQUE (playful): What do you know about Mister Lucky's?
BOYD: 
I knew talent when I saw it.
Dominique blushes.
BOYD: Which makes me wonder –
DOMINIQUE: 
What's a girl like me doing working at Club Cake?
BOYD: Something like that.
DOMINIQUE
: Atoning for my indiscretions. And you? What kind of cop's moonlighting for an asshole like Q?
BOYD: 
They say true success is knowing your limits and not letting others burden you with their expectations.
DOMINIQUE: 
What's that? Some new age, 12 step bullshit?
BOYD
: My way of saying we have a lot in common. Boyd raises his glass.
BOYD: To indiscretions and atonement.
They toast. 

DOMINIQUE: I'd thought it'd get easier.
BOYD: So did I.
DOMINIQUE
: Daisy said you were a good guy. Are you?
BOYD: 
When I'm not burdened by expectations? — Yeah.
DOMINIQUE
: I've got enough pricks in my life. I could use a friend with no expectations.
BOYD: Then I'm your man.
Biting her lip.
DOMINIQUE: Come on.
Dominique steps out of the ripped dress. Boyd's eyes follow long legs and firm ass down the hall.
DOMINIQUE: Bring the bottle.
BOYD: Where are we going?
DOMINIQUE: To bed. 

Sitting on the large canopy bed, Boyd's confused. Off his look.
DOMINIQUE: That one's for show.
In this next scene, we have Tom, a homicide detective, paying a visit to Vanessa, a successful novelist who's a person of interest in a murder case. The two have met before, but this is the first time Tom is seeing her alone. Her house is a huge, a mansion. The scene takes place up in her large office.
He follows her inside. He watches her body. His movements are tentative, off-balance. She turns [the music] down.
On a table by the window, he sees [a computer]. Spread around it are newspaper clippings. They are all about him. We see the headline on one: KILLER COP TO FACE POLICE REVIEW. She sees him glancing at the clips.
VANESSA: I'm using you for my detective. In my book. You don't mind, do you?
She smiles. He looks at her, expressionless.
VANESSA: Would you like a drink? I was just going to have one.
TOM: No, thanks.
She goes to the bar.
VANESSA: That's right. You're off the Jack Daniels too, aren't you?
She is making herself a drink. She takes the ice out and then opens a drawer and gets an icepick. It has a fat wooden end. She uses the icepick on the ice, her back to him. He watches her.
TOM: I'd like to ask you a few more questions.
VANESSA: I'd like to ask you some, too.
She turns to him, icepick in hand, smiles.
VANESSA: For my book.
She turns back to the ice, works on it with the pick. She raises her arm, plunges it. Raises it, plunges it. He watches her.
TOM (wary): What kind of questions?
She puts the icepick down, pours herself a drink, turns to him.
VANESSA: How does it feel to kill someone?
He looks at her for a long beat.
TOM (finally): You tell me.
VANESSA: I don't know. But you do.
Their eyes are on each other.
TOM (finally): It was an accident. They got in the line of fire.
VANESSA: Four shootings in five years. All accidents.
TOM (after a long beat): They were drug buys. I was a vice cop.
A long beat, as they look at each other.
TOM: Tell me about Professor Goldstein.
Beat.
VANESSA: There's a name from the past.
TOM: You want a name from the present? How about Hazel Dobkins?
She looks at him a long beat, sips her drink, never takes her eyes off him.
VANESSA: Noah was my counselor in my freshman year. (she smiles) That's probably where I got the idea for the icepick. For my book. Funny how the subconscious works. (a beat) Hazel is my friend.
TOM: She wiped out her whole family.
VANESSA: Yes. She's helped me understand homicidal impulse.
TOM: Didn't you study it in school?
VANESSA: Only in theory. (she smiles) You know all about homicidal impulse, don't you, shooter? Not in theory — in practice.
He stares at her a long beat.
VANESSA (continuing quietly): What happened, Tom? Did you get sucked into it? Did you like it too much?
TOM (after a beat): No.
He stares at her, almost horrified.
VANESSA (quietly): Tell me about the coke, Tom. The day you shot those two tourists — how much coke did you do?
She steps closer to him.
VANESSA (continuing): Tell me, Tom.
She puts her hand softly on his cheek. He grabs her hand roughly, holds it.
TOM: I didn't.
VANESSA: Yes, you did. They never tested you, did they? But Internal Affairs knew.
They are face to face. He is still holding her roughly by the hand.
VANESSA (continuing): Your wife knew, didn't she? She knew what was going on. Tommy got too close to the flame. Tommy liked it.
He twists her hand. They're pressed against each other — their eyes digging into each other.
VANESSA: (continuing; in a whisper): That's why she killed herself?
He is twisting her arm, staring at her, pulling her against him. We hear the DOOR behind them. A beat, and he lets her go, turns away from her.
Roxy stands there, staring at them. Her hair is up. She wears a black motorcycle jacket, a black T-shirt, and black jeans and cowboy boots.
VANESSA (continuing brightly): Hiya, hon. You two have met, haven't you?
Roxy looks at Tom. Vanessa goes to her, kisses her briefly on the lips, stands there with her arm around her — both of them looking at Tom.
He walks by them, opens the door to go, his face a mask.
VANESSA (continuing): You're going to make a terrific character, Tom.
He doesn't look at her; he's gone.
So what's the big difference? The first scene is two people talking. The second scene is a SCENE.
What do I mean by that? Well, let's take a look at the first scene. It's not bad.  But there doesn't seem to be a clear goal for our characters. It's more of a mish-mash of conversation interrupted by the occasional piece of backstory. "What's that? Some new age, 12 step bullshit?" "My way of saying we have a lot in common." Boyd raises his glass "To indiscretions and atonement." "I thought it'd get easier." "So did I." "Daisy said you were a good guy. Are you?"
"I thought it'd get easier??" Where did that come from?? This seems to be the beginning of a new beat in the scene, a new segment of conversation, which is fine. You can switch gears in a scene . But the problem with this scene is that it never quite finds the gear it wants to cruise in.  It feels like it's always switching gears. This is usually due to the writer being unclear on what his characters want in the scene (their goal). If the writer doesn't know what they want, he has the characters talk to fill up air, and that almost always results in bad dialogue.
I see a lot of beginners writing this way. They have a vague idea of where they want the scene to end (in this case: the characters having sex), but they haven't thought about what each character wants that will lead them to that goal. So the dialogue essentially becomes a time-wasting feature until one of the characters says to the other, "Let's go to bed."
If, for example, Boyd really wants sex from this girl (his goal), you can play with that. It's not going to be as strong as a detective probing someone about their role in a murder, but stakes are relative to the characters and the situation, and you can make some of the simplest goals feel important. For example, let's say we make Boyd a sex addict (He doesn't have to be.  He can just be horny.  But I'm raising the stakes a little). Boyd's goal in this scene, then, is to have sex. Once you have a goal, you can create obstacles to that goal, and now you have conflict, which creates tension/drama.
The way the scene's written now, Dominique is making it clear she's going to have sex with Boyd no matter what. I mean she's practically got it tattooed on her forehead. That means everything in the scene is a foregone conclusion, which is boring. Instead, what if Dominique is fucking with Boyd, just like Vanessa is fucking with Tom. One second Dominique is being flirty, the next she's stonewalling Boyd. It's driving him crazy. He doesn't know if she wants him or not. By doing this, the GOAL IS IN DOUBT. And if the goal is in doubt, the dialogue has purpose. Because it means Boyd has to use his words (his dialogue) to get something.
The second scene is from Basic Instinct (I changed the character names in hopes that you wouldn't know). Whereas our amateur scene just plopped its two characters down into a room, you can tell the scene in Basic Instinct was CONSTRUCTED. What I mean by that is that pieces were put into place to mine as much drama as possible from the scene.
The very first thing that happens is Tom sees the newspaper clippings of himself on the desk. This is significant because Tom thought he was coming in here as the dominant party. This switches things up. It means Vanessa has become the dominant player. These kinds of things always work – where you change the assumed dynamic between the players in the scene. A cop is supposed to be in charge around a suspect. But now, the suspect is in charge, and that gives the scene an exciting unpredictable energy.
Next, the scene has clear goals. Tom wants to find out information about the murder from Vanessa. Vanessa, on the other hand, her goal is to intimidate Tom. She wants him to know that if he's going to look into her as a suspect, it's going to come at a price. This creates a TON of conflict, which is the fuel for any great scene.  Looking back at that first scene, I'm not sure I noticed any conflict.
Next, we have subtext. Tom's not coming right out and saying "I think you're the murderer." That would be boring. He's digging, he's probing. Nor is she saying, "Don't fuck with me, Tom! I will make your life miserable." That also would be boring.  She's showing him that she's looked into him. She's crunching ice. She's pushing his buttons.
Next, the scene builds. Each segment of the scene escalates the tension. The tension near the end of the scene is higher than the tension at the midway point which is higher than the tension at the ¼ point which is higher than the tension at the beginning. That's good writing, when a scene builds up, when you feel that air being pumped into the balloon. Go back to the first scene again. Notice how ¾ of the way into the scene, the energy doesn't feel that much different from the energy at the beginning of the scene.
Finally, Eszterhas (our writer) throws a little twist into the end, by having Roxy show up. It's not a huge part of the scene, but it's a calculated measure. Watching Vanessa flip the switch and become rosy and sweet shows how calculating she is, how easy it is for her to go from one extreme to the next, which is scary if you're Tom.
There's a lot more to talk about with both of these scenes, and I encourage you guys to point out what you find. And hey, if you want to rewrite the opening scene to show the writer how you'd make it better, by all means, go ahead.  I'd be interested to see what you came up with. This week should be fun!
What I learned: Sitting two people down and having them talk is usually not enough for a scene. What Basic Instinct teaches us is that you should construct the elements of your scene in such a manner as to create and build tension.