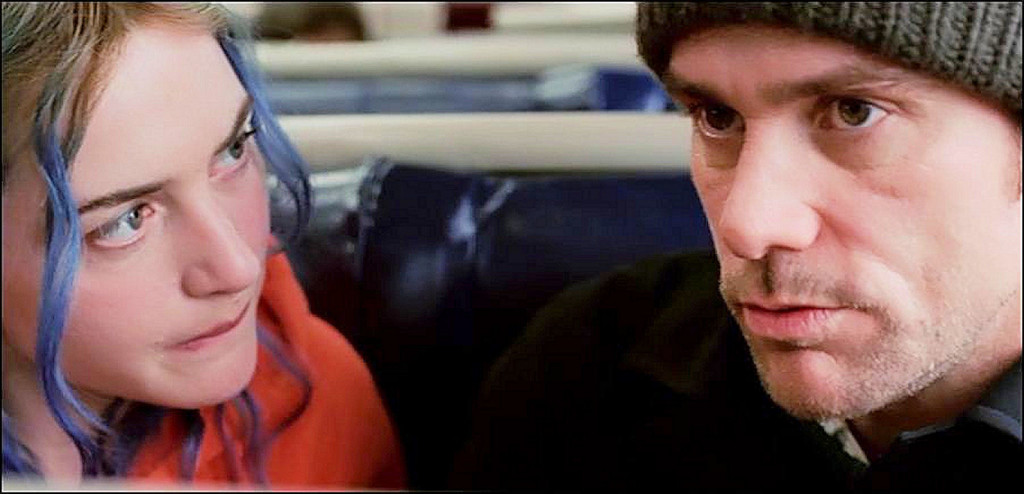 All this week, I've been putting one of YOUR dialogue scenes up against a pro's. My job, and your job as readers of Scriptshadow, is to figure out why the dialogue in the pro scenes works better. The ultimate goal is to learn as much as we can about dialogue. It's a tricky skill to master so hopefully these exercises can help demystify it. And now, for our last dialogue post of the week!
All I know about our first scene is that it's an introduction to Charlie Lambda, who's a major character, and Diane, who's a minor character. It takes place in a bedroom after sex.
The room is cluttered with furniture and wrinkled clothing.
DIANE sprawls across the bed in her underwear, awake. Charlie LAMBDA stands at a dresser mirror, shirtless, buckling his jeans.
DIANE: Leaving so soon?
LAMBDA: Night waits for no one, my dear.
DIANE: Neither do I.
LAMBDA: You wanna leave? Suit yourself. I've got money to make.
DIANE: You got a night job?
LAMBDA: Best there is.
DIANE: You a pimp, Lambda?
LAMBDA: You know, most women try to figure people out before they sleep with them.
DIANE: I like mysteries. I like solving them, too.
Lambda grabs a shirt, buttons it up.
LAMBDA: You play cards, Diane?
DIANE: I play poker sometimes.
LAMBDA: You any good at it?
DIANE: I've got bad luck.
Lambda chuckles. From the dresser, he picks up a deck of cards. He shuffles them without looking, and they fly from hand to hand and around the deck like magic.
LAMBDA: Luck's just a matter of stacking the odds in your favor.
DIANE: You still have to shuffle the deck. That's luck.
LAMBDA: That's what you think.
He brings the deck over to the bed and hands it to the woman, who sits up.
LAMBDA: Find the aces.
He walks back to the mirror, produces a comb, runs it through his hair. Diane sifts through the deck.
DIANE: So you're a card shark.
LAMBDA: I'm a professional gambler.
DIANE: And you cheat.
LAMBDA: That's what makes me a professional.
DIANE: I can't find the aces.
Lambda goes to the bed, sits beside her, and pats her on the back.
DIANE: You'd take cards over an easy lay?
LAMBDA: It's better than sex.
DIANE: Oh, really?
LAMBDA: You don't understand. Playing cards ain't a game. It's a way of life. It's zen. It's jumping into a pool of sharks and seeing who's got the coldest blood.
DIANE: And that's you?
LAMBDA: Babe, Charlie Lambda's the coolest guy around.
Diane tries to hand him the deck.
LAMBDA: Keep 'em. I'm going hunting.
He goes to the door and opens it.
LAMBDA: Go back to sleep, Diane.
DIANE: If you're not here when I wake up, I'm gone.
LAMBDA: Wanna bet?
DIANE: Some odds you can't sway.
Lambda smiles and closes the door behind him. Diane rolls over to go back to sleep– The four aces are stuck in her bra strap.
In this next scene from Eternal Sunshine of the Spotless Mind, Joel is coming home on a train. Clementine enters the car and tries to find a place to sit. She eventually sits across the car, facing Joel. After awhile…
CLEMENTINE (calling over the rumble): Hi!
Joel looks over.
JOEL: I'm sorry?
CLEMENTINE: Why?
JOEL: Why what?
CLEMENTINE: Why are you sorry? I just said hi.
JOEL: No, I didn't know if you were talking to me, so…
She looks around the empty car.
CLEMENTINE: Really?
JOEL (embarrassed) Well, I didn't want to assume.
CLEMENTINE: Aw, c'mon, live dangerously. Take the leap and assume someone is talking to you in an otherwise empty car.
JOEL: Anyway. Sorry. Hi.
Clementine makes her way down the aisle toward Joel.
CLENTINE: It's okay if I sit closer? So I don't have to scream. Not that I don't need to scream sometimes, believe me. (pause) But I don't want to bug you if you're trying to write or something.
JOEL: No, I mean, I don't know. I can't really think of much to say probably.
CLEMENTINE: Oh. So…
She hesitates in the middle of the car, looks back where she came from.
JOEL: I mean, it's okay if you want to sit down here. I didn't mean to—
CLEMENTINE: No, I don't want to bother you if you're trying to—
JOEL: It's okay, really.
CLEMENTINE: Just, you know, to chat a little, maybe. I have a long trip ahead of me. (sits across aisle from Joel) How far are you going? On the train, I mean, of course.
JOEL: Rockville Center.
CLEMENTINE: Get out! Me too! What are the odds?
JOEL: The weirder part is I think actually I recognize you. I thought that earlier in the diner. That's why I was looking at you. You work at Borders, right?
CLEMENTINE: Ucch, really? You're kidding. God. Bizarre small world, huh? Yeah, that's me: books slave there for, like, five years now.
JOEL: Really? Because—
CLEMENTINE: Jesus, is it five years? I gotta quit right now.
JOEL: — because I go there all the time. I don't think I ever saw you before.
CLEMENTINE: Well, I'm there. I hide in the back as much as is humanly possible. You have a cell phone? I need to quit right this minute. I'll call in dead.
JOEL: I don't have one.
CLEMENTINE: I'll go on the dole. Like my daddy before me.
JOEL: I noticed your hair. I guess it made an impression on me, that's why I was pretty sure I recognized you.
CLEMENTINE: Ah, the hair. (studies a strand of hair) Blue, right? It's called Blue Ruin. The color. Snappy name, huh?
JOEL: I like it.
CLEMENTINE: Blue ruin is cheap gin in case you were wondering.
JOEL: Yeah. Tom Waits says it in—
CLEMENTINE: Exactly. Tom Waits. Which son?
JOEL: I can't remember.
CLEMENTINE: Anyway, this company makes a whole lie of colors with equally snappy names. Red Menace, Yellow Fever, Green Revolution. That'd be a job, coming up with those names. How do you get a job like that? That's what I'll do. Fuck the dole.
JOEL: I don't really know how—
CLEMENTINE: Purple Haze, Pink Eraser.
JOEL: You think that could possibly be a full-time job? How many hair colors could there be?
CLEMENTINE (pissy): Someone's got that job. (excited) Agent Orange! I came up with that one. Anyway, there are endless color possibilities and I'd be great at it.
JOEL: I'm sure you would.
CLEMENTINE: My writing career! Your hair written by Clementine Kruczynski. (thought) The Tom Waits album is Rain Dogs.
JOEL: You sure? That doesn't sound –
CLEMENTINE: I think. Anyway, I've tried all their colors. More than once. I'm getting too old for this. But it keeps me from having to develop an actual personality. I apply my personality in a paste. You?
JOEL: Oh, I don't think that's the case.
CLEMENTNE: Well, you don't know me, so… you don't know, do you?
JOEL: Sorry. I was just trying to be nice.
CLEMENTINE: Yeah, I got it.
I chose these two scenes for a reason. In the first one, we're looking at two strangers talking AFTER they've had sex. In the second, we're looking at two strangers who've just met (before they've had sex).
Take note of the energy in each scene. In the first scene, the energy is relaxed, subdued, almost lazy. Which makes sense. They just banged. They've already reached the pinnacle of their coupling. Generally speaking, scenes where people are relaxed and happy are bad scenes. You'd rather seek out scenes where there's tension, where there are problems that need to be addressed.
But in Eternal Sunshine, there's still an entire world of possibility with these two characters because they haven't consummated their relationship yet. As a result, their scene's bursting with nervous energy. There's excitement in the uncertainty of the moment. We feel tension. We feel hope. We want this to go right.
This is why, generally speaking, you don't want to consummate the relationship until as deep into the script as possible. Once you do that, the dialogue between the characters loses something. The air will have seeped out of their "relationship balloon" so to speak.
But even if you took all this "consummation" talk away (I was told Diane wasn't a major character, so maybe we shouldn't hold her to that status), something's still missing in that first scene. Let's take a look at the first exchange. "Leaving so soon?" Diane asks. "Night waits for no one, my dear," Lambda replies. "Night waits for no one, my dear?" That doesn't sound like something real people say, does it?
That's not necessarily a harbinger of doom, though. Some genres produce stylistic dialogue. Take the dialogue in "The Big Lebowski," for example. Clearly, characters aren't always talking the way real people talk in that film. The problem is, I'm not getting the sense that that's what the writer intended here. I feel like this scene is supposed to be grounded. And in that case, lines like "Night waits for no one" come off as overly written, like the writer's trying too hard.
This cuteness continues when the cards are introduced as a quasi-metaphor. Writing in metaphors (or analogies or clever explanations) is a very writerly thing to do. It gives the impression of depth and cleverness. And it allows you to talk about something by talking about something else. But if the only reason the analogy exists is to achieve this effect, it feels false. It reads as analogy for analogy's sake.
Now I get the feeling that cards might play a larger role in this movie. If that's the case, then the introduction of the cards isn't as misguided. But I think the problem here is the same one we've encountered in most of the amateur entries this week. I don't know what either of these characters wants in the scene! I don't know if Lambda wants her out or if Diane wants to stay. There's no clear objective, which means anything they say will appear as "babble" to the reader. It's not that the dialogue is bad so much as we don't know the point of it.
Looking at the Eternal Sunshine dialogue, there are two things that stick out. First, the dialogue is much more realistic. It's short, it's clipped, it ping-pongs back and forth uncertainly. But most importantly, it's imperfect. It really feels like two people talking.
That's a mistake we writers make often. We want our dialogue to be so beautiful, that we carve and mold each line into a perfect specimen of auditory delight. Put a bunch of these ultra-developed lines next to each other and the conversation starts feeling false. We don't know why, but it does. It isn't until we realize that no one would actually say any of these individual lines that we understand what's wrong.
And we never see that problem in Eternal Sunshine. Words are flying by seemingly willy-nilly, with no rhyme or reason. It truly does feel like real life conversation.
Secondly, lots of writers get obsessed with balanced dialogue. Balanced dialogue is when there's a perfect balance to the conversation. Each word, for the most part, is responded to with a word in kind. "Hey." "Hiya." "How's it going?" "It's going good. How bout you?" "Going good here." And back and forth and back and forth in perfect balance.
Real dialogue is unbalanced. It's often weighted to one side or the other, depending on the character or the situation. Read the bottom half of the Eternal Sunshine scene. Clementine is basically having a conversation with herself. Joel's just there to hear it. That's a big reason why this dialogue feels so authentic. Unbalanced dialogue is real life.
What about you? What stuck out to you about today's scenes? The first one felt a little too "written" to me. But I can see some of you just as easily attacking the "rambling" quality of Eternal Sunshine. Share your thoughts!
What I learned: Balanced versus Unbalanced dialogue. There's no such thing as perfectly balanced dialogue. Some characters are going to talk more than others. Some characters won't always answer when asked something. No matter how many times you've rewritten your dialogue, it should always feel a little imperfect, a little unevenly weighted.