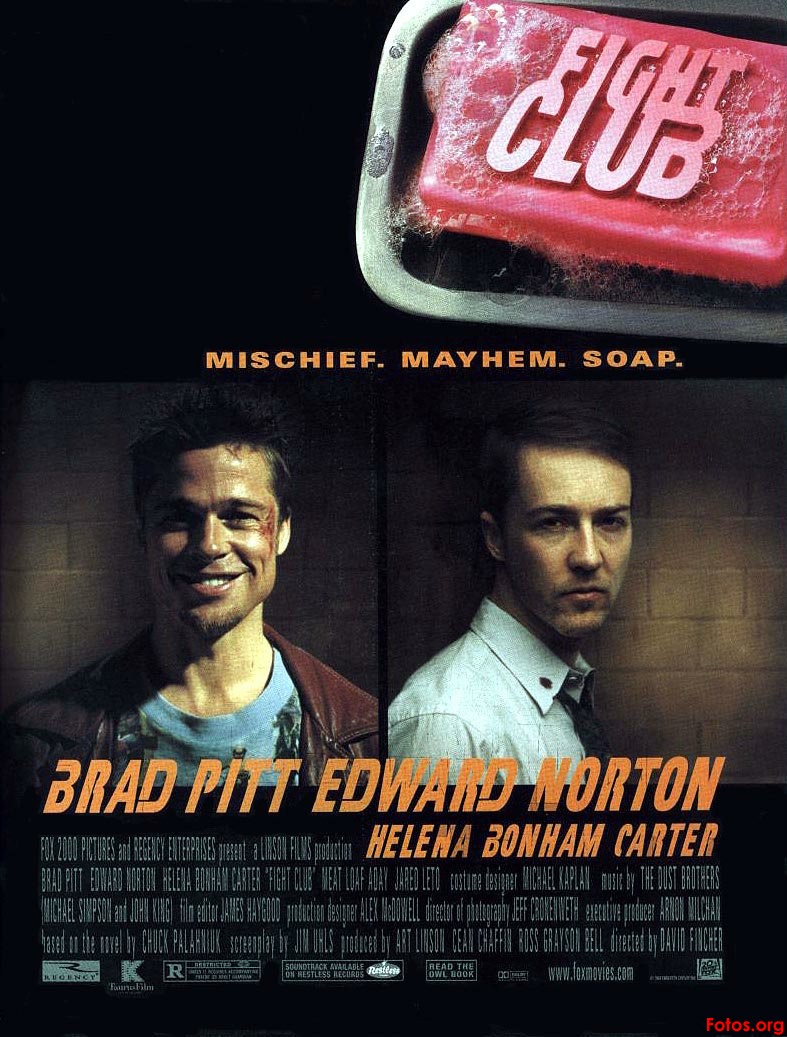 Yeah, I know. I'm breaking the first rule of Fight Club by writing this article. But I thought it was time to dissect a screenplay that wasn't like anything I've dissected before. Fight Club was one of the biggest gambles of the decade. The movie was not traditional in any way. You could argue that there isn't a single scene in the first 60 minutes that pushes the story forward. Heck, you could make the argument that there isn't even a plot. But that's exactly why I wanted to break it down. We look at a lot of conventional stories here. But there are a lot of you who hate the Hollywood formula, who are looking to do things differently. I thought it'd be fun, then, to feature a script that ignores almost every rule in the book. Maybe we can find a baseline for writing one of these screenplays ourselves.
1) If you're going to ignore structure, embrace theme – I've found that these formless, structure-less scripts work best when the theme is strong. That's because when you don't have a traditional plot, you need something else to link everything together. Theme becomes that link. Fight Club has a very strong theme. It's about the frustration of growing up and not getting what the world promised us. It's about the empty angry feelings that drive us as a result. Have a weak plot? Incorporate a strong theme.
2) Voice over is your friend in non-traditional scripts – Again, when you don't have a clean plot, a clean structure, you need a way to link everything together. Fight Club jumps forward, backward, backward even more, forward again. There's no clear goal, no plot. BUT, Jack's constant voice over guides us through this rocky terrain effortlessly. We're not really lost because he's holding our hand. Keep this in mind if you're writing a plot that's all over the place.
3) In non-traditional scripts, character is king – Characters are important no matter what. But strong characters become imperative when you don't have a traditional plot. Since there's no clear goal driving us forward, the characters become the only reason to watch. So they have to be FASCINATING. At least one has to be SUPER BIG AND MEMORABLE (in this case, Tyler). But even your straight man (main character) needs to be unique somehow. Jack, with his constant rambling and philosophizing, with his insomnia, with his dependence on group therapy, is almost as interesting to watch as Tyler.
4) Use ACTION in dialogue scenes to reveal character – Avoid characters standing around when talking/arguing if possible. Instead, have them (or one of them) doing something that reveals something new about their character. Instead of Jack and Marla (the love interest) arguing over who gets what support groups in a single room, we're following Marla as she walks across the street, steals clothes from a dryer, then walks over to a thrift shop and sells them. This way, we achieve the characters' goals (hashing out who gets what support group) WHILE revealing something about Marla (that she's a thief with no morals who will do anything to get by).
5) Utilize callbacks to initiate consistency throughout your unconventional screenplay – Remember, if you don't have as clear of a plot, you need to create the illusion of connectivity wherever you can. You do this by bringing up something, then calling back to it throughout the screenplay. So early on we see that Jack's become a slave to IKEA. It's a nice funny moment. And that could've been it. But later we see Jack sitting on his bedroom floor, assembling IKEA furniture. It's a callback that creates connectivity – desperately needed when your plot is nonexistent or unclear.
6) No matter how unconventional your script is, make sure it still contains CONFLICT – Even in non-traditional indie cult classics like Fight Club, you'll see that one of the most important storytelling tools is still utilized – conflict. Our two main characters here are polar opposites. Jack is reserved and careful. Tyler is aggressive and careless. This leads to a lot of fun conflict-filled conversations and scenes. Never underestimate how important of a device this is.
7) Be imaginative – If you're writing an unconventional screenplay, you gotta go all out. You have to eliminate those filters that tell you "this is right" and "this is wrong." If we're going to endure a plot-less story, we have to be rewarded with lots of shit we haven't seen before. So have fun. Do the opposite of what you'd normally do. We have a 300 pound man with bitch tits. We have characters stealing cellulite out of trash bins. We have Jack chilling out with penguins in a cave. "Different" scripts are your opportunity to highlight your imagination. Don't disappoint us by putting limitations on that imagination.
8) Your character's job should sync up with the tone of the film – Fight Club is dark and disturbing. So Jack's job, naturally, should be dark and disturbing. Jack isn't a lawyer. He's a recall coordinator. He decides after a deadly horrifying car crash where teenagers and babies have died, whether that car should be recalled or not. That fits perfectly with the dark tone of Fight Club.
9) Formal sentences are not required in screenplays – As crazy as it sounds, you can use sentence fragments when writing a screenplay, as long as they're clear. For example, to indicate that Jack is on a street, the paragraph under the slugline begins, "Along a residential street." That's the sentence. Would it work in an English class? No. But screenplays aren't about perfect grammar. They're about saying as much as possible in as few words as possible. You could've used the more robotic: "We are standing on a residential street." But it doesn't sound as smooth or free-flowing.
10) These kinds of scripts are nearly impossible to write – I don't want to end this on a negative note but it's important you know that I read tons of scripts from writers trying to "break the rules" and "do something different" and they're usually the worst scripts I read. That's because it's hard to write something that doesn't have a goal, that doesn't have a conventional purpose, and keep it interesting for 110 pages. It takes an amazing amount of skill and a ton of talent. So I just want you to know what you're getting into. You're basically counting on yourself to be one of those one-in-a-billion brilliant writers. But hey, if you believe in yourself that much and want to take a chance? Go for it. ☺
These are 10 tips from the movie "Fight Club." To get 500 more tips from movies as varied as "Eternal Sunshine Of The Spotless Mind," "Pulp Fiction," and "The Hangover," check out my book, Scriptshadow Secrets, on Amazon!