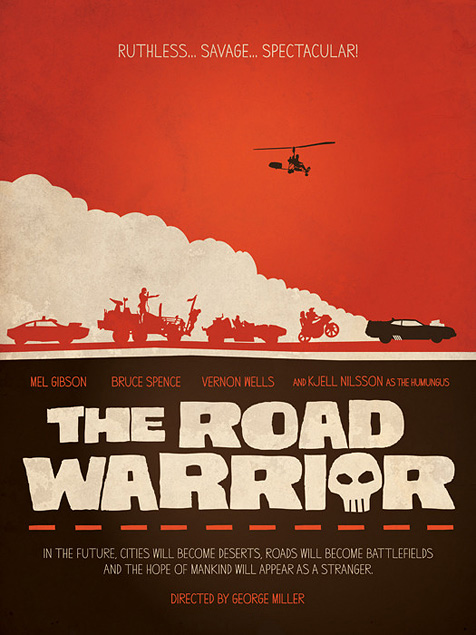 Man, I'm going off-book for every post this week. I said I was going to do ten tips for The Karate Kid or Rain Man, but instead, I'm going with another 80s movie, The Road Warrior! Now The Road Warrior may seem like an unlikely choice for a plate of screenwriting lessons. The script focuses mainly on action, which doesn't translate very well on the page. But look closer and you'll find that how the script tackles action is the secret to its success. Today's studio films are so jam packed with action, they've lost track of why they're adding it in the first place. Maybe to fill up their trailers. Maybe because they're afraid the audience will get bored. I don't know. But The Road Warrior comes in at a lean 95 minutes, and only includes action sequence when they're necessary (true, the smaller budget probably contributed to this, but that may be a lesson in itself – don't spend money if you don't have to). What sticks with you when you watch The Road Warrior are its amazing set pieces (read: car chases), and particularly the climactic chase. These may not be as flashy as the stuff you see today, but they're definitely more brutal and real. That's because there were no special effects.  Everything you saw was real.  The problem with these digitally-aided chases today is that they all carry a sheen of fakeness. And "fake" feels safe – the exact opposite of how you want your audience to feel in the theater. But I'm getting off track here. Let's reach back to one of the greatest action movies ever and see if we can't learn something from it.
1) Never underestimate a simple story – I see so many writers writing themselves into corners because they're trying to do too much with their story. Look at the plot of The Road Warrior. The good guys must find a way to escape the bad guys with their fuel in tact. The great thing about a simple plot is that the audience is never confused. Everybody always knows what's going on. These days in movies like Transformers 2 or Pirates of the Caribbean 4, that's rarely the case.
2) Universal Motivation – Movies work well when there's universal motivation. This means every character is motivated by the same thing. In this case, it's fuel. Every character wants it. No character wants to give it away. This provides ample opportunities for conflict, since all of your characters are fighting over the same thing.
3) If your hero doesn't say a whole lot, make sure he does a whole lot – A character who doesn't speak much must speak with his actions. Max isn't a talker, but he's very active. If he's not outrunning the road pirates, he's stopping to inspect curious objects (the gyro-copter), forming his plan to get into the fuel yard, heading out to get the fuel truck. He's always DOING something. If you have a character who doesn't speak and doesn't do, you have a boring character.
4) Script Exercise: Pretend that sound isn't working on set today – Pretend you're a writer on set and the director's just informed you that the sound equipment broke. Hence, you need to come up with a version of the scene that doesn't contain dialogue. As a guideline, watch the scene in The Road Warrior where Max befriends the Ferrel Kid. There's no dialogue in it but it's very powerful. Max takes out an old music box he found on the road and starts playing it. The kid is intrigued. Max plays a little more before tossing it to him. The kid spins the crank, the music comes out, and he gets excited. It's a simple scene, but it establishes a solid friendship between the two. The Road Warrior has a few really nice moments like these.
5) Establish the danger in your world – If we don't feel the danger, we won't be afraid.  And you need your audience to feel afraid of the bad guys.  Early on, we watch a band of the road pirates mercilessly kill a man and rape his wife. Admittedly, this would be a hard scene to show today. But it really established how dangerous this world was. If you do this right, it will pay dividends throughout the rest of the movie. When the bad guys are chasing Max in the truck, for example, we know if they catch him they're not simply going to put a bullet in his head.  There will be torture, pain, horrible things done to him that we can't even begin to imagine.  Which is why we don't want him to get caught!
6) Urgency in the form of an ultimatum – One of the easiest ways to create urgency is through an ultimatum. The road pirates come up to the oil yard and broadcast an announcement that the good guys have 24 hours to leave the yard or else they will be slaughtered. Urgency is one of your best friends as a storyteller (as evidenced by yesterday's article), and this is a really easy way to instigate it.
7) Make characters memorable with their actions, wardrobe, disposition, possessions – Too many writers try to make characters memorable with their words. Instead, look for ways to make them memorable with their actions and outfits and overall disposition. Helicopter Guy wears goggles and has a quirky flying machine. The Ferrel Kid speaks in grunts and has a bladed boomerang. Max eats dog food to survive. It's these extracurricular things that the audience typically remembers, not what your characters say.
8) You want your hero going into the climax at his worst – The worse your hero is prepared for the climax, the better. Max is nearly dead when he takes control of that tanker. He's got one leg, one eye, and one arm (think about that – he has only ONE ARM to drive this tanker!).
9) You want your bad guys going into the climax at their best – It shouldn't be a fair fight. The bad guys have 30 cars and hundreds of weapons to Max's 1 car and handful of weapons.
10) Find irony in your set pieces – Set pieces are supposed to be big and action-packed and crazy. So writers look for the biggest most action-packed craziest way to do them. By taking this approach, however, they often miss out on the more nuanced moments that make a set piece memorable. Many times it's the TINIEST thing that can be the stand out moment in a set-piece. For example, in the ending of The Road Warrior, a final shotgun shell rolls out onto the hood of the truck. It's out there dangling on that dashboard and getting that final bullet turns out to be the only thing we care about for two minutes.  This amongst an insane car chase with over 30 cars!
As great as this movie is, there's still one thing I haven't been able to figure out about it. Max is a really selfish hero.  He doesn't care about anyone but himself.  He's not very talkative.  He's a dick to everyone.  I mean there's a moment where he's about to save somebody but before he does he says, "I'll only do this if you give me gas."  But we still love this guy.  Why?  Is it as simple as that he has a dog?  That he connects with the little kid?  Is it that the bad guys are so much worse?  Max today would probably be rewritten to be more "likable."  And it would've ruined the character.  So my question to you is, why do we like Max?  I feel like if we can figure that out, we can shed some light on just what "likable" means.