Genre: Drama/Family/Fantasy
Premise: An ambitious man watches his life pass him by while sacrificing his dreams to help others. Feeling like a failure later in life, he tries to commit suicide, only to have an angel show him what the world would've been like had he never existed.
About: Directed by the great Frank Capra and starring the amazing James Stewart, It's A Wonderful Life had quite the interesting life of its own. The film didn't do well initially at the box office, but later became a staple on television networks leading up to Christmas, where audiences eventually fell in love with it. Director (and co-writer) Frank Capra had a fascinating career as a director. He won 3 (count'em THREE) Oscars as a director in the 30s. However, after World War 2, his optimistic endearing films didn't play to a world whose mood had turned cynical. In fact, "It's A Wonderful Life" was considered by many critics (at the time) to be the film that signified Capra was no longer in touch with the public. Amazingly, Capra made his last movie nearly 30 years before he died, a rarity for directors.
Writer: Frances Goodrich, Albert Hackett, Frank Capra, Jo Swerling, Philip Van Doren Stern and Michael Wilson
Details: 130 minutes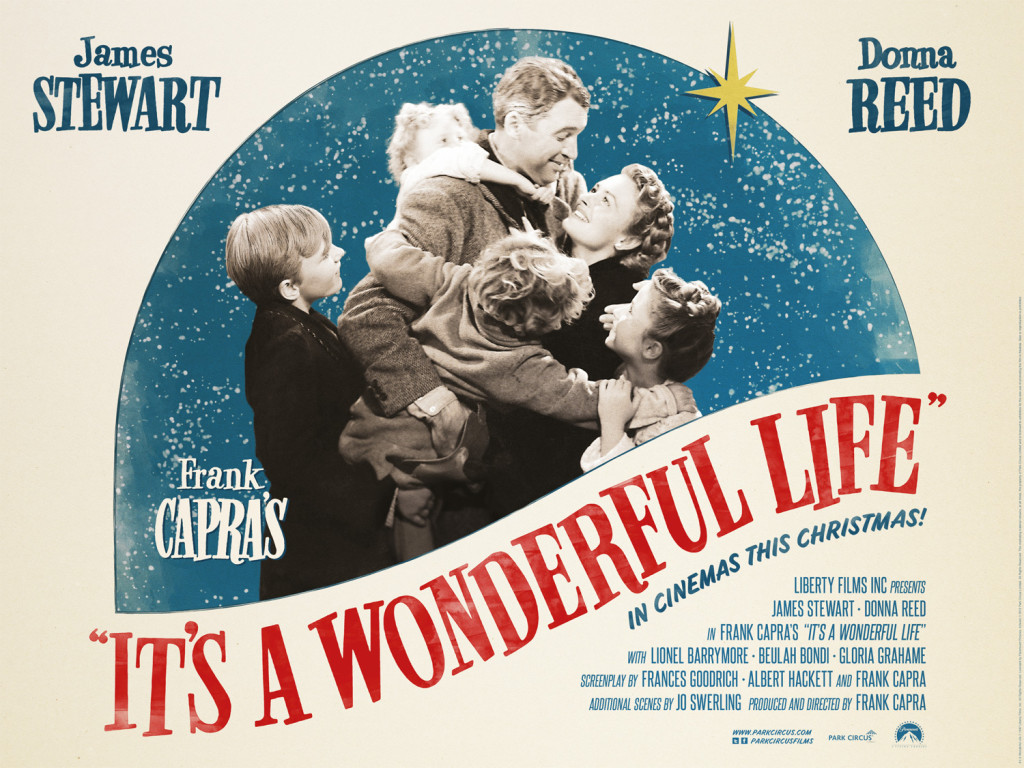 Gotta admit, this one always gets me. Things get a little emotional at the Scriptshadow compound when the end of It's A Wonderful Life plays. I mean, I'm not confirming any tears here. The so-called "visual evidence" of drenched tissues reported on some websites is completely fabricated and/or tampered with. But as each year passes, and Christmas seems less like a magical experience and more like a government-driven holiday to make us open our wallets, Frank Capra and James Stewart remind me just how sweet and nice the holiday can be.
Yeah yeah, emotions and all that. This is still a screenwriting site, so when I popped "Life" in this year, I still needed an angle to explore the film from. It came to me rather quickly. I realized I wanted to know what made a story timeless. What makes something worthy of coming back to year after year? Because, as you know, the majority of movies we watch leave our brains by the time we're back in the parking lot. If we could discover even a piece of what makes a screenplay timeless, we could all become better writers.
For those who haven't seen It's A Wonderful Life, it's set during the 20s, 30s and 40s, and centers around an idealistic dreamer named George Bailey. George lives in a tiny town called Bedford Falls that he can't wait to leave. If there's a country George isn't planning on travelling to, it isn't on the map yet. And so when he hits his 20s, he readies himself for that life of adventure.
But then his father dies, who happened to be the president of the family business, an old Building and Loan that is the only respite the town has from the evil Mr. Potter, a dastardly old weasel who holds the town hostage with crippling loan terms that leave him rich and everyone else desperate. Since the Building and Loan is the only thing standing in the way of him controlling the town completely, Mr. Potter will stop at nothing to take it down.
In order to keep the town out of Potter's hands, George is forced to take his dad's place, and thus begins a series of events over the years where the timing is never right for George to get away. Soon he's married with five children, barely getting by, wondering what his life would've been like had he followed his dreams instead of helping others. On the night he plans to commit suicide, an angel appears and gives him a spectacular gift: He shows him what the world would've been like if George Bailey had never lived.
Watching It's A Wonderful Life this time around, it didn't take long to realize why it's the gift that keeps on giving. It's all about universal timeless themes, things that man had to deal with a thousand years ago and things that man will still be dealing with a thousand years from now.
Helping others versus helping yourself is the main theme that plays throughout "Life." There's also the theme of sacrifice. There's the theme of the underdog. There's the theme of struggle – trying to make it through each day, despite the countless obstacles we face. We have a villain who stands for corruption and greed, something every town, city, and country experiences on some level. We have the power of love. We have the importance of family. These are things that every human being knows. Contrast that with, say, Green Lantern. What, if any, part of that movie connects with audiences on a deeper level? What timeless themes does it explore?  Of course, just covering these bases isn't enough. You still have to do it in an entertaining way. You still have to construct a story that's dramatically compelling.  And Capra and his 200 screenwriters achieve that in spades.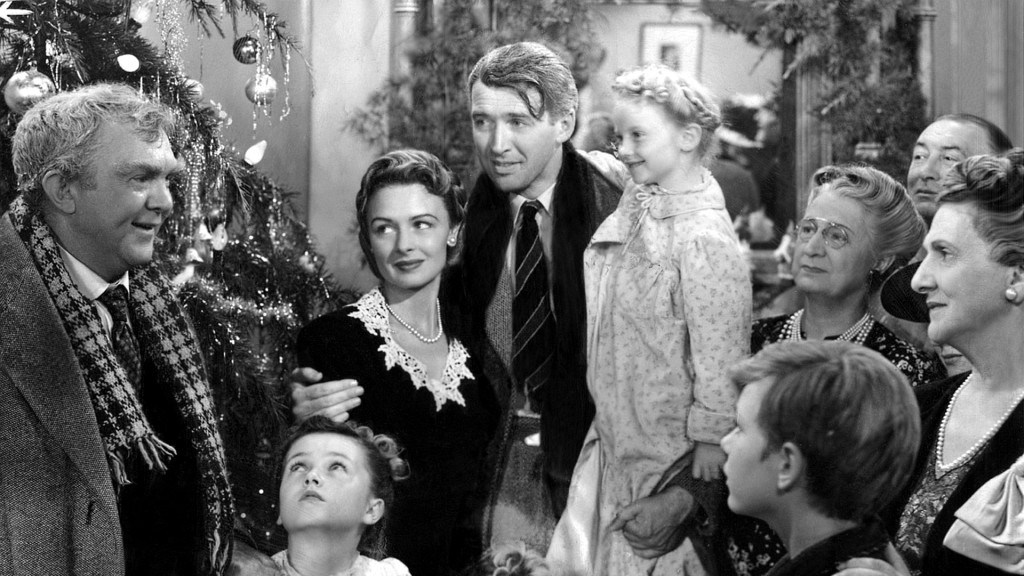 One of the biggest reasons It's A Wonderful Life works is because you freaking LOVE the main character. I mean, could you design a persona more lovable than George Bailey? The man is the ultimate selfless human being. He sacrifices all his dreams to keep the Building and Loan from folding. He sacrifices them again so his brother can go to college. He gives his OWN money to people if the money from the bank isn't enough. As a kid, he sticks up to the villain, Mr. Potter (heroes who aren't afraid of villains are always likable)! Even in death, George Bailey is still giving. When he decides to commit suicide, it isn't out of selfishness. It's because he knows he's worth more dead than alive, and that the money his family will get from his life insurance policy will allow them to survive.
It is through all this giving that I began to notice something. These days, screenwriters only make their characters "good" at the beginning of their script, in the form of a "save the cat" moment, designed to make you "like" them. The problem is, the audience has become keen to this device and aren't as easily tricked. They know when you're conning them, and therefore a save the cat moment can actually backfire. The reason George Bailey is so damn likable is because his acts of kindness never end! They happen again and again and again. That consistency makes us trust him, makes us believe he's a good guy. And that's why we like him so much.
Capra also understood that a great hero is nothing without a great villain. We need someone to root against just as much as we need someone to root for. Mr. Potter is almost as memorable as George Bailey, and I think it's because of one clever choice. Putting Potter in a wheelchair. Making Potter a "cripple" distracted us from the fact that Potter is essentially a caricature. He is mean just to be mean. But dammit if that wheelchair doesn't distract us from this truth. Villains aren't supposed to be in wheelchairs, we say. And so, like a magician's misdirect, it makes us think that Mr. Potter is indeed, a real person.
Capra is also wise enough to know that if a bad thing is going to happen to our hero, the villain must always be a part of it. What good is having a villain if they aren't orchestrating your hero's downfall! So there's a key scene late where Uncle Billy, George's bumbling second-in-command, misplaces 8000 dollars, which will ultimately lead George into the tailspin that results in his attempted suicide. I mean sure, you could've stopped there. That was enough to get the story where it needed to go. But Capra took that one extra step and made Potter realize Uncle Billy's mistake, and snatch the erroneously placed money when he wasn't looking.
Then of course, there's the ending, where everyone comes to George's house and gives him money to bail him out. You know this moment because you've seen it in dozens of movies. However, this is the ONLY FILM IN HISTORY where it's actually worked. Why? Because, of course, it's SET UP. Actually, it's born out of a thousand set-ups. We've seen, over the past two hours, as George has personally helped all of these people. So the fact that they would help him back in his time of need goes unquestioned. Nobody who's ever used this copycat ending seems to realize this, which is why every subsequent attempt has been a disaster.
It's A Wonderful Life is about characters. It's about struggle. It's about holding true to your values. And it's about good versus evil. What's more universal than that??
[ ] what the hell did I just read?
[ ] wasn't for me
[ ] worth the read
[ ] impressive
[x] genius
What I learned: Have your hero KEEP being good instead of just giving him a contrived "save the cat" scene early on. This consistency will lead to an authenticity in your character, which will result in us trusting and rooting for him.