Today's writers take the most classic love story of all time and ask, "What if Romeo art tho The Huntsman?"
Genre: Period/War/Romance
Premise: A new take on Romeo and Juliet that expands the famous Capulet and Montague feud into a full-scale war.
About: This script was picked up last year by Sony and Joe Roth, who is looking to expand his Huntsman franchise with a take on Romeo and Juliet that's in the same spiritual universe. While The Huntsman sequel did not do well, Romeo and Juliet is its own property and, therefore, still has a chance of being made. If Neil Widener and Gavin James, the writers of today's script, sound familiar, it's because they're blowing up big time. The two are writing San Andreas 2 and Now You See Me 3. But unlike the high profile overnight success stories you read about on some screenwriters, Widener and James's success is more tied to reality and what the majority of screenwriters experience. Widener has been at the game for 15 years and James nearly a decade.
Writers: Neil Widener and Gavin James
Details: 113 pages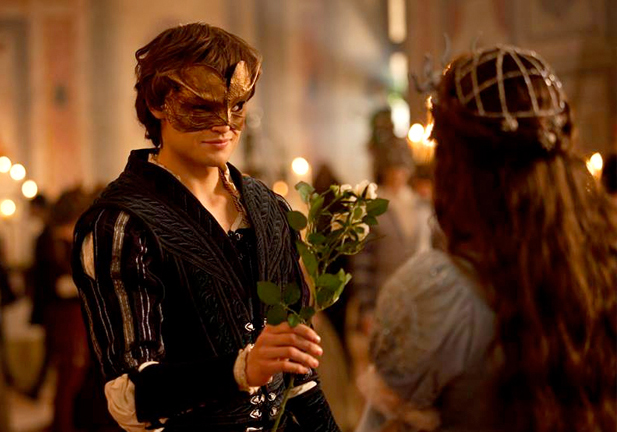 I want to ask an honest question.
Is there any purpose to Valentine's Day other than to guilt men into buying something for their significant other?
I've never met a man who was like: "YES! VALENTINE'S DAY! WOO!" In every case, the man goes out to buy something or sets up a dinner so that their girlfriend or wife doesn't make their evening a living hell.
Unless, of course, it's less than 3 months into the relationship. Then, of course, guys are all about Valentine's. I'm all for other points of view. But this has been my experience.
And with that, let's review a script about Romeo and Juliet!
It's 1945. I mean 1495. Northern Italy. France is on a tear, taking over every country it can get its grubby croissant-smeared hands on. And it's got all of Italy except for one section. Verona!
That's where the regal Capulets are warring, once again, with the crude and dirty Montagues. But these are not the Capulets and Montagues you are familiar with. These families encompass entire armies. And their war has been going on for generations.
When the Montagues find out that the Capulets are planning to marry off their princess, Juliet, to France's Prince, which will allow them to crush the Montagues for good, Prince Romeo, a young Braveheart-like figure, comes up with a plan. Go to the Ball announcing the marriage and assassinate Juliet.
Everything's going swell until one of those dances where everyone wears masks. Juliet and Romeo unknowingly get paired up, and it takes less than a couple of minutes and one kiss for the two to fall in love.
When Romeo realizes moments later who his new love is, he's torn. But not torn enough to kidnap Juliet back to the Montague fort, where Romeo is chastised for not keeping it real. He and Juliet escape into the forest then secretly get married in the hopes of uniting the Capulets and Montagues so they can fight off the French.
But since this is Romeo and Juliet, you can guess how well that turns out, and where our famous young couple ends up. Or can you!?
While there are some compelling topics of discussion when it comes to Verona, I want to ask what I believe to be a far more pressing question for screenwriters.
What is it about Romeo and Juliet that allows it to be so popular generation after generation?
This is a question screenwriters should be asking for every story that's still told after a century. There is something in the DNA of these stories that appeal to audiences no matter how much the world around us changes.
The easy answer with Romeo and Juliet is love. Love is universal. It's always been around and always will be. But let's be honest. Watching two people in love is fucking boring.
When it comes to drama, it isn't the love that entertains. It's what stands in the way of that love. If you can create a strong obstacle that keeps two lovers apart, you can tell a good story.
But I'm going to take that one step further. A strong obstacle is nice. But an IMPOSSIBLE obstacle is better. Because it creates a situation that the audience is genuinely compelled by. How the hell is our copule going to end up together when this impossible obstacle is in their way?
And Romeo and Juliet has one of the greatest impossible obstacles of all time – two families who hate one another. It is clear from the beginning that this relationship is doomed. And that's exactly why we watch. Because we hope, against hope, that they'll somehow find a way.
Contrast that with, say, one of these dopey modern day romantic comedies where the obstacle is, I don't know, money. One lover is rich while the other is poor. Sure, that creates some doubt. But it's far from feeling impossible. And that's what you're shooting for when you're writing one of these: THE IMPOSSIBLE OBSTACLE.
What's interesting about Verona is it proves that even a great setup such as Romeo and Juliet is not impervious to the trials and tribulations of screenwriting. While Verona sticks with our general conceit, even amping it up from a feud to a war, it makes a mistake I see often when you expand a smaller story.
It gets lost in its plotting.
There is so much plot here, I couldn't stay engaged. We have the Montagues taking on the Capulets. We have France coming in. We have France trying to align with the Capulets via marriage. We have a Ball announcing the marriage where Romeo while try to assassinate Juliet. We have the two escaping into the forest. We have them being shunned by the Montagues. We have them secretly getting married so the families can unite against the French. We have them having to go back and tell the Capulets they're married. And it keeps going from there.
Plot is fine. But when every other scene exists only to explain a new direction that the story is taking, it feels less like entertainment and more like work. I'm sitting there going, "Okay, where are they at now and what do they have to do again? Is it tell their dads they're married?"
In order to understand how to avoid this, you need to understand the two components of plot.
The first is logistics. Plot is there to tell us where we're going and why we're going there. On its own, it guides us, but it doesn't entertain us. That's where the second part of plot comes in: entertainment. Each moment when we're told where we're going and why we're going there should be FUN. The reveal should excite us, entertain us. If all plot is doing is saying, "Characters must go from A to B," we're gettttttinnnnngggg sleeeeepppppyyyyy.
So Verona's over-plotting could've worked if the plot beats weren't so technical. They needed more entertainment value to keep us excited about the story. Or at least me excited. I tend to bet bored easily.
So that was my main gripe here. Verona was well structured and I loved that they found a new take on an old story. But the plot bogged us down without giving me enough moments to say, "Ooh, that was cool!"
[ ] she loves me not
[x] she gave me her number but didn't respond to my text
[ ] we're going on a date
[ ] we kissed
[ ] she loves me
What I learned: Let me give you an example of plotting that uses only logistics, and plotting that uses logistics and entertainment. What movies am I going to use? Star Wars movies, of course! An example of plotting that is only logistics is the Tax Federation stuff in The Phantom Menace (for those who've forgotten, and I don't blame you, the Intergalactic Tax Federation is blocking trades out of Planet Naboo). Tax blockage is information we have to log in order to understand what's going on. But beyond that, it contains no entertainment value. On the flip side, when Luke, Obi-Wan, and Han Solo get to Alderran to deliver their message, only to find out it's been blown to bits and that a strange space station is there in its place, that's plot that's doing two things. It's moving the story along AND it's an exciting plot point that entertains us. So always make sure your plot beats are doing both.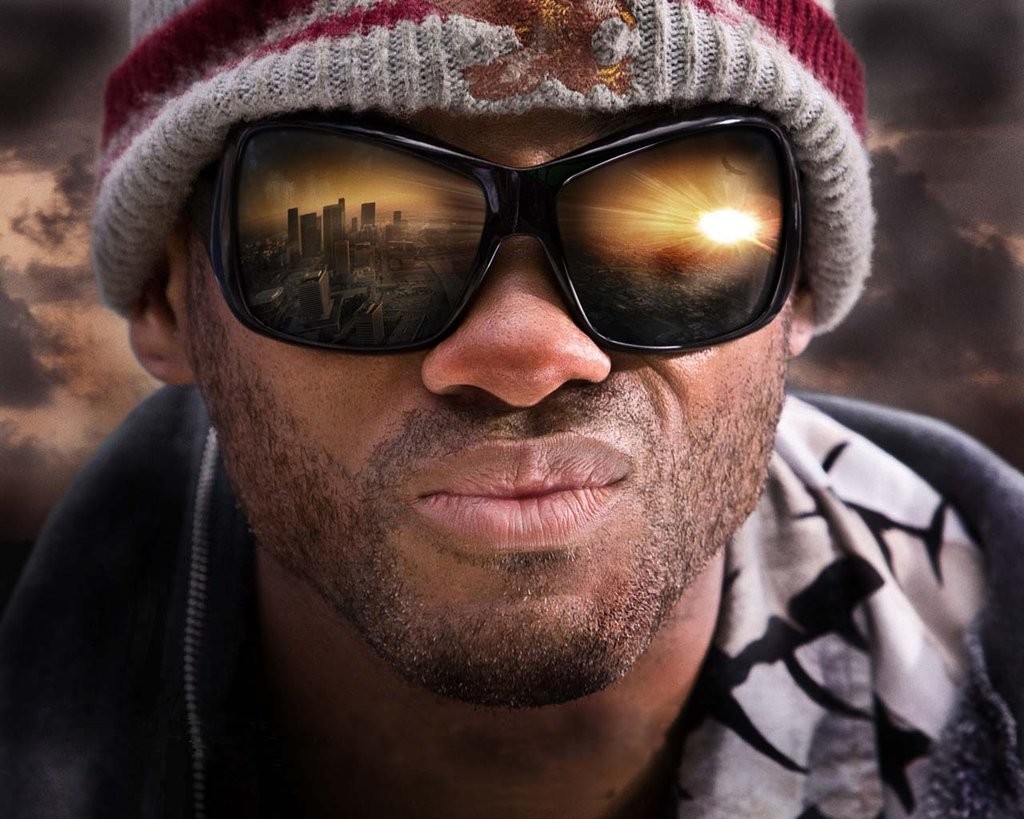 Here are 10 movies I walked into and came out of a more knowledgeable screenwriter.
Matrix: Reloaded – I'll never forget how excited I was going in to this movie, and how devastated I was walking out of it. Matrix: Reloaded taught me one of the most valuable screenwriting lessons there is. You can't rush a script. Good scripts need time to breathe.
Deadpool – Deadpool reminded me that one of the best ways to write a hit movie is to locate the end of a trend and then write the opposite. A series of superhero movies that take themselves too seriously? Write a superhero movie that makes fun of itself. A bunch of serious horror movies are dominating the market? Write one that's not so serious. And make no mistake. When all these Deadpool clones take over the airwaves, the first guy who writes a comic book movie that takes itself seriously again will have a mega-hit on his hands.
American Sniper – I had as much confidence in American Sniper doing killer box office as I did Chris Kyle making an appearance at the premiere. But American Sniper (and more recently, Sully) taught me the value of a real-life hero. America fucking loves their heroes. Find a real life hero in America's history (don't bother trying to find a current one – Hollywood's got'em all locked up) and tell their story. If you do an even halfway decent job, you'll get a sale. We just saw this with the spec sale, Mayday 109, about a little known heroic deed from JFK. MURICA!
Forest Gump – I still watch Forest Gump today and marvel at how a movie with no structure and a main character who succeeds through the entire film works so well. Wanna know its secret? The disadvantaged protagonist who keeps fighting no matter what is a bulletproof hero. Let me say that again. A disadvantaged hero who never gives up is IMPOSSIBLE TO DISLIKE. An audience will always root for that character. And by "disadvantaged," I don't mean retarded. Just that life's cards didn't fall in his favor.
Elysium – Remember how excited everybody was for Neill Blomkamp's follow-up to District 9? Holy shit. I thought this was going to be the bee's knees. Then I started hearing whispers: "The script's thin." I refused to believe them. Maybe they were looking at an early draft. Nope. Elysium was terrible, and it taught us what a half-baked idea looks like. Elysium's mythology was barely explored. As a result, it felt like a mansion with only half its rooms furnished. Know every inch of your world, guys. It doesn't all have to appear on the page. But as the writer, you need to know how it all connects.
The Phantom Menace – The Phantom Menace taught me one of the most valuable lessons I've ever learned. That just because you build your story around deep things, it doesn't make your script deep. Lucas believed that because The Phantom Menace was covering politics, it would somehow make this Star Wars adventure more intellectual and thoughtful. The only thoughts anyone had, however, occurred during their REM cycle once the second act rolled around. The Phantom Menace also reminded us how valuable urgency is to a story. If you look at the four best Star Wars movies (4, 5, 6, 7) they all have urgency. You look at the worst 3 (1, 2, 3), they have no urgency. And no, Episode 3 is not better than 4-7. Stop promoting that overblown pointless film with one of the worst climaxes ("I HAVE THE HIGH GROUND, ANAKIN!") in sequel history.
Hancock – Hancock had one of the best setups for a superhero movie ever. A drunk superhero? Talk about a conceptual goldmine. The finished product, however, was a disaster, and it taught us a valuable lesson: AVOID OVERDEVELOPING AN IDEA. A lot of times, we're with our scripts for so long, we become numb to them, and feel like we need to add bells and whistles to keep them exciting, instead of staying true to what was great about the idea in the first place. Hancock felt that pressure and added the ridiculous twist where a local housewife had the same mythological powers as Hancock did, and the movie never recovered after that. When you have a good idea, trust it. Don't overdevelop it with a bunch of stupid add-ons just because you're bored.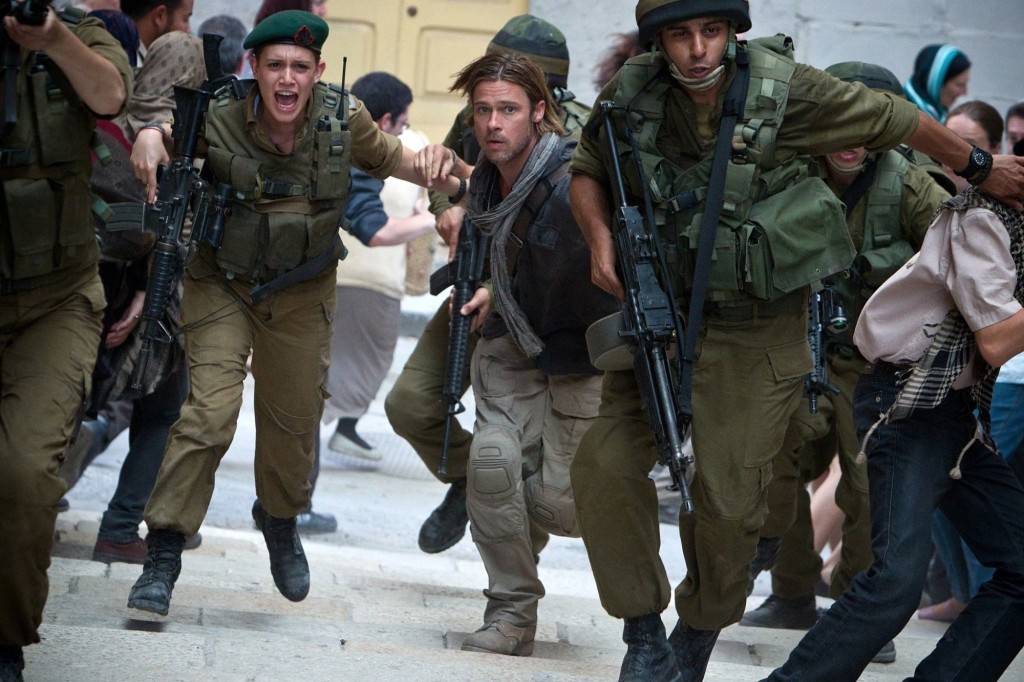 Cast Away – Cast Away was one of the riskiest movies of the decade. Sure it had Tom Hanks, but he was all by himself! How do you keep that interesting for two hours? Cast Away taught me the power of the mini-goal. The mini-goal is the tool that keeps your character active for 10 minute chunks at a time. Tom Hanks must make fire to survive. There's a ten minute chunk. Tom Hanks must learn how to fish. There's a ten minute chunk. Tom Hanks must figure out how to utilize all the Fed Ex packages. That's a chunk. Mini-goals keep the movie moving 10 minutes at a time. If Tom Hanks doesn't have anything he has to do RIGHT NOW, that narrative stops and we get bored.
World War Z – World War Z famously filmed a giant war climax between humans and zombies that wasn't working. They had to stop production, bring a new writer in, and write a new ending. That ending had humans avoiding zombies in a lab-like maze while they looked for a cure. It was a solid sequence that ended up saving the film. The lesson? When you're writing a big movie, sometimes the answers aren't big. Sometimes they're intimate. So make sure you consider both.
Pearl Harbor – Pearl Harbor was trying to be the next Titanic. It succeeded. If you mean it quickly sunk to the bottom of the box office. Pearl Harbor taught us that you should never prioritize an idea over characters. The movie was an obvious excuse to film a set-piece (the Pearl Harbor bombing) with the characters being an afterthought. The reason Titanic was so successful was because James Cameron wanted to explore the depths of his two main characters first, and the depths of the Titanic second. Nobody knows that about Cameron – how much he values character. But it's precisely why he's the king of the box office.
Mini-Lessons – The Dark Knight taught me the value of grounding extraordinary characters. The Hangover taught me the importance of finding new ways to explore stale ideas. The Sixth Sense taught me that an audience will be patient as long as your heroes' objective is compelling enough. Silver Linings Playbook and 500 Days of Summer taught me that the traditional romantic comedy is dead, and that you need some quirky take on the genre to get Hollywood interested. And Ghostbusters taught me that audiences aren't stupid. If they feel that you're pushing something other than entertainment (in this case – a social agenda), they won't show up.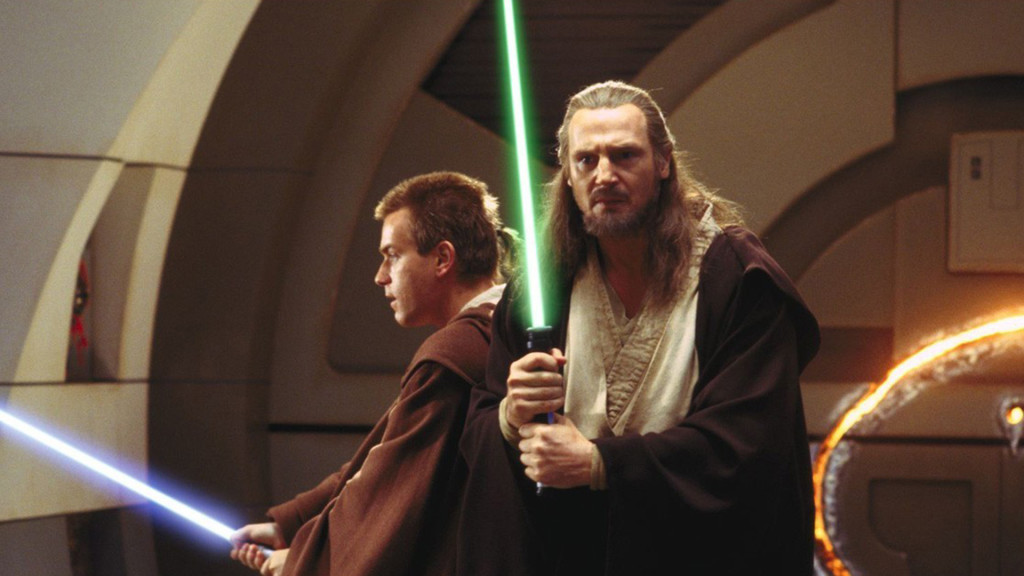 If you're new to the Scriptshadow Script Challenge, here are all the previous posts…
WEEK 0
WEEK 1
WEEK 2
WEEK 3
WEEK 4
WEEK 5
WEEK 6
WEEK 7
WEEK 8
YOU FINISHED YOUR FIRST DRAFT!!!!
HOOOOOORRRRRAAAAAYYYYY!!!
First thing I want you to do?
Get drunk. You're going to need it, trust me. Because now it's time for the…
REWRITE!
In order to best attack a rewrite, you need to understand what rewriting is. And the way I define rewriting is simple: PROBLEM-SOLVING. That's what you'll be doing in your second draft, your third draft, and every draft from this point forward. Identify problems. Find solutions. I call this THE GAMEPLAN, and it has one final step:
THE GAMEPLAN
1) Identify problems.
2) Come up with solutions.
3) Implement solutions into Second Draft outline.
That's right. You won't be doing any physical rewriting this week. And you won't have time to. While before, you could get away with a minimum of two hours a day. You'll now need at least three. That's because you'll be dealing with the most unpredictable step in the process: SOLUTIONS. Solutions can take seconds, hours, days, even weeks to figure out. But before we go there, let's start with step 1: Identifying the problem.
IDENTIFY PROBLEMS
The first thing I want you to do is put yourself in the mind of a reader. Take your 'helpful' hat off and replace it with a critical one. Your goal with this step is to be EXTREMELY HARD ON YOURSELF. Since you're a writer, that shouldn't be difficult. Get your mind in as critical a state as possible.
What you're going to do is read your script from start to finish, and take notes in two areas.
1) Boring parts.
2) Characters.
For the first area, you're going to be monitoring your enjoyment level during the screenplay. Are you engaged? Or are you bored? When you get bored, backtrack to where the boredom started, then continue on until you become engaged again. Mark that section down in a separate document and write down why you were bored. Don't overthink it. Go with the most honest answer. So if I were, say, George Lucas, and I were applying the Scriptshadow Rewrite Model to my first draft of The Phantom Menace, this is what I might write:
Pages 5-11: Something feels off about this Jedi scene. Jedis waiting around in a room? Is that exciting enough?
Pages 23-32: The underwater Gungan City is cool, but why does it feel so boring? A lot of standing around. No action. Jar Jar's great though. People are going to love him.
Pages 40-47: Dinner scene in Anakin's hut is long with a lot of talking. We need to get so many plot points across that there's no time left to entertain the audience. Maybe they'll be distracted by how funny Jar Jar is.
You'll have more sections than that, and in some cases, you'll go into more detail than I did. The more detail you add, the more information you'll have to solve the problem. Don't get too verbose though. You don't want your future self to have to wade through 20 lines of random thoughts to try and find the point.
While you're assessing your boredom frequency, you'll also want to gauge how strong your characters are. For every character who has more than two scenes, rate how satisfying they are on a scale from 1-10. Then tell us what you liked or disliked about the character:
Qui-Gon Gin (6): Stoic. But is he too stoic? Not much personality.
Obi-Wan Kenobi (5): Trying to have fun with him but he can't be too fun since he's a Jedi. Having a tough time finding the balance and it's showing.
Anakin Skywalker (2): Boring, whiney. If I ever write a second draft, I'll fix that.
Jar-Jar Binks (10): Perfect all around. Funny, engaging, charming, sophisticated. People are going to love this character. No changes!!!
SOLUTIONS
The reason you wrote all that stuff down is so that you can methodically go through it, point by point, and come up with solutions. Start with the boring sections. Some people like to re-order this list so that the biggest problems are on top. Some like to keep it in chronological order. It's up to you. And now is where the fun begins. For every problem, figure out why it's a problem and try to come up with a creative solution. Here's an example:
Pages 5-11: Something feels off about this Jedi scene. Jedis waiting around in a room? Is that exciting enough?
Solution: Maybe move the scene to the hanger bay. When they first arrive, no one comes out to greet their ship. It's eerie, odd, and more suspicious as each second ticks by. Obi-Wan and Qui-Gon decide to go out and inspect. They see a couple of dead Mandelorians in the hallway. Someone got here first. But who? Are they in danger? Maybe include a flash-forward Jedi dream of Jar-Jar. Additional note: Remember to add Jar-Jar stepping in dookie scene. Forgot if I included that.
Remember that, in some cases, the issue may not be fixable. The solution, then, could be eliminating the sequence. Or replacing it with an expanded subplot, or a new subplot altogether. Or moving the section to a more desirable place in the story. Everything is in play. Just remember the ultimate mantra, which is that if it doesn't push the story or the characters forward, you don't need it. Could you include a scene in The Phantom Menace where Queen Amidala is practicing her blaster shooting skills? Sure. Does it get her closer to the story's ultimate destination? It does not. So you don't need it.
HOW TO RECOVER FROM A SCRIPT DISASTER
I should take a moment to acknowledge the possibility that NOTHING IS WORKING IN YOUR SCRIPT. This is why the outlining stage was so important. You got to see your script in macro form and tackle potential structural problems before they happened. But if you didn't outline or you went way off the reservation during your first draft, there's a chance that, structurally, the majority of your script is unsavable. If you deem that to be the case, figure out where you went off the rails, go back to your outline, and re-outline everything after that moment. Your "2nd draft" is going to be more like a "1.5 draft," but thats okay and it happens a lot. The good news is that it's better than starting from scratch.
Once you've found all your plotting solutions, it's time to tackle your characters. Go through each one, figure out what's wrong with them, and make decisions on whether to a) improve them or b) get rid of them. If a character is anywhere below a "4," you either have to get rid of them or reimagine them. Let's take a look at George Lucas's Anakin note for the second draft of The Phantom Menace which he'll be getting to any day now.
Anakin Skywalker: Boring, whiney.
Solution: The big problem here is that Anakin is one-dimensional. It's resulted in him being boring. One way to add some spark to him is to make him more mischievous. Give him an edge. That'll immediately add some personality to a character in desperate need of it. A goody-two-shoes who whines all the time is going to put people to sleep. Also, add a scene where Jar-Jar juggles Anakin.
Now you won't be able to solve every problem right away. That's okay. Some solutions will come faster than others. What I've found is that if something's not coming to you, it's best to move on to the next problem. Cause every problem you solve has the potential to give you ideas to solve other problems. So if you're having trouble figuring out how to make Anakin more compelling, sitting there and staring at the wall won't do much good. But if you're working on solving that boring Anakin Dinner Hut Scene, your solution may lead you to realize that Anakin's at his most interesting when he's manipulating others for his own gain, which allows you to go back and integrate that into your character solution.
Once you've written all of your potential solutions down (plot and character), resist the temptation to jump in and start the rewrite. Instead, it's time to integrate all of your solutions into a SECOND DRAFT OUTLINE. What a lot of writers will do is take their first draft outline, save it as a new document titled "Second Draft Outline," then use it as a template, pasting their new ideas (their solutions) into the already numbered slots. The outline can be as general or as specific as you want. So for the opening Jedi ship scene I highlighted, you can paste in exactly what you wrote as your solution, or you can expand on it, explaining how you want the scene (and subsequent scenes) to go. My belief is that the more detail you add to your outline, the better, as it'll make the actual script-writing part easier.
And that's it for this week. You want to solve your plotting problems as extensively as you can. You want to solve your shitty character problems as extensively you can. And you want to add all of that stuff into your Second Draft Outline with as much detail as possible. This will become the blueprint for your second draft rewrite, which starts next week. It will also be your most time intensive week to date. So get started NOW!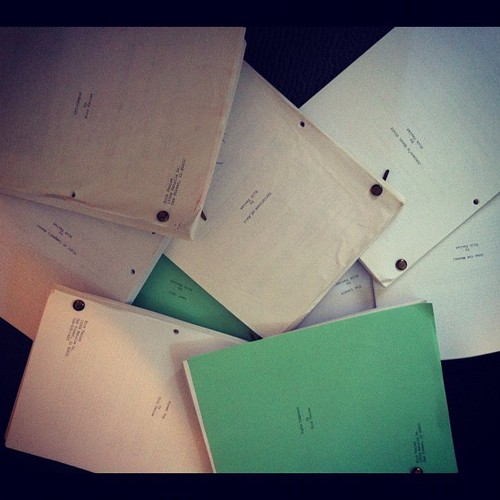 You're allowed to play around here on Amateur Offerings for a teensy bit, but you should really be working on your outlines and character bios, especially if the weekend is one of the only times you get to write. With that said, here are this week's entries. Read and vote on your favorite (just add a comment with your vote). Whoever gets the most votes gets a review on the site next Friday! May the best script win…
Title: Onion
Genre: Psychological Thriller
Logline: In order to fend off a home invasion, a troubled man descends into a fierce, animal-like state – from which he seems unable to emerge – and goes on the run in an increasingly violent, single-minded quest to return to his childhood home.
Why you should read:
– Received both a 5 and a 9 on the Blacklist website. What's with that – or more importantly, which one is it really closest to?
– Vicarious wish fulfilment for anyone who's been bullied;
– Some jaw-dropping 'can't believe that just happened' moments;
– An amazing third act TWIST – which I bet you won't see coming.
Title: Pandora's Box (this week it works!)
Genre: Supernatural horror
Logline: After the tragic death of their five year old son Ryan, the Taylor family begin to experience
paranormal phenomena. In a desperate attempt to contact their son, the family turn to a Voodoo
witch, who is cursed with the gift, to see the dead.
Why you should read: Do you love rainbows? Cute and cuddly care bears? Unicorns? Rose smelling farts? If so, this is NOT a script for you. I repeat, this is NOT a script for you. I eat cute and cuddly bears and shit out unicorns for breakfast. This is a script that will make your legs quiver (like a dog taking a shit), this is a script that will make The Sixth Sense look like a romance movie (That's just trash talk, The Sixth Sense is one of my all time favorite movies). If, like me, you love suspenseful horror, and you love to shit your pants (like a crying baby) then maybe… Just maybe, this is a script for you. A low budget horror, in the genre of The haunting (1991), Insidious, The Conjuring, and The Shining, "designed to jack you up".
I hope you enjoy guys, and thank you for taking the time to read Pandora's Box, co-written with my sister, (yes, we need MORE female writers)!
Title: The Other Princess
Genre: Comedy, Romance (live action)
Logline: When a broke kingdom gets a second chance with a sponsored contest to find the "next Cinderella," a common girl who competes to help her family must decide if all the drama and a charmless prince are really worth it.
Why you should read: A while ago I was watching Shrek with my toddler niece, and thinking "I would've loved a whole movie on the funny fairy tale kingdom stuff." That thought led to: "imagine if after the Cinderella story, Fairy Godmother became a washed up drunk"…and "imagine if another kingdom tried to find the next Cinderella through a "Bachelor" like competition"…those were just a couple of the "imagines" that resulted in this script, and if it's something that might appeal to you, I hope you enjoy whatever you have time to read! (as for me: my background began in narrative fiction, and after publishing 3 novels, I started learning all I could about screenplays, as it seemed natural given my love of writing dialogue. A previous script was a top 20 finalist with Script Pipeline in 2014, and with this new one I'm just trying to see if readers find it interesting and fun!)
Title: Game. Set. Match.
Genre: Sports/Drama
Logline: On the day of the U.S. Open Championship, a washed up tennis-star, facing his last chance at winning a Major, is presented with a tempting offer to throw the match to his opponent: his younger brother.
Why you should read: I've been writing screenplays for about 5 years now, but in the last year I've gotten very serious about it and am moving out to LA next month. Over the past year, I've really pushed myself to write as many scripts as possible, and I think that Game Set Match might have some potential. I know that sports dramas aren't exactly the sexiest drama and neither is tennis (despite Maria Sharapova's efforts), but I think this story is told in an interesting way and will pull people in. Other than that, there's some racket smashing and John McEnroe… what more could you ask for?
Title: Fiesta (The Sun Also Rises)
Genre: Drama/Adaptation
Logline: A eunuch suffering from PTSD makes a trip to Spain with the woman he loves, succumbing to the hedonism and despair consuming post-war America in the 1920s. Don't worry. There's also bull-fighting.
Why you should read: I can't remember Script Shadow ever reviewing an amateur script that's ALSO an adaptation. I understand there are a bunch of reasons for this
1. An unproven writer should not be adapting major material he doesn't own the rights to.
2. See above dummy.
But…
1. I really wanted to see this wonderfully poignant and romantic story as a movie. There is a version (50s), but it kind of blows. So I wrote it. Out of love, passion and with absolutely no notion it could ever be made. I'm very proud of it, and just wanted to have an advanced reader let me know what they think. After all, getting screenplays read is hard, but getting screenplays read that require literary rights is impossible.
2. Wouldn't it be cool to examine an amateur adaptation? It's certainly something that'll probably prove unique from other reviews. I can definitely take the licks that might arise from such a scenario.
I'm probably really dumb. But I wanted to see this thing as a movie. This was the way to do it. It would be amazing to hear what you think.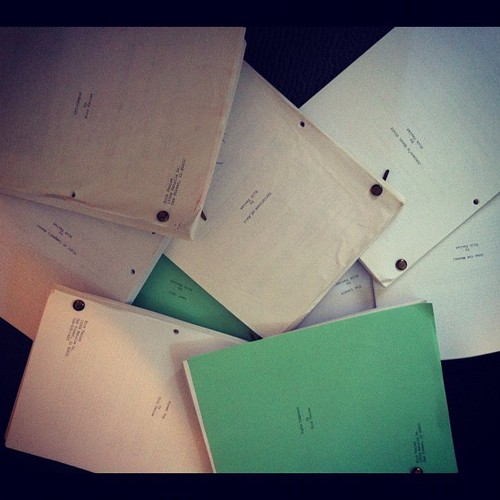 We're going to get away from loglines for a day. Well, not really, since you'll choose to read the below scripts based on their loglines. I suppose it's another reminder of how important they are. There continues to be a contingent of people who say loglines are dumb, yet those same people will read through today's logs and know instantly whether they want to read the script or not. As frustrating as these little buggers are, they matter!
If you're new to Amateur Offerings and want a shot at getting your script reviewed, e-mail carsonreeves3@gmail.com with your title, genre, logline, and why you think your script deserves a shot. Don't forget to include a PDF of your script. As for your job today, read as much as you can from each script and cast your winning vote in the comments section (leave a comment with your pick). Good luck to all!
Title: Eternal Lies
Genre: Psychological Horror/Thriller
Premise: When ancient relics wash ashore in the south pacific, a team of scientists set sail to investigate. The closer they draw to their origin, the further they flail from reality. (A Modern day take on The Call of Cthulhu. The Shining on a boat).
Why You Should Read: H.P. Lovecraft is one of horrors most beloved writers. Unfortunately for screenwriters, his works have proven very difficult to adapt successfully. I believe the reasons are threefold. One, his works rely heavily on internal dialogue. Two, the entire story is set up for one terrifying punchline. Three, his stories are never updated! We see the same period piece over, and over again. What would happen if we set Cthulhu in the modern world? Modern technology? Modern characters? Eternal Lies is my pet project. One that I feel has a chance at cracking the code of Lovercraft. I yield to the SS communities infinite knowledge.
Title: Sickness and Health
Genre: Comedy
Logline: A middle aged playboy hires a woman to marry him so his dying father can realize his dream of seeing him walk down the aisle. When the father then starts to show signs of a miracle recovery, the couple is forced to prolong the charade.
Why you should read: I was a Nicholl semi-finalist in 2014 (like Scriptshadow favorite "The Water Man" by Emma Needell from last year's BL), and that script's now being optioned, so hopefully I'm getting closer to figuring out what I'm doing here.
Title: Pandora's Box
Genre: Supernatural horror
Logline: After the tragic death of their five year old son Ryan, the Taylor family begin to experience
paranormal phenomena. In a desperate attempt to contact their son, the family turn to a Voodoo
witch, who is cursed with the gift, to see the dead.
Why you should read: Do you love rainbows? Cute and cuddly care bears? Unicorns? Rose smelling farts? If so, this is NOT a script for you. I repeat, this is NOT a script for you. I eat cute and cuddly bears and shit out unicorns for breakfast. This is a script that will make your legs quiver (like a dog taking a shit), this is a script that will make The Sixth Sense look like a romance movie (That's just trash talk, The Sixth Sense is one of my all time favorite movies). If, like me, you love suspenseful horror, and you love to shit your pants (like a crying baby) then maybe… Just maybe, this is a script for you. A low budget horror, in the genre of The haunting (1991), Insidious, The Conjuring, and The Shining, "designed to jack you up". I hope you enjoy guys, and thank you for taking the time to read Pandora's Box, co-written with my sister, (yes, we need MORE female writers)!
Title: North Of Fear – South Of Pain
Genre: Survival Thriller
Logline: A Tense survival thriller centered on a widowed mother whose confidence is tested when she and her children are stalked by an aggressive grizzly bear in the wilderness of Yellowstone.
Why you should read: When was the last time you bit your nails to stubs reading about a hopeless mother with two kids being trapped in a terrifying nature-gone-rogue situation?
Title: Patria
Logline: In colonial Argentina the bastard son of a widowed peasant woman rallies a band of freewheeling gauchos against a ruthless invader queen.
Genre: Action/Adventure
Why you should read: I'd like to find out if inducing torture on myself for the last six months by trying to finish this story translates into anything worth reading. Or is effortless writing the tell tale sign of a great script? All I know is this was a story that wouldn't let go of me as much as I wanted to give up on it at certain points. (Funny how that works) It is a culmination of all the personal betrayals, goals, angst, and general disposition towards life (to name a few) that I have experienced in my short 27 years so far. If that isn't reason enough to find out what that's about. What makes a man tick. Then I'm not sure what else I can give. I put everything I could into this script and it's something I'm really proud of for doing. Of course that's not to say that it's without fault or immune to criticism. I just hope it's not as painful for you to read as it was for me to finish. My mom hasn't read it yet so the verdict is still out ;) Onto the next one. -Godspeed