Genre: Horror
Premise: When a father-son team performs an autopsy on an unidentified female found under mysterious circumstances, strange things start to happen inside the morgue.
About: The Autopsy of Jane Doe finished near the middle of last year's Black List (it should be noted, however, that this draft is from a year earlier). The script was written by Ian Goldberg and Richard Naing. This will be Naing's first produced credit, although he had an associate producer credit on Better Living Through Chemistry, which starred Olivia Wilde. Goldberg, on the other hand, has been around for awhile. He wrote on The Sarah Conner Chronicles, Criminal Minds, and Once Upon a Time. Probably the most interesting thing about this project is that it's being directed by Andre Ovredal, who directed the amazing TrollHunter. Going from full-on wilderness, where you can shoot anywhere and include anything, to a tight underground room, is going to be a tough challenge. But if there's anyone who can do it, it's the guy who found and documented real live trolls.
Writer: Ian Goldberg & Richard Naing
Details: 91 pages – June 2012 draft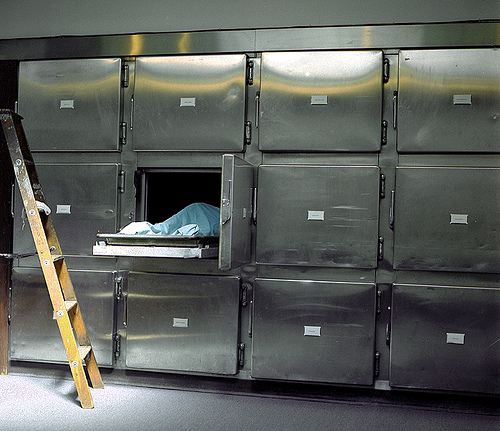 Something that will always be true through the end of screenwriting time: If you can come up with a fresh way to place a high-concept inside a contained location, and you can execute it adequately, someone will buy your script. It may not be for a ton of money, but it'll sell.
The problem with the contained horror/thriller is that everyone did it to death three years ago and ran out of ideas. We were stuck in coffins, stuck in cars, stuck in ATM booths, stuck in ski chairs. There are only so many places one can get stuck in (Open Me – A man accidentally gets stuck inside a gift-wrapped box on Christmas.  The problem is, nobody wants to open him.).
But here's where The Autopsy of Jane Doe was smart. While all these other writers explored their concepts through "what contained scenario haven't we done yet?", Goldberg & Naing approached it from the idea side. Come up with an interesting situation, regardless of place, then see if there's a way to contain it.
When you look at The Autopsy of Jane Doe, it could've easily been a procedural thriller. A mysterious woman dies in the basement of a home – we have to find out who she is and how she died. The autopsy turns up some strange conflicting clues, and we follow a couple of cops who hit the pavement and try to find out what happened – a Silence of the Lambs or Seven type thing. In other words, this could've worked as a normal movie.
But once we get to the morgue, that's where we stay for the entire running time. The script follows 50-something Tommy and his son, 25 year old Austin. Tommy has been in the autopsy business his whole life and loves working with his son. But Austin wants bigger and better things in life than… death.
That night, the two are delivered a strange "Jane Doe" discovered at a murder scene and get to work. But everything about the body feels off. The tongue is severed. There's a synthetic strand of string in her mouth. Her lungs are blackened as if she's been smoking for 50 years. And then it gets creepy. Here insides were slashed, yet her body has no indication of surgery. How could someone have gotten inside of her to cut her?
Complications arise when a bad storm moves in and starts knocking out the electricity. It gets so bad that one of the trees outside the morgue crashes up against the doorway, locking them in. Oh, and that's when the shit really hits the fan.
After going back downstairs, they find that all the body drawers have been opened… with ALL THE BODIES GONE. They start hearing noises all around them. At first they go looking for the source of the noises, but once it becomes apparent that said noises may be … paranormal… they head in the opposite direction.
The problem is, there are only so many places to hide down here. And whatever spirit this Jane Doe brought into the morgue is, it doesn't want to let them off easy. Flap…flap…flap. Those are the sounds of footsteps coming from bodies that shouldn't be walking. One of the many bodies who follow the bidding of… Jane Doe.
This script does a lot of things right. Like I mentioned before, the writers created a high concept that could be shot cheaply. They set up a mystery immediately (grab that reader IMMEDIATELY!) when, in the very first scene, the cops find Jane Doe in the basement of a triple-homicide.
Then, once we meet our morticians, we see them doing their job, in detail. This is a very important but underrated part of screenwriting. Whatever the main trade or subject matter in your movie is, you have to convince the reader that you know more about it than they do. That's because the moment you achieve this, the reader trusts you. Goldberg and Naing get into the itty-bitty details of an autopsy (order of procedure, tools, etc.), so that you trust them to tell this story.
I continue to see amateurs make this mistake and it's a surefire way to know if a script is bad. If I know more than you do about the main subject matter you're covering, then how much effort did you really put into this script?
But let's be honest. When it comes to a horror script, one thing matters above all others. IS IT SCARY? Jane Doe is scary. There's a moment in the morgue hallway where one of our previously dead bodies is walking towards us, a bell on his toe (put there earlier just in case he was still alive – ring-a-ling-a-ling), and with each cut-out of the lights, he emerges 10 feet closer. I needed a steady stream of "turn on all the lights in the house" after that one.
And I like stuff like this because it emerges directly from the concept. We've seen dead bodies walking around in a million horror movies before, most of the time with no explanation. But here, in a morgue, it wouldn't make sense UNLESS the bodies were used. Why set your story in a morgue if you're not going to utilize all the dead bodies?
I did have a few issues with this draft though. It rests a little too heavily on common horror movie tropes, such as the oldies song that keeps popping up on the radio. A lot of jump scares. Looking through keyholes and seeing scary eyes looking back. And there are only so many times you can run back and forth in a hallway before things start to feel repetitive.
Of course, this is the classic challenge of a contained horror film. You're ALWAYS going to run into this problem and it's never an easy solution. All you can do is run through as many options as you can think of to make sure you're using the best ones.
I also thought the relationship between dad and son could've been better executed. The way it stands, Austin doesn't want to be here, and the dad kind of knows this and accepts it. It felt to me like there needed to be a lot more conflict between these two – that the dad should've been more adamant about Austin sticking with the family business. You need that kind of thing because there's a lot of downtime between scares in a horror script (always more than you think when you start writing it), and if your characters don't have something interesting to hash out, the reader gets bored quickly. Always remember that a horror movie needs to be ABOUT PEOPLE FIRST. We won't be engaged in the horror unless we're pulled into the relationships.
I hope Naing and Goldberg have figured out solutions to some of these issues in subsequent drafts. With Ovredal at the helm, this could be really fun. From my understanding, this is in pre-production.  So with horror movies shooting and editing quickly, we'll probably be seeing it soon.
[ ] what the hell did I just read?
[ ] wasn't for me
[x] worth the read
[ ] impressive
[ ] genius
What I learned: This is something I honestly have no answer for. How do you come up with new scares in the horror genre? Literally EVERYTHING has been done. As I was reading this, I'd read a scare that I'd seen before, but then I thought, "I'd have probably done the same thing." I mean aren't there only so many ways to scare people? I'm going to challenge you horror aficionados (Poe! Are you listening??). How do you come up with fresh scares? And I'll go one step further. Give me some fresh scares you would've put into this specific script.