Busier than normal here at the household. One of the Dragon Gods of Screenplay Heaven got sick and I had to take him to the vet. So I'm reposting my newsletter review of BIRDMAN, which is from a long time ago. Now since that time, they've come out with a trailer. And I'll be the first to admit, the trailer looks awesome. It's unique in all the right ways. It takes chances. It's fun. But I'm not backing off my review. The script was borderline unreadable. And I know my review was a little mean-spirited, but as I know all of you can attest to, there's nothing that gets you more riled up as a reader than a comedy where nothing is funny. Now whether this is another case of a "what the hell did I just read" turning into True Detective, we'll have to see. But it's pretty easy to come up with a cool looking trailer that then becomes a terrible movie. Heck, we see it every month. I'm hoping I'm wrong though. I'm hoping Inarritu had some vision that went beyond the script, which can sometimes happen with writer-director projects. So here's my original newsletter review of Birdman. Also, I WILL be sending out a newsletter later this week. If you're not on the list, you can join here.
Genre: Comedy
Premise: A famous director turns away from his successful blockbuster movie franchise to try and make it on Broadway.
About: "Birdman" is Alejandro Inarritu's first foray into comedy. He's best known for his dark gritty dramas like 21 Grams, Amores Perros, Biutiful, and Babel. Birdman is finished filming and stars Edward Norton, Michael Keaton, and Naomi Watts. Now, Inarritu actually has a little bit of history with the screenwriting world. He used to work closely with writer Guillermo Arriaga on all his films. Then Arriaga, a screenwriter through-and-through, began a personal campaign pushing the agenda that writers and directors should share an "auteur" credit in every movie, as they are just as responsible for the movie as the director. That pissed Inarritu off, who strongly disagreed, and the two's friendship and working relationship fell apart as a result. This happened during the writing of Babel, and the two haven't worked together since. It's an interesting development in that one could argue that Biutiful was Inarritu's worst film, and it was his first full movie without Arriaga. Coincidence? Maybe the script for Birdman, which Inarritu is the head writer on, will help us find out.
Writers: Alejandro G. Inarritu, Nicolas Giacobone, Alexander Dinelaris, Armando Bo
Details: 121 pages (Sept 10, 2012 draft)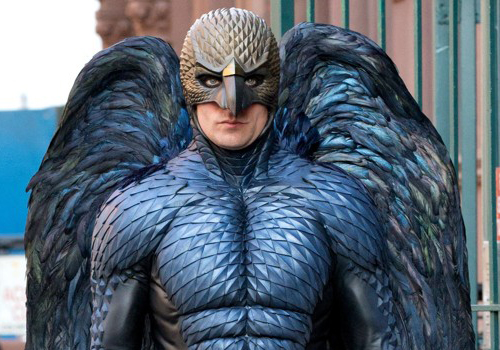 I'm always interested when someone who's successful in one arena tries to break out of the hole they've been pigeoned in (get it! "Birdman!") into another arena. Not only is there the curiosity factor of if they can do it, but there's a lot on the line. Everyone's doubtful that you can pull it off, and they're kind of ready to rip you apart if you fail. And there's no genre harder to pull off than comedy.
So to hear that Inarritu was making a comedy – he being responsible for some of the most depressing films of the last decade – well, I'd be lying if I said I wasn't surprised. Did Inarritu have a secret life? Did he stay home late at night watching Chris Farley movies and making farting noises with his armpit at the dinner table? Or was he just sick of being tabbed the super serious guy? Or better yet, did he just want to prove he could do it? These were questions I was curious to have answered.
Our oddly named hero, Riggan, is a 55 year old director whose successful film franchise "Birdman," has made him a household name. But when given the chance to make a fourth Birdman film and add even more money to his coffers, Riggan decides, instead, to try out Broadway – to make a serious dramatic play which will bring him the respect he's always longed for.
The problem is, he hates his lead. Which is a huge issue when your play debuts in a couple of weeks. Luckily, that lead gets injured, and Riggan is able to replace him with a hot Broadway actor named Matt Skinner. The Brando-like Skinner may be a better actor, but he's also nuts. He lives and breathes his characters, and isn't afraid to fuck with the production in order to get what he wants. For example, one day he sets fire to the set. Why? Cause he's Matt Skinner!
If Riggan only had to worry about Matt, he MIGHT be able to get through this. But he's also going a little nuts (he constantly talks with a manifestation of his Birdman character throughout the movie). He's got a daughter who hates him, seemingly because he doesn't know what Twitter is. And there are numerous cast and crew members who are banging (or wanting to bang) each other, inadvertently destroying this delicate production Riggan's worked so hard to create. Will Riggan figure out a way to save his play and finally earn the respect he feels he deserves? You'll be able to find out this fall.
Okay, I'm just going to come out and say it. This was terrible. I mean, it's pretty much a failure on every level. This is a comedy without any laughs. The tone is all over the place (dead serious one moment, overly goofy the next). And I'm wondering if the script's shortcomings are an ESL issue. Because very little made sense. I know I couldn't write a comedy in another language. So there's no shame in it. The shame is in trying to do something you shouldn't have done in the first place.
Birdman's problems go deep. Within the first 5 pages, I was confused. First of all, the main character starts in his dressing room, then walks out onto a stage, where the other characters are having a discussion about a psycho ex-boyfriend, which we believe to be a scene rehearsal. But then they turn to Riggan and ask him, mid-rehearsal, what he thinks about the matter. He says something to the effect of, "I don't know the guy so I don't know," and we begin to think that maybe this isn't a rehearsel. That it is, in fact, actors talking before rehearsal.
But then later in the conversation, Riggan gives one of the actors an acting note preceded by the parenthetical (as the director). Oh! I guess Riggan is the director now. Nobody told me that. Guess we were supposed to figure it out on our own. Except then we realize that Riggan is both the director AND the lead actor. So now I'm going back to the beginning and trying to figure out what this means. Was this a rehearsel or actors chatting? If it was rehearsel, why is the director AND lead actor not out there rehearsing with them? If it wasn't a rehearsal, why is Riggan giving directing cues mid-coversation?
I see amateurs make this mistake a lot but rarely pros. Whenever you're setting up a complicated situation (a writer-director you haven't set up yet walking into an ambiguous scene), it's your job to identify that it might be difficult for the reader to interpret and call upon your clarity wand to clear things up. Tell us Riggan is both the director and the lead actor in a description paragraph if you have to. Confusing a reader right off the bat in a screenplay is one of the worst things you can do. They lose trust in you and the script IMMEDIATELY and from that point on, you're playing catch-up with their trust.
On top of this, it's never clear if Riggan was the director of his famous franchise, Birdman, or the lead actor. He's portrayed as a director in our story, so we naturally assume he was the director of Birdman. But then it's indicated he ACTED in those movies too. This is so unnecessarily confusing. Why not just go with one or the other?
I loved Amores Perros. It made me an instant Inarritu fan. Babel had some really great moments in it as well. So I've always had a soft spot for Inarritu as a director. But comedy is not his forte. I respect stepping out of your comfort zone. But I mean… yikes. This is not funny or good or clear or anything that a screenplay needs to be. It wants to be five different movies instead of one. I mean, not even the basics are in place. There are no stakes! What happens if our main character, who has hundreds of millions in the bank, fails with this play? He goes back to making Birdman 4. Nothing is lost. Nor are we ever told what this play is about. This is a movie about a play and I don't know what it's about!
The only cool thing about this script is that Michael Keaton is playing Riggan – Keaton, of course, of Batman fame. There'll be some nice irony here in that he's basically playing a version of himself. And I see that Inarritu is doing a little auto-biographicalizing of his own. He's trying to get some demons about the business out – how does one be a successful artist and balance family at the same time?
I like when writers bring their own problems into their characters as that's usually when we see the deepest most meaningful exploration of character. Unfortunately, there was nothing authentic about the Riggan-daughter relationship. I don't know. It was just… off. Her big monologue in the movie – the one that breaks down their relationship with one another – amounts to "You need to use Twitter more!" Does any of this script make sense? Or more importantly, has nobody told Inarritu that his script isn't any good?
I think there needs to be a system in place where production companies and studios send their scripts out to a neutral party – someone who has zero skin in the game. Because a lot of money is about to be spent. Don't you want someone telling you if your script is terrible? Don't you want that chance to avoid a colossal mistake? Or to fix what's broken? I get the feeling this script was written in a vacuum and these guys didn't have anyone telling them how off it was.
Then again, it's a comedy. And comedies are easy to hate if you're not "getting" the sense of humor. So maybe I'm just not getting it. Also, the movie starts out with Michael Keaton floating in mid-air and never goes on to explain why. With a universe that untamed, maybe this isn't the kind of script meant to be judged. Maybe you're supposed to throw logic to the wind and just go with it. But there's a fine line between that kind of movie and one that throws a bunch of nonsensical crazy shit at the screen and hopes it hits. Let's hope Birdman isn't the latter.
[x] what the hell did I just read?
[ ] wasn't for me
[ ] worth the read
[ ] impressive
[ ] genius
What I learned: If you want to go "off the reservation" with your script, like Birdman, go ahead and do it. But please take the time to be clear about what's happening on the page. The wilder your story is, the less reference we have to draw on, which means we need more hand-holding along the way. If we're confused about something as simple as what your hero does, that can kill the entire reading experience.
What I learned 2: When you write a dialogue scene, try not to think of it in terms of what you (the writer) need to do with the plot. Think of it in terms of what the characters need. This is a common mistake all writers make. We're so focused on moving the plot forward or getting in those important lines of exposition, that we forget that in real life, there's no all-knowing entity sitting above people forcing them to do anything. In real life, people just talk. So you kind of have to take yourself out of the equation and approach the scene from inside the two characters. They're not thinking about what you, Aaron Sorkin, need them to say so he can properly pay off that first Act setup. They may just want the girl across from them to know that they like them. If you do this properly, your scenes will stop feeling stagey and plot-driven and start to feel more like two people actually talking.