Genre: Sci-fi
Premise: In the near future, where a secret group of humans have been genetically upgraded, a young girl holds the key to stopping these "synthetics" from taking over the world.
About: This is the new thing I was talking about. A spec script can't just sell alone. It has to be like the recently sold "The Eden Project," which is the beginning of a trilogy, the promise of a franchise, something that might even turn into a universe. Christine Hodson is an up-and-coming writer who was a former development exec, and has sold a few scripts now (none have yet made it to the big screen). This is clearly her most ambitious one, and sold for three quarters of a million bucks. It includes another new trend of giving your big expensive action movies female leads.
Writer: Christina Hodson
Details: 117 pages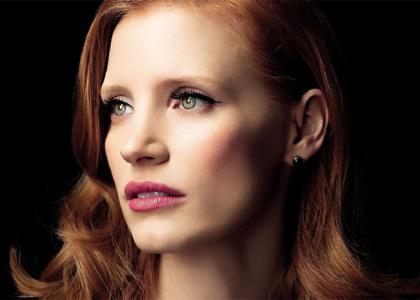 Jessica Chastain for Eve?
Talk about a script slump. What was the last feature script I flipped over? Hot Air? When was that? Four months ago?
I've been giving a lot of feedback to writers lately, and after giving one writer some particularly harsh (albeit kind) feedback, he asked me if I'd reached a point where nothing was fresh to me anymore. If it didn't matter what a writer wrote in my eyes, because I'd already seen it a million times due to the sheer volume of scripts I read.
That question has lingered with me since. Could it be true? Might all these scripts and movies I haven't liked lately actually be due to my unnaturally high read volume? I mean aren't there only so many ways to tell a story? Am I asking too much by telling writers to give me something new, different, unique and not the same ole same ole?
While there's no question that reading a lot of scripts dulls the read senses, I came to the conclusion that this answer would be an excuse, and I'll tell you why. Because while it's true there are only so many ways to tell a story, there are an infinite number of ways to create characters. No two people on this earth are exactly alike, and the same should be said for the people in screenplays.
If you put that extra effort into birthing a unique character who feels real and complex, and you do the same with all the other characters in your story, then you should be able to write something good, regardless of if the story feels familiar.
I know this because usually, when I don't like a script, it starts with the characters. Either I don't connect with them, identify with them, like them, or see anything unique in them. So I may be on page 10 by that point, not even at the doorstep of the actual plot, and I've already decided I don't like the screenplay.
I think this is the skill that truly separates the good from the bad screenwriters. The good not only do the extra work to create these complex individuals, but they find compelling ways to explore the collective of those individuals, how they interact with one another. The writers who hunker down and commit to doing this typically reap the rewards. Let's hope we get some of that today in The Eden Project.
Laura Walker, your average soccer mom, has a perfect husband, John, and a bright 7 year old daughter, Ruby. She also has a secret. She's not human. Or at least, not a hundred percent. And when she steps on a plane to Tokyo, she's well aware that her chances of making it to her destination are small.
Indeed, she's attacked on the plane by a man with superhuman strength, who then who puts the plane down, killing Laura and the other 200 other people on board.
In the meanwhile, a woman named Eve, who's like the female version of The Terminator, walks through the desert until she hits Vegas. Eve is looking for Ruby, Laura's 7 year old daughter (who looks 15 – but we'll get into that later). Ruby's been keeping a secret from her father. She and her mom are "synthetics," advanced next-gen versions of humans.
But it's a little trickier than that. You see, the real synthetics, who we'll call the "bad" synthetics, are planning to take over the world. Laura was a synthetic escapee who was developing a virus to kill the bad synthetics. She was on her way to Japan to give the virus to a man who could inject it into the synthetic mainframe. But the synthetics figured it out and stopped her before she could.
Now Eve, a "good" synthetic who was working with Laura, must get Ruby (and her dad), who also has the virus inside of her, to their Japanese contact before the bad synthetics get to them first.
Take 1 part Terminator, mix with 2 parts Matrix, add in a "Lucy" like female lead (actually dual-female leads), and you have a movie that's able to capitalize on all the elements of those films, while still being its own thing. Put frankly, this is EXACTLY how you sell a spec. Find out what worked before you, do the same, but give it a slightly unique spin.
Conceptually (and by that I mean all the elements that went into making this saleable – like the female lead thing), I give this an A. But execution-wise, it never reaches that lofty bar. And that's partly because it's existing within a framework where we already know what happens next. I mean the GSU is here in spades (get to Japan, fate of the world is at stake, bad guys are closing in), which makes for a lean-mean ask-kicking spec machine. But it's so firmly rooted in the DNA of Matrix and Terminator that it doesn't take a futurist to predict what will happen next (although I give it props for a daring unexpected late plot development).
And what about that whole character thing I was crooning on about earlier? What about that?
Well, Eve is essentially the Terminator in Terminator 2. She's all 1s and 0s, no understanding of emotion whatsoever (she coldly offers to kill John for Ruby – Ruby's like, "What?? He's my fucking dad."), and her journey is about learning to feel. So there's definitely some character development going on, but once again, it's character development we've seen before.
The far more interesting character scenario is John. He finds out that his wife and his kid have been lying to him this whole time. That his whole life has been a lie. How do you handle that kind of fallout? However, the script makes it clear that it's way more interested in spending time with the girls than the boys, so John's fascinating little character issue is only grazed.
A couple of other observations I had. Adam, our synthetic baddie, trashes his secret station after taking down Laura's plane so no evidence is left, but decides to leave Eve there. This us quite the lazy oversight. The only reason Eve appears to be left alive is because the story needed it. It would've made a lot more sense to either bring her with or get rid of her. It made zero sense to let her out into the wild.
Also, Ruby (the daughter) is a 7 year old who looks 15. John's spiel about being tricked by his wife doesn't hold up if he never noticed that his 7 year old daughter looked like a sophomore in high school. That's usually Red Flag Numero Uno. More on these two problems in the "What I learned" section.
Finally there were the fights. Which were fun. They had a very "Matrix-y" feel to them. But they were a little "been-there-done-that." This is something I'm noticing more and more with this "repackaging male-as-female" trend. The writers think changing the gender is all they have to do. All the action beats can be exactly the same.
Except you NEVER want to think that way. No matter whether you're updating a genre or a gender, you always want to look for ways to take scenes and ideas within the movie to a new level. The reason James Cameron made The Terminator was because he imagined a metallic skeleton chasing a woman and he thought, "I've never seen that in a movie before." That's always gotta be your bar as well. You need to think up those moments that audiences have never seen before. Especially in the ultra-competitive action genre.
Besides these problems, The Eden Project was an easy read. Rarely does Hodson go over 2 line-paragraphs, which is smart when you're writing an action script. We're always on the move, always hurrying to get to that next checkpoint. There's no breaking new ground here. But there's enough to make it work and, more importantly, we have a concept that studios will want to turn into a movie.
[ ] what the hell did I just read?
[ ] wasn't for me
[x] worth the read
[ ] impressive
[ ] genius
What I learned: As writers, one of those great feelings you have is getting your script to the 98% point. That's where you've finished all the heavy-lifting. All the big plot points make sense. All the scenes look good. The character work is strong and seamless. 98% feels damn nice. BUT, 98% is deceiving. You tend to think, "You know what. All the important stuff is finished. Let's just get this out there." As a result, you expose your script to the world when it still has mistakes. Here, we have the "Let Eden roam free" oversight along with your father character not being more curious about his 7 year old daughter looking 15. Is it annoying to have to figure out a solution for these things when you can gloss over them in the script with cheat lines like, "I just thought she had a weird disease?" Sure, but getting that final 2% figured out makes a difference. It makes the script whole. True, it didn't affect The Eden Project's sale. But I read the hundreds of scripts where the writers didn't take care of the last 2% (or 5%, or 10%) and those scripts don't always have the strong conceptual backbone that a script like The Eden Project has. And therefore the 2% becomes a lot more important. So no matter how exhausted you are, get your script to 100%. It's worth it.