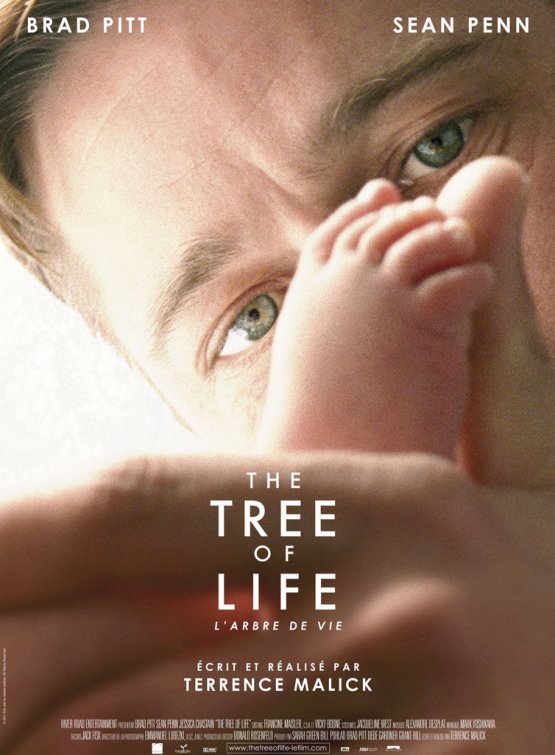 The current rule-bending king – Malick.
Art.
The essence of purity. It should be intrinsic, effortless, natural. A poem. A painting. A short story. All of it should emerge from that illogical, dreamer part of the brain. Write down whatever exists within the deepest recesses of your mind and then (and only then) have you been true to your artistic self. Containing it, rearranging it– sticking with the common word, scenario, characters, etcetera, with which a viewer or reader is all the more familiar, and you are no longer an artist. You are a machine, bottling up art into a series of rules.
It's a debate that's been going on way before screenwriting. Should there be "rules" or "guidelines" to art? To me, the answer is obvious. It is a resounding "yes." But to many, the belief is that you're defeating the purpose of art if you're trying to structure it. You're restraining that part of yourself that expresses creativity. There should be no filter on our imagination. It should exist unimpeded.
Here's the way I see it. Let's say you have two writers. One of these writers has been told to keep his scenes under three pages and to focus mainly on pushing the story forward with each one. The other writer has been given no restrictions whatsoever. Have your scenes last as long as you want them to. Focus on whatever you think up at the time, regardless of the story. All else being equal, the focused writer is going to write a better script. It's rules (or "guidelines") like this that make us better writers, which results in better screenplays. Therefore, rules are an essential component to art.
Here's the catch, though: I think every script should break the rules in some significant way. That's what makes a script unique – its deviation from the norm. Look at Pulp Fiction. It's a story told out of order and many of the scenes are ten minutes long. Those two "rule-breakers" are what made Pulp Fiction feel so unique. BUT it doesn't mean Tarantino wasn't following ANY rules. For example, he made sure each and every scene was packed with conflict so it could sustain a ten-minute running time. "Conflict" is one of the "rules" many consider essential to writing a good screenplay.
The idea here is that you want some semblance of structure to dictate your story, but you pick two or three areas where you go against the mold, where you do things you're "not supposed to do." This is what'll set your script apart. And it's essential. Because if you write a movie where you follow every single rule to the T, you get a safe "by-the-numbers," generic screenplay.
It should also be noted that the places where you break the rules will likely be what either makes or breaks your screenplay. Whenever you break a rule, you swim off into unchartered waters. You're doing something that isn't usually done. And since there's no blueprint for the less-traveled path, you're usually on your own, figuring things out as you go along. Breaking these rules then becomes a huge gamble. And the more rules or the bigger the rule you break, the greater the gamble is. It's the equivalent of putting all your money into that young up-and-coming company. It can either tank, resulting in you losing everything, or succeed, turning you into a millionaire. You just don't know until you hand the script to someone else.
With that in mind, here's what I hope will be a helpful guide to breaking the rules with your screenplay. These are seven of the more common rule-breaking approaches and how to make them work for you:
1) The No-Holds-Barred – This is probably the most dangerous path you can take as a screenwriter. You go into the writing with only the barest sense of what you're going to write about. There is no plan, no outline. You just feel like writing about something and you let your imagination take you wherever it wants to go. It's the "David Lynch" approach, if you will. Note that these are typically the worst scripts that I read (by far), and that the only real people who succeed at using this method are also directing the film (like Lynch). I'd strongly advise against this path. Then again, it usually results in the most original material.
2) Out of order – This is one of the more common forms of breaking the rules, and therefore there's some precedent for how to make it work. You simply tell your story out of order. Movies like Pulp Fiction, 500 Days Of Summer and Eternal Sunshine Of The Spotless Mind succeeded quite well with this device. All I'll say is if you tell your story out of order, make sure there's a reason for it. If you do it just to be different, it will show. What was so genius about 500 Days of Summer was that it showed you the greatest and worst moments of a relationship crammed up against each other, something we never get to see in a romantic comedy or love story. So there was a purpose to the choice. I can tell pretty early when there's no reason for a writer to be jumping around in time in his script. They're just doing it to be edgy or, they hope, original. But it often ends up feeling so random that I check out before the script is over.
3) Multiple protagonists – You've seen multiple protagonists in movies like Crash and Breakfast Club. The reason you should avoid multiple protagonists if possible is because audiences like to identify with and follow a single hero in a story. Once you have two people (or three, or four) to follow, you start losing that close connection that's required to get sucked into a movie because your interest is being pulled in too many directions. The exception here, and the way to make this work, is to sculpt amazing characters. Each character should have their own goals, dreams, flaws, fears, compelling backstory, quirks, secrets, surprises. If you can make each one of these characters deep enough so that they could theoretically carry their own movie, you can get away with a multiple protagonist story.
4) No Goal – To me, one of the biggest rules you can break, and one that almost always spins the story out of control, is not having a goal for your main character. Without a goal, your main character won't be going after anything, which means he won't be active, which means the story will feel like it doesn't have a purpose. One of the most famous movies to do this is The Shawshank Redemption. Our hero, Andy, is just existing. He's just trying to make it through life in jail. I believe the key to making these movies work is conflict. You gotta have a lot of conflict. Andy is attacked repeatedly by the rapist, Boggs. He's thrown in the hole for playing music. His one witness who can free him is murdered.  And there is the constant fear that the dictatorish warden and his corrupt officers will take you down if you step out of line.  You have to be tough on the protag, make him feel the pain of life, and we'll watch to see how he deals with it.
5) The anti-hero – Most people will tell you your hero should be likable. And for the most part, I agree. If we're rooting for your hero, we'll be invested in whatever story you tell us, whether that story is big, small, slow or fast. But there are a few dozen movies out there with anti-heroes as the lead that have done really well. You have Travis Bickle from Taxi Driver, Lester Burnham from American Beauty, or Riddick from Pitch Black. In my opinion, the way to make these characters work is to a) make them dangerous and b) don't hold back. You feel at any moment that Bickle might fucking go ballistic and rip your head off. Or with Riddick, the guy is a serial killer. If we're a little bit scared of these people, we'll be fascinated by them, and we'll want to know what they're going to do next, which is the key to getting a reader to turn the pages. Also, don't hold back. You have to take some chances with these characters or else what's the point of writing an anti-hero? Lester Burnham is trying to nail his 16 year old daughter's best friend. That's a HUGE chance, and it's one of the reasons this movie remains so memorable – it didn't hold back.
6) The long script – It's one of the most "set-in-stone" rules there is in spec screenwriting: Don't write more than 120 pages. Yet there are plenty of great, long movies out there. So, how does one get away with breaking this rule? I know this is going to sound like a cop-out but the truth is: great writing. The longer your screenplay is, the better the writer you have to be. Because remember, it's hard enough to keep a reader's interest for FIVE pages. Look back at Shorts Week if you don't believe me. So each additional page you write, you're increasing the chances that the reader is going to lose interest. In my experience, the long scripts that do well, such as Titanic or Braveheart, show skill in character development, dramatic irony, scene-writing, a keen sense of drama, knowing when to up the stakes or add a twist, theme, conflict, dialogue, you name it. They're usually INCREDIBLY STRONG at 90% of these things, which is what allows the writers to write something both long and good. A lot of writers (especially beginner writers) BELIEVE they can make a 180 page script work, despite barely understanding any of these things. I (and fellow readers) are the unfortunate recipients of these delusions of grandeur. They are never ever good. So my advice to you would be: Don't write a long script unless a) you've already written 10 full screenplays and b) you've found some level of success with your work (some sort of proof that you can tell a good story – a sale, an option from a major company, a win in one of the major contests, etc).
7) The Act-less script – A close cousin to the "No-Holds Barred" and the "No Goal," the act-less script shuns traditional 3-Act structure in favor of letting the characters and one's mind take the story wherever it will go. Terrance Malick movies are well known for this, and to a lesser degree, Sophia Coppola's (watch "Somewhere" to see what a truly act-less script looks like). It should be noted that the 3-Act structure is built on the idea of a hero with a goal, as the first act establishes that goal, the second act is about him pursuing it, and the third act is either him succeeding or failing. So if you don't have a character with a goal, you're more likely to run into an act-less screenplay. If you're going to shun traditional act-breaks, it's important, in my opinion, that you ask a lot of dramatic questions and include your share of mysteries in the story. Since we'll want these questions and mysteries answered, we won't be as concerned with the lack of a traditional setup and strange story direction. 2001: A Space Odyssey shuns traditional structure, but it finds a substitute for that structure to keep our interest in the mystery of the monolith.
The above is a look at some of the bigger rules you can break, but they are by no means the only rules. There are lots of smaller rules to play with like stakes, urgency and conflict. I mean, we're taught early on in this craft to never come into a scene too early. Well, you can obviously break that rule and come in a lot earlier if it fits what you're trying to do with the scene. The message I want to get across is that you should break these rules from a place of knowledge and a place of purpose. Understand the rule you're breaking and have a reason for wanting to break it (which means studying screenwriting as much as possible). Memento is a great example. It's about a guy who keeps forgetting. Well, if we tell that story in order, then we know way more than our character knows. Tell it backwards (break the rule) and we know just as little as him, which is an approach that fits our main character way better.
Yes, you can go with your gut and make choices knowing nothing about how storytelling works and become that lucky 1 in a million shot that creates something genius. But it's more likely that the opposite will happen. In my experience, the people who have written these amazing rule-bending screenplays have been in the business for a long time, guys like Alan Ball and Paul Haggis and Charlie Kaufman. Tarantino came out of nowhere, but he's like the exception to the exception to the exception (and it should be noted he'd seen just about every movie ever made before writing Pulp). I think as long as you're being true to your own unique voice, to the way you (and only you) see the world, you can still write a script that largely follows the rules and it'll still come off as original. But you definitely want to break SOME rules along the way. How you do so will largely determine the way your script stands out from the rest.