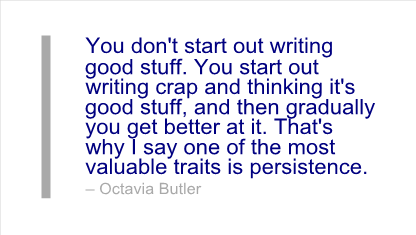 I spend almost every day on this site discussing the nuts and bolts of screenwriting. Give your characters a goal. Add urgency to that goal. Arc your characters. Make sure everyone's motivation is strong. I love discussing all that stuff. But I got to thinking how there are a bunch of things we don't talk about. The intangibles. Those overlooked but essential pieces that play into one's success (or lack thereof). These things aren't as sexy or fun to talk about as setups and payoffs, reversals or dramatic irony, but because they're so rarely breached, writers often forget their value. Let's lay out ten of these intangibles and discuss how they affect your writing.
Perseverance – Recently, two writers who have been long-time readers of the site (I'm talking 5 years) both broke through. One of them signed with a major agency and has a script that's about to make a lot of noise. The other finally wrote a script I feel can sell. I remember both of these writers' early efforts vividly, and they were rough. But they kept writing and kept writing and they got better. Writing is just like any other job. The longer you do it, the better you get at it. The toughest thing about persevering is that, in this business, the finish line is invisible. And it's different for everyone. But I can promise you this: With the exception of the .0000001% of screenwriters who get lucky, it takes years of perseverance to break through.
Getting Feedback – Too many writers aren't getting any feedback on their screenplays. Feedback is essential if you want to improve your scripts. It's why almost everyone who comes away from an Amateur Friday experience tells me how much better their script is because of it. The reason you want feedback is because your writing never quite comes off the way you think it does. You need people to tell you that the hero you're convinced comes off as a dashing rogue, actually comes off as a raging douche. Or that all that set up in your first act that's going to pay off in your third act like gangbusters, actually makes your first act slow and boring. What's in our head and what's on the page are often two different things. Which is why you need impartial parties to give it to you straight. Meet and trade scripts with people here in the comments section or build up your contacts via Twitter. Start trading and helping each other. I promise your writing will improve as a result.
Thick Skin – Writers are fragile people. I mean we're putting our heart and soul on the page, we're going months at a time without any feedback, and when we do hear a response to our work, it's usually a curt "A pass for us. Sorry." Talk about a tough business. For this reason, you have to grow thick skin. If someone doesn't like your script, it's not the end of the world. You don't have to start a six-month drinking bender. Look, nobody likes to be told their script (or their main character, or their third act) sucks. The trick is to turn those negatives into positives. Instead of being afraid of criticism, seek it out. Know that every critique helps you locate problems that you can now fix. That means criticism makes your script BETTER. It's really the only way to roll. In an industry where feedback is 90% negative, you have to have this attitude to survive.
Don't be delusional – One of the biggest things that prevents writers from breaking through is delusion. They hitch their rides to these extremely non-commercial ideas, whether they be slow period pieces or straight coming-of-age films or quirky small-town indie flicks. The strange thing is that most of these writers seem to know that they're doing this. And yet they do nothing to change it. Maybe it's fear of success. Or wanting an out ("Well, I never sold anything. But then again, I never tried to write anything commercial."). The truth is, if you want to succeed, you gotta stop deluding yourself about your choice in material. I'm not saying to write commercial ideas with no heart or passion. You have to find that within your commercial concept. But I see too many writers pushing these scripts and I'm thinking to myself, "Who's going to buy these? No one."
Work Habits – One of the strangest things about writers is that many of them don't want to write! Again, I don't know if this is a fear thing (fear of writing something terrible?) or what. But many writers put off writing for as long as possible. Look, everybody works differently, but I believe writers should write every single day. Even if it's just for 5 minutes. The key is to get SOME writing in. And it's not that hard. It's like going to the gym. The hardest part is getting there. But once you're there, you usually work out. So figure out a way to write every day. And don't say you don't have time. You can find five minutes in your day.
Stamina – Stamina, to me, is what really separates the men from the boys. And when I refer to stamina, I'm referring to how much effort you're willing to put into each script. As we just talked about Monday, Back to the Future started off as a good idea with an uninspired execution. They then wrote dozens of drafts to get it where it needed to be. I heard Damon and Affleck wrote a hundred drafts of Good Will Hunting. If you're serious about screenwriting, this makes sense. Every time you rewrite your script, you get a chance to fix the weakest link. And after fixing the weakest link 30-50 times, your script's probably going to be a damned good read. I'm not saying EVERY script will take this long. I'm saying that if needs that long, you need to be willing to go there. Also, make sure it's the RIGHT SCRIPT to spend all those drafts on in the first place (See above – "Don't Be Delusional").
Persistence – Push through the draft you're working on, even when it doesn't look like you can. Most abandoned drafts occur due to writers running out of ideas. But really, there's no such thing as "running out of ideas." It's more that you "run out of ideal options." You can always write SOMETHING. The great thing about screenwriting is, you can fix the bad stuff in the next rewrite. So if you get to a place where you can't think of how to move forward, just write the "shitty placeholder version" in order to continue your story. Chances are, as you keep going, you'll come up with a solution to that problem later. But don't let a script die just because you can't think of the perfect way to move forward. Keep pushing along and solve the problem later.
Dedication – I think it's important for screenwriters to be obsessed with screenwriting. If you're really serious about it, it only makes sense that you would learn every possible thing you can about it. That means reading interviews from screenwriters, reading books about screenwriting, reading professional scripts, reading amateur scripts, reading novels, watching all the old classic movies, even the ones you know you won't like. I'm not the biggest Western fan, but I went back and watched all the big ones because Westerns are a huge part of cinema history and influence many of the movies we see today. If screenwriting is something you want to succeed in, make it your life. Everybody else who's fighting for a spot on that coveted Hollywood food chain has.
Plan/Schedule – Not enough writers set schedules or goals. One of the hardest things about writing is that it's so open-ended. It's such a casual process that a year can go by and you've made barely any progress on your script. The way to combating this is through scheduling and goal-setting. I've found screenplay contests are great for this. Whether you like them or not, they give you a clear defined deadline to finish your script by, which can be motivating. Go for two or three a year. Then, set your short and long-term goals as a writer. Where do you want to be by the end of the year (Secure a manager? Place in the semi-finals of a contest?). What about two years (Secure an agent? Option a script to a known production house?). After each year, assess your progress. If you didn't meet your goals, ask why (is it because your writing or your promoting skills aren't up to par?), then work on those things as you push towards your new goals. The path to success in screenwriting is never a straight line. But if you build some structure into your approach, it's going to be straighter than most.
You – Bring what only you can bring to the table.  What are your unique experiences?  What is your unique view?  What is your unique writing style?  What unique people do you gravitate towards?  What goes on inside you that feels different from everyone else?  Bring that to your writing.  That's going to create your unique voice and it's going to be what makes you stand out.