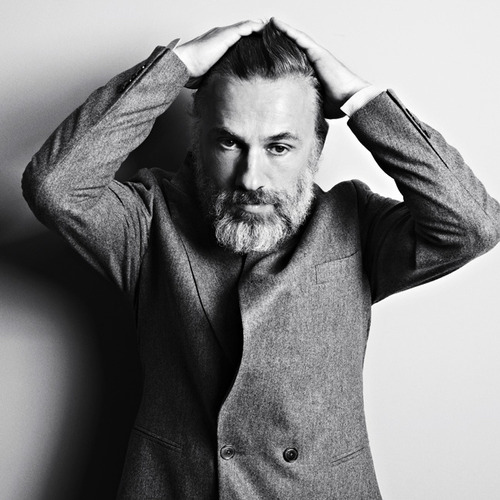 Christoph Waltz to play Jakob in "Jakob's Wife" maybe??
Many of you have been asking me, "Yo, Crackpot Carson, when the fly-handle are you going to be dunzoes with your freakin' contest, homie! If I woulda known I'd be on welfare before I got my contest results, I wouldn't have paid the ridiculous entry fee!" Well, maybe not in those words. More like normal-world words. I'm not sure anyone's used the word "dunzoes" since 2003, and I'm pretty sure the last one to use it was me. But you get the point.
The good news is, I'm almost dunzoes picking the top 25. And I'm reading every free second I get. If I'm in the line at In and Out, I'm reading. If I'm driving on a relatively empty highway, I'm reading. If I'm on the treadmill because I ate too much In and Out, I'm reading. If I'm in the hospital because I got in a car accident, I'm having the nurse read to me (note to all: Do not ask nurses if a script has enough GSU. Apparently that means something very different in hospital-speak – p.s. I'm talking about ass-stuff). So while I can't offer you a delicious helping of my special 25 sauce, I can give you 10 scripts that almost made the cut.
The reasons for why these scripts didn't make the cut are varied. But the general assessment is that there have been no perfect scripts in the contest. So the scripts that have gotten through are ones that have had a lot more good than bad. These "almost" scripts are ones that maybe had 60-70% good, as opposed to the 80-90% required to make the finals.
What's great about the below scripts, though, is that either they or the writer have potential. With guidance, who knows? Maybe we'll even review some for Amateur Friday to get the writers some feedback.
As for the scripts that didn't make today's cut, the number 1 reason was lack of originality. It's been one script after another with me going, "Already seen it." I don't get the sense that the writers are trying or that they understand the value of being unique in a medium that's deluged with sameness. So, here are 10 Scriptshadow 250 "Almosts." I'll leave it up to the writers in the comments section on whether they want to post links to their scripts. Enjoy!
Title: Legendaria
Writer: Ben Baker
Genre: Fantasy, Family, Adventure
Logline: After being magically transported into the world of a fantasy role-playing game, a nerdy middle schooler and his friends must finish the game's quest and defeat an evil sorcerer to get back home.
Notes: This was pretty good. Sweet, innocent, marketable, a Zathura-type premise. Kinda funny in a mainstream way. The only question is: Is it too simple? Does this writer have Harry Potter type imagination? Either way, it's a super easy reading style and the kind of story that makes you feel good.
Title: The Value of Perception
Writer: Skye Lynch
Genre: Mystery/Heist
Logline: The sudden and mysterious death of her grandfather leads a young art historian to uncover the largest art heist in history. But in order to bring the thieves to justice, she must trust a man she barely knows and steal a painting from one of the most prestigious museums in the world.
Notes: The writing here is strong and this one started out with a head of steam, building a lot of mystery. However, once she actually gets into the investigation, things start getting a little repetitive and/or predictable. Stopped feeling fresh. That tends to happen a lot when you move into these investigative-type stories. You need to stray from the formula at some point since the blueprint is so familiar to the audience.
Title: Jakob's Wife
Writer: Mark Steensland
Genre: Horror/Drama
Logline: In order to make his wife human again, an aging Episcopalian minister must hunt down and kill the vampire who bit her.
Notes: There is certainly something here, a sort of more-serious "Hobo with a Shotgun" vibe, mixed with a taste of Let the Right One In. My worry is that, "Is it too minimalist?" That could be. But the writer definitely writes with assuredness and seems to know what he's doing. I just wish there was more going on.
Title: My Two Cents
Writer: Magnus Ronningen
Logline: When a grumpy, computer-illiterate, 85 year old widower accidentally becomes America's most famous blogger, he must quickly learn to navigate the terrifying jungle of modern communication, or risk realizing his worst nightmare: being remembered as a joke.
Notes: This script has the second funniest scene I read in the contest. Without going into too much detail, an old man gets into an online fight with someone named "Cock," then calls the guy out and says he wants to deal with this in person, like people used to. "Cock" agrees to meet at a San Francisco Park, where the Old Man charges around demanding "Cock" as loud as possible ("Sir, are you okay?" "I'm here for cock!"). It's so juvenile and yet I couldn't stop laughing. There are more of those laughs here. The problem with My Two Cents is it has ZERO STORY to speak of. As in I couldn't locate a single plot thread. It was just this old man being confused with computers. Still, it was funny stuff.
Title: Ladybug
Writer: Alex Cope
Genre: High School / Monster Movie
Logline: An insecure teenager bitten by a strange bug finds that she is transforming into a giant insect and struggles to hide it from her friends and family.
Notes: This script's heart is in the right place. And it achieves the necessary "weirdness" factor required to pull a Black List placement. I'm just not sure it's firing on all cylinders. This is an ambitious premise and those require spot-on (no pun intended) execution. The whole time I was thinking, "This just isn't reaching the execution level that the premise promises." Still, it was good enough for me to remember in a sea of scripts. That shouldn't be discounted.
Title: Intelligent Design
Writer: Brian Kazmarck
Genre: Gothic Horror/Sci-fi
Logline: A grisly vampire-like murder sends an NYC Detective in way over his head when he suspects that the culprit he's after might actually be a real vampire.
Notes: This one has… something. Like most scripts here, though, it feels a little messy. Some writers seem to get lost in the details of their world. You've created a cool world. That's great. But you need to tell the story. You need to move things along. This is a movie, not a novel. Writers always forget that. You don't want readers giving up on your script cause they're having to move through a molasses-level heap of description. With that said, this is a cool premise and I could totally see it being a movie with a leaner more "get-to-the-point" approach.
Title: A Wretch Like Me
Writer: Justin DiSandro
Logline: A horribly despicable selfish drug runner finds himself in a situation where he must help someone else. Will he?
Notes: The writer attempts to do something unique. Create the most unlikable character possible, place him in a situation where he must help someone, then attempt to change our perception of the man so that we're rooting for him. This kind of thing has been done a few times before, but it's really hard to get right. I admire that Justin committed to making this guy a total bastard. And I loved the simplicity of the story. But in the end it's hard for me to change my mind about someone. And I disliked this character so much, I simply couldn't come around in the end. With that said, Justin's a writer to watch out for.
Title: The Operator
Writer: Huey Q. Pham
Genre: Action
Logline: After joining an elite counter terrorism unit in the CIA, a female Army combat veteran struggles to step out of the shadow of her deceased Navy Seal father while hunting a terrorist mastermind bent on avenging the death of his family.
Notes: One of the strongest female roles in the entire contest, and with female parts so big these days, that's a smart choice by the writer. The problem is the same problem that plagues practically EVERY script I read with the acronym "CIA," "DEA," "FBI," "NSA" or any other military acronym. They always devolve into generic story tropes. It's so disappointing because the female character here was so good. My advice to writers going forward. If you're going to write one of these movies, TRY TO BE ORIGINAL. We've seen every type of "man/woman with a gun" premise there is. What fresh element are you bringing to the table??
Title: Itchy Feet
Writer: Ian Bradley
Genre: Comedy
Logline: After a South African holiday goes hilariously wrong, two friends decide to make their way home to England – by driving up through the African continent.
Notes: This writer is really green. Script is 134 pages. Scenes go on for 3-4 beats longer than they should. But he's got comedy dialogue down. It sucks that you can't reward this because in addition to his knack for comedy, he's given us a movie we've never seen before. How often does that happen? But this writer needs to learn how to focus his story (outline, only write the scenes you need, get into every scene late and out of every scene early) as well as get a few scripts under his belt. Potential is great but you need to learn the nuances of the craft before they'll let you in the door.
Title: Hobgoblin
Writer: Bernard Kenney
Genre: Fantasy Action-Adventure
Logline: A dark retelling of the pagan, gnostic warlock Robin Goodfellow and his band of heathen Merry Men who fight against the onslaught of Christendom, in the form of the strong-arm of the Vatican's Grand Inquisitor who aligns himself with the Sheriff of Nottingham.
Notes: This script lives on the edge between "same but different" and "too weird," and honestly, I keep going back and forth between where it belongs. It's got a really cool religious-nut villain. It's got some fun set-piece scenes. And let's not forget how much Hollywood loves these reimaginings. But the script feels too dense at times, too riddled with exposition. I kept feeling like the script needed to breathe and the writer was constricting it. Sometimes you have to move those eyes down the page faster. This is inventive and has potential, but wasn't all the way there for me.
And there you have it. Congrats to all these writers. And I hope the notes I included help the writers in the next draft! ☺