Is one of the most hated movies of the year really in my Top 10??
I have to admit I was a little disappointed by this year's crop of films. There was nothing that truly wowed me, that I HAD to recommend to my friends. There should be 2 or 3 movies a year where as soon as they're over, you call your friends and say, "You have to see this now!"  That's not to say it hasn't been an interesting year in film.  We had a lot of stories, starting with the trilogy-closing Dark Knight Rises.  I think Nolan's penchant for extending his stories out past traditional run-times really hurt him on this one.  The film clearly felt 45 minutes too long.  Skyfall was adequate, but hardly recommend-worthy. The Hobbit is more a talking-piece than a film (it's impossible to see that film in 48fps and not want to discuss the technology afterwards). I wish I liked Family Guy more as "Ted" appeared to be the breakout shocker of the year. "Safe House" was also pretty good for what was a safe (no pun intended) script. It also became the second-highest grossing movie of the year that came from a (true) spec script, at 126 million (Snow White And the Huntsman was number 1 at 155 million). No spec script films made it into the top 10. :)  Let's try and change that in 2013, guys.
The Bourne Legacy lost its mojo with the exit of Matt Damon. Argo was decent, but carried with it a strange seriousness that was always at odds with its outlandish true story. I'm still not sure why Judd Apatow made a movie based around the two most annoying characters from Knocked Up.  But I was surprised to find that I actually liked the comedy crop of 2012.  The Campaign, That's My Boy, and The Dictator were all funny. None of the three were good enough to make my top 10, but they all made me laugh pretty consistently. It's another reminder that you never know with comedies. I didn't like the scripts for The Campaign or That's My Boy, but the comedic mastery of those actors totally saved the projects (Will Ferrell is hilarious in The Campaign).
A few movies that I didn't get to see but wanted to were Wreck-It Ralph, Cloud Atlas, and End Of Watch. I haaaated the End Of Watch script but everyone who sees it tells me it's great. I hope it is. I'm always fascinated by bad scripts that become good movies. So I'll be seeing that one soon. Oh, and there was one other movie I forgot to put on my Worst Of 2012 List yesterday: "The Watch!" What the heck was up with that movie??? Four guys sit around for 90 minutes.  That's the movie! That was one of the strangest viewing experiences I've ever had. Literally NOTHING happens. Anyway, enough of the trashing. It's time to celebrate cinema. Here are my Top 10 films of 2012.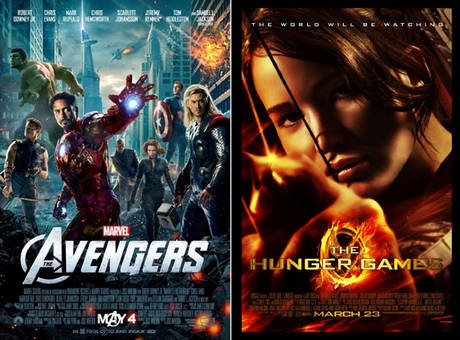 10) The Avengers/The Hunger Games – As much as I love good writing, I also enjoy seeing what happens when Hollywood goes all in on a movie. I love to see where they put their money. I love to see the latest advancement in special effects. I love to be taken somewhere I've never been before. Plopping down in that seat and turning off my brain off for two hours is a welcome relief from all the analyzing I have to do. Does that mean these movies were great? Hell no. If any of you said, "Yeah, but Carson, Plot Point A from Avengers is terrible and Decision C from Hunger Games is stupid," I probably wouldn't argue with you. But that doesn't matter as much when you have Hulk smashing. Or Iron Man and Thor fighting (despite the fact that there's no reason for them to!). And you know, I LIKED the setup for Hunger Games. Do I wish it would've been rated R so that we REALLY saw what happens when kids fight each other to the death?  Sure, but of course that movie will never be made. For a PG-13 treatment of the idea, however, I thought they did a pretty good job. These movies were vaporware. I'll never see them again. But for the 2 hours I sat there and watched them in the theater? They were fun!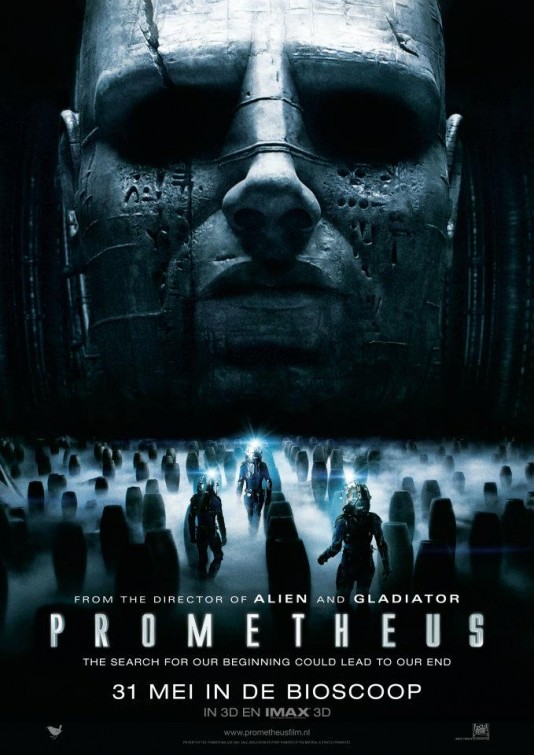 9) Prometheus – I almost didn't include this one just because of how much shit I'd get in the comments section for it.  But then I put my big boy pants on and buckled up because I LIKED this movie.  And no one's going to convince me that I didn't!  I still believe a lot of the blowback has to do with franchise expectations and a killer trailer that promised a classic. I went into this with no expectations and didn't see that trailer. So I wasn't burdened by these things. And what I got was a compelling interplanetary mystery. A group of scientists head to a remote planet to inspect what could be the origins of mankind.  Shit goes wrong.  Sounds cool to me! The thing is, it's hard to present a contained story like this where monsters/baddies aren't chasing our characters around.  Without them, the story can feel a little slow.  You could make the argument that not much "happened" in Prometheus (if you weren't into the mystery) until the third act.  But I was into the mystery.  I  wanted to find out who these big bald white dudes were.  So I was down til the final frame. I loved the production design. I loved the way the film was shot. I thought the acting was top notch. I loved the surprises in the plot. This movie was fun, and not even close to how bad you guys think it is.  You wanna see what TRUE bad looks like?  Watch this video.  You'll have a new found appreciation for Prometheus.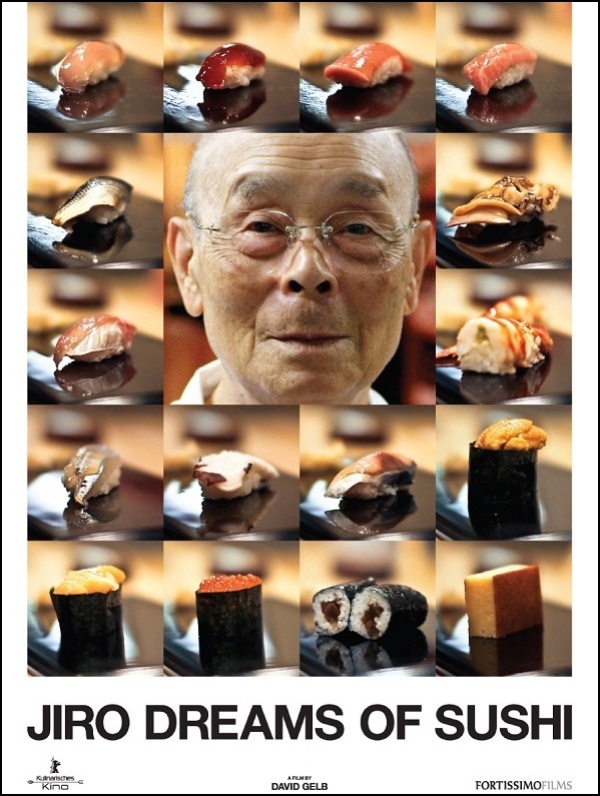 8) Jiro Dreams Of Sushi – It may appear as if I'm trying to gain some geek street cred after celebrating one of movie geeks' most hated films of the year. I mean, Jiro Dreams of Sushi is the most film snob of choices: A foreign documentary with subtitles! But I loved this movie and let me tell you why. It's about the best Sushi Chef in the world. His restaurant received the elusive 3-star Michelin award. For those who don't know what that means, it means that food critics believe the restaurant is good enough JUST TO FLY INTO THE COUNTRY FOR. But what I really like about this movie was that you could just as easily apply the lessons learned to screenwriting. Just like screenwriting, creating sushi is a craft. It looks simple. Just add rice and a piece of raw fish (just words on a page). But it takes thousands of hours to perfect that craft (sound familiar?). Jiro is so meticulous that when he's serving a party, he actually makes the sushi pieces for the women a little smaller than the ones for the men, so that they all finish at the same time. You will never look at sushi (and maybe screenwriting) the same way again after watching this film, which you can find on Netflix streaming.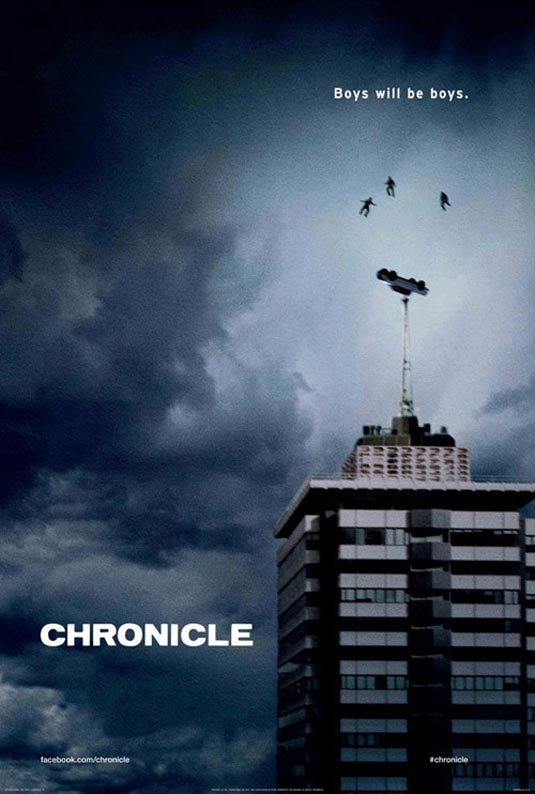 7) Chronicle – I love when writers take ideas and evolve them. The found footage thing was reaching its breaking point in the horror genre. So to move it over to high school kids discovering a mysterious glowing object and developing super powers was kind of genius. The movie's not perfect (no film on this list is, unfortunately) and they probably overplay the amount of abuse its main character had to go through (the scenes with daddy beating hero were ridiculously over-the-top), but you also have to commend the film for wrapping its story around an anti-hero, something you don't see in many mainstream movies not named "Pirates Of The Caribbean" these days. And I don't know, seeing it all go down via hand-held video gave it a realistic feel the movie never would've accomplished had it been shot traditionally. The effects were good too!  Chronicle was a nice surprise.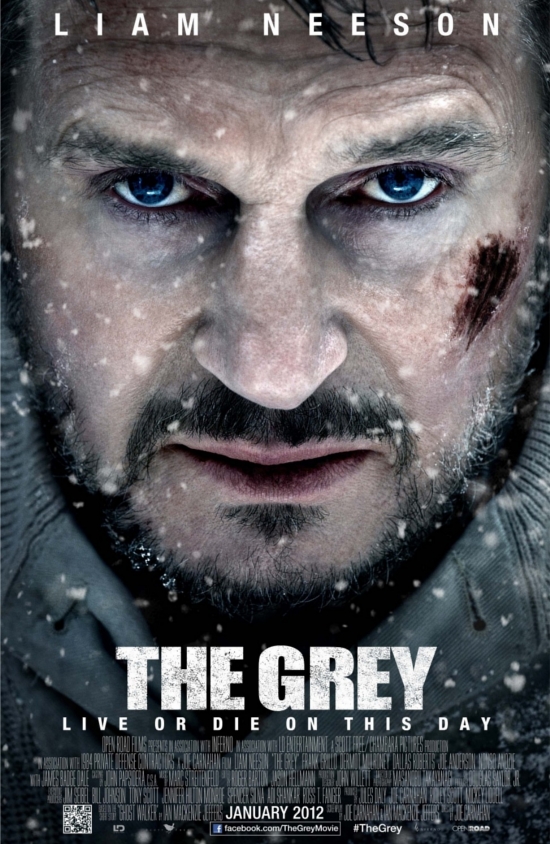 6) The Grey – It's impossible for me to disassociate this viewing experience from my original reading experience. For those who don't know, I went gaga over this script when I first read it. And I was constantly getting updated on the movie as it went through various stages of development/production. To see it come to screen felt a little bit surreal. The big difference, I felt, between the film and the script, was that the film felt a little more hopeless, a little more depressing. I don't know why, but I felt hopeful while reading the screenplay. Maybe in the way Ottway challenged those wolves. How he always knew what to do. And, of course, when he finally takes the Alpha on in the end (which wasn't shown in the movie). I wish the movie would've embodied more of that hope. Despite that, the script nailed everything else that made the script great. You felt for Ottway. Neeson delivered those amazing voice overs perfectly (and his performance overall was awesome). The plane crash was great. The conflict between the characters was great. The conflict between the humans and wolves was great. There were a few slow spots, but overall, I really liked this one.  Still think he should've fought that wolf though!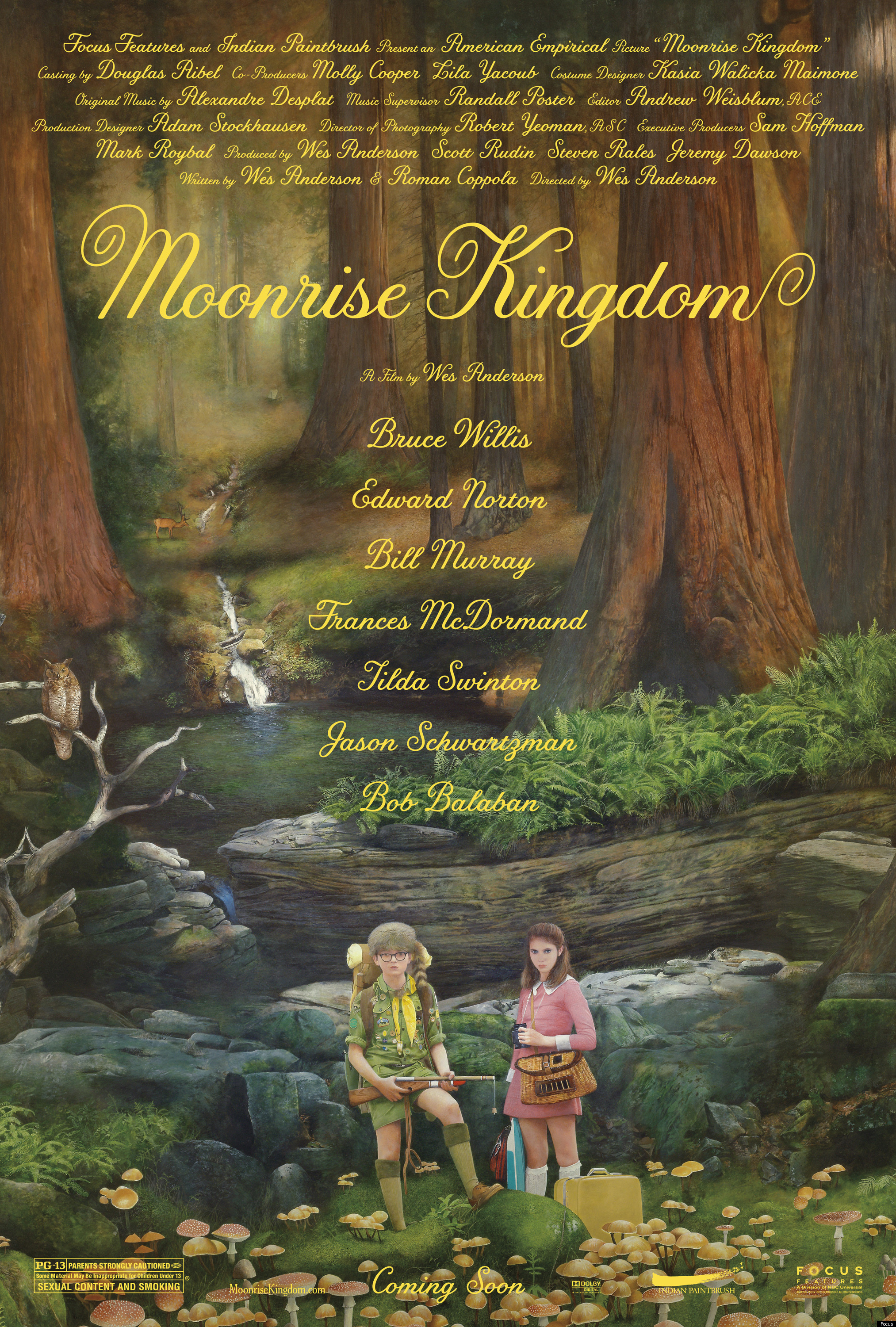 5) Moonrise Kingdom – Wes Anderson is back! He found his mojo! Life Aquatic and Darjeeling Limited were okay, but they felt like he was treading water. Moonrise proves that Anderson is best when he's dealing with the awkwardness of youth. This is the way a love story should be told, dipped in messiness and rolled in weirdness. I LOVED the performances of the two leads, Jared Gilman and Kara Hayward. I loved that Anderson wasn't afraid to push the envelope with their love, going places you're not going to see in any Sisterhood Of The Traveling Pants sequels. I do wish Anderson would continue to evolve the look of his films. It'd be nice to see an occasional frame without everybody centered in it and staring at the camera, but hey, that's his voice. And it worked nicely for Moonrise.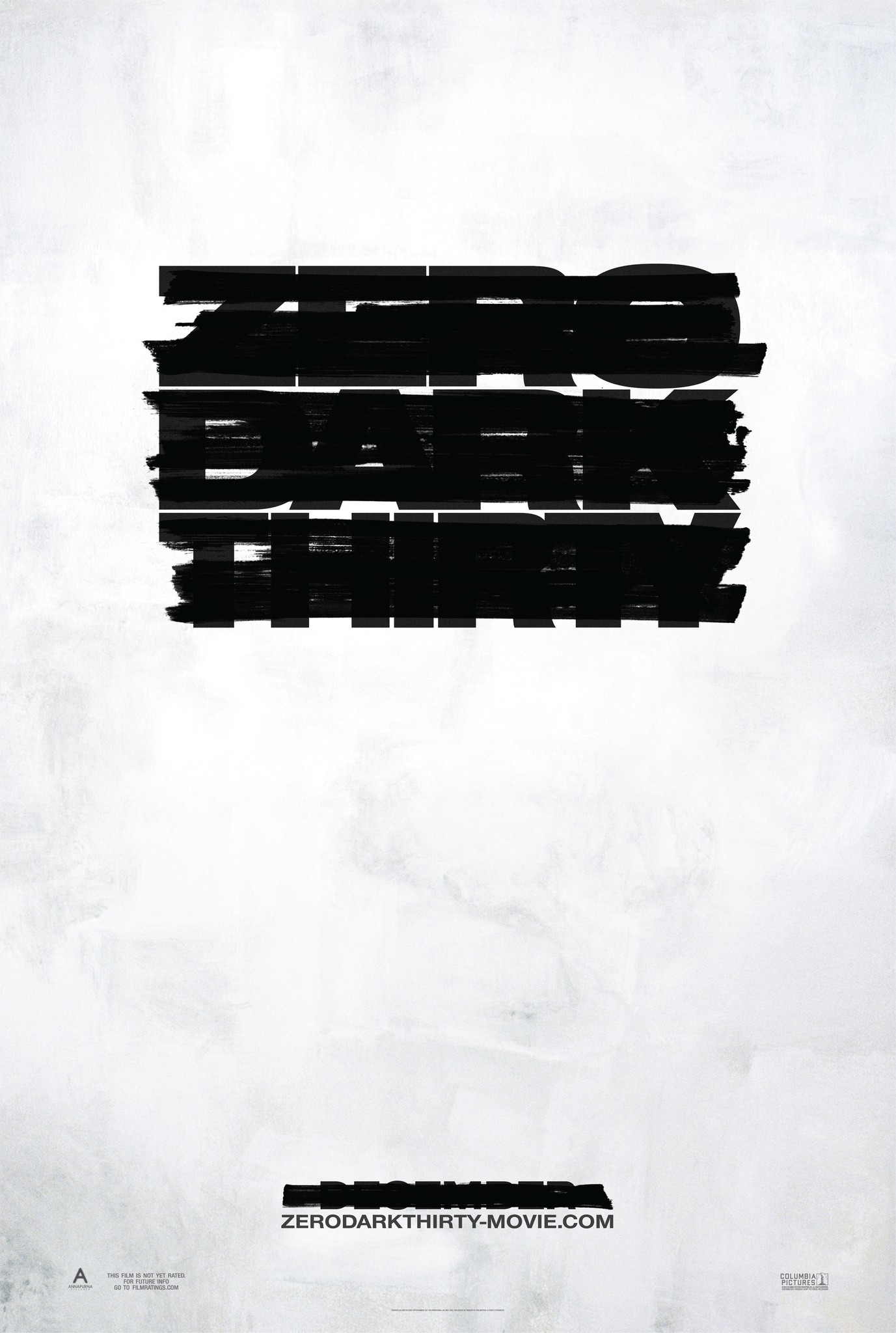 4) Zero Dark 30 – It's dark. It's serious. It's a lot of un-botoxed people in rooms having important conversations. But it's also good! I have to give it to Boal and Bigelow. They gave us a tension-filled thriller with an amazing climax. Do I wish the thing were shorter? Of course. Do I wish Jessica Chastain would've smiled once during the movie? Sure. I think if that character would've been more charismatic, more interesting – if we had known more about her, this film could've been a classic. The wall they put between us and her really hurt the film because she's our connection to this story.  We needed to get inside of her (that sounded wrong).  But outside of that, this really did feel like how it would be behind the scenes in the hunt for Bin Laden. And it's also another endorsement for the Goal-oriented screenplay. Make the goal big enough, and you'll have us wrapped around your finger til the very end!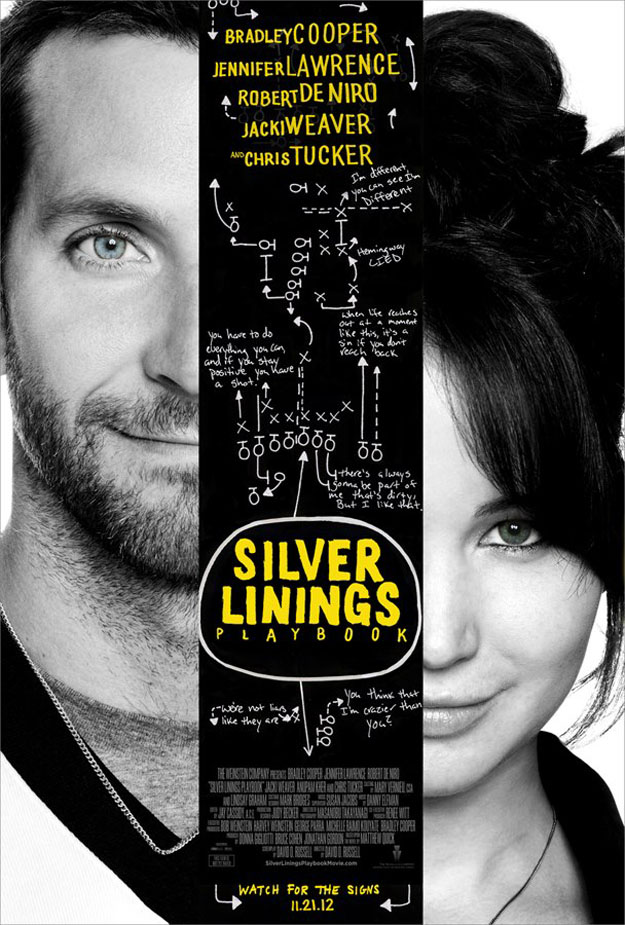 3) Silver Linings Playbook – Again, it's the same advice I just gave you with Moonrise. If you're going to write a love story, give us something different. We've seen the normal stuff a billion times over. You're going to bore us to pieces if you do it again. Playbook has a main character who just got out of the nuthouse, a romantic interest who just lost her husband, fucked every guy at her work, and who is ALSO crazy, and the two enter a dance competition together, of all things. It's just so bizarre. But it also works! — Was interesting to see that the big change from the draft I read was the betting stuff with the dad. That wasn't in the script. My guess is that with Robert De Niro playing the father, they needed to beef up his role. Hence the change. It's a great screenwriting lesson actually. Write every character as if you're trying to snag a big actor. You'll find yourself looking for unique interesting things to do with the character you never would've thought of had you been writing somebody "normal." This is easily the best date movie of the year.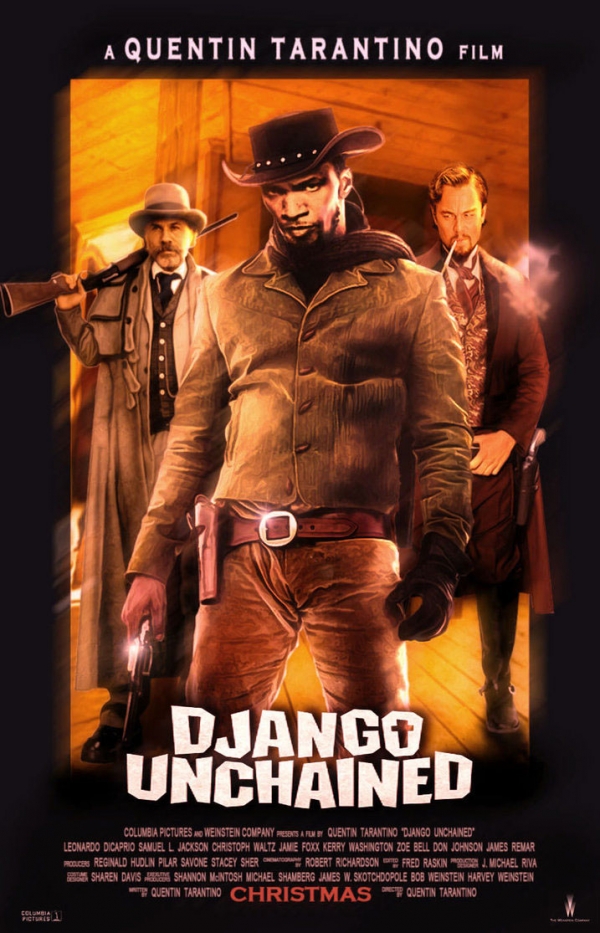 2) Django Unchained – It's funny walking into a film and knowing you're going to love it.  I mean this script was PHE-NOM-E-NAL.  But then how is Django Unchained only number 2 on my list?  Wasn't this a Gangbusters shoe-in for number 1?  Well, here's the thing.  I'm not a huge Jaime Foxx fan, and I'm kinda surprised Quentin cast him. I thought he was going to pull a Pulp Fiction or Inglorious Basterds and pluck somebody out of obscurity we'd never heard of, or at least someone we hadn't heard of for a long time. Foxx was the safest casting choice Tarantino's made in a major role in his entire career. I was hoping I'd be wrong and Foxx would nail it, but I'm not sure he did.  He was good, just not great.  But outside of that, I thought DiCaprio was awesome. I love Waltz in anything, and he was great here. I loved Sam Jackson, who was a perfect villain. And all the scenes played out just as amazingly as they did on the page. Oh, and let's not forget the only part of Tarantino's scripts you don't get in the script – the soundtrack! Once again, Tarantino proves he's a master in this area. This is one of the only films I saw this year that I'll be seeing again. Awesome stuff!
1) Life Of Pi – They say the movies that leave the biggest impression on you are the ones that burrow deep down inside your soul and challenge you to face things you're either afraid of or never considered before. I'm not the most religious person in the world, but faith and religion do fascinate me. (spoiler) Life Of Pi finishes with an amazing question: "Which story do you believe?" I don't want to spoil it by going any deeper than that, because the twist ending is what sets this film apart, but it's a cool challenge the movie sets forth.  The main character says he has a story that'll make you believe in God. And Ang Lee did a pitch-perfect job of bringing that story to life.  I thought this book was un-adaptable. And he found a way to make it even better! This is the only movie I've seen since Avatar that I'd recommend seeing in 3-D. There are these amazing shots both under and above water that have you double-checking your glasses to see if you're really in the theater. The sinking ship with our main character treading water while watching hopelessly in the foreground has to be the best shot I saw in 2012. The acting from Old Pi is phenomenal. You want to talk about deserving an Oscar – Irrfan Khan puts everybody this year to shame.  Even the kid who played Pi, who I was the most worried about, did great. This is a visual masterpiece with a heartwrenching friendship between a boy and a tiger with an ending that'll make you question everything you know.  The best film of 2012 for me!
Get down with the requisite Prometheus bashing, then tell me what your  favorite movies of the year were!  And stay tuned for Friday as I unleash my top 10 favorite amateur scripts of the year!