Genre: TV Pilot – Cop Procedural
Premise: (from IMDB) The lives of two detectives, Rust Cohle and Martin Hart, become entangled during a 17-year hunt for a serial killer in Louisiana.
About: This was a huge spec pilot that went out that a lot of networks were bidding for, with HBO finally winning. It stars Matthew McConaughey and Woody Harrelson and will premier this Sunday. Creator Nic Pizzolatto is an award-winning novelist and short-story writer. He's an author of the novel 'Galveston.' Originally from Louisiana, he taught literature at several universities, including the University of Chicago, before going into screenwriting in 2010. His only other credits are writing a couple of episodes for, what sounds like, the exact same show, in Fox's "The Killing."
Writer: Nic Pizzolatto
Details: 52 pages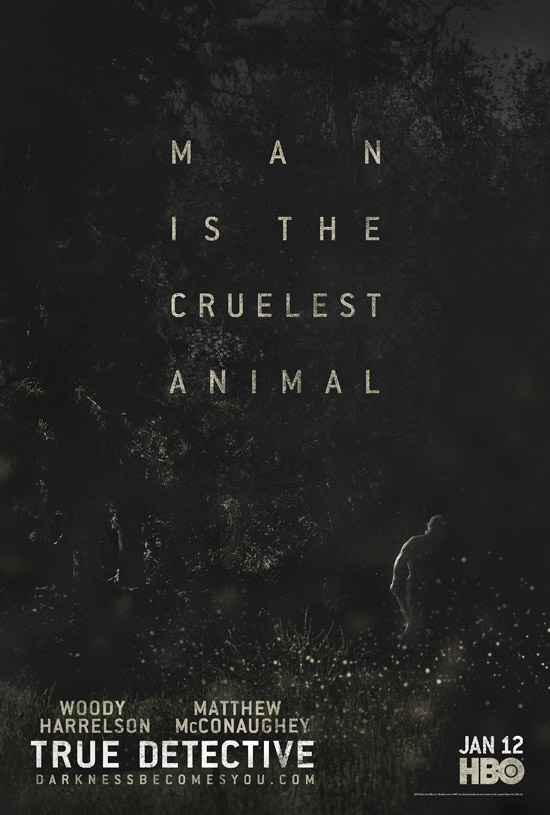 I remember when this show first sold. There was a TON of talk about it, the kind of talk usually reserved for some super high-concept spec sale or a new Christopher Nolan movie. I read through the description of the show several times, trying to figure out what the big deal was, but as far as I could tell, it was just another procedural.
I guess it did have Matthew McConaughey and Woody Harrelson involved, two established film stars, and since you don't usually see that in a TV show, it was worth noting. But I was still trying to figure out why the trade sites were going batshit over this thing. I felt like I was missing something. Uhhhh, so it's a procedural about detectives trying to catch a killer? Haven't we, um, seen that before? Well, with the script in hand, it was time to find out what all the fuss was about!
True Detective begins oddly. Former Detective Martin Hart, 56, is being interviewed about a couple of things, his relationship with his old partner, Rustin Cohle, and an old case he was involved in 20 years ago, where a young woman was killed and posed as an angel.
Most of that discussion, strangely enough, centers on Cohle, who appears to be a weirdo to the tenth degree. There are some people on this planet who don't believe in God. Cohle is the thousand times multiple of that person. He buys and reads dozens of books to help define his belief, how we're all a bunch of meaningless nobodies floating inside a meaningless construct of time and space. Your typical upbeat stuff!
Anyway, we're soon interviewing Cohle as well, getting his thoughts on that old case with the dead woman posed as an angel, but more so Hart and Hart's thoughts about him. An inordinate amount of time in True Detective is spent on Hart's thoughts on Cohle, and Cohle's thoughts on Hart's thoughts on Cohle. Sounds exciting right? Well it isn't!
While we do eventually begin talking about the most interesting part of the story, the dead girl posed like an angel, the description of her and what they think happened to her is actually quite brief. Instead, the writer decides to make the centerpiece of True Detective a visit Cohle made to Hart's house for a family dinner. Cohle doesn't like being around people, so he gets wasted beforehand. We assume this is probably some insight into a huge drinking problem Cohle has or the beginning of some major event that caused a fracture in their friendship, but it's neither. He just comes over. He's drunk. And he talks to Hart's wife and kids. Wow, way to build up something that goes absolutely nowhere!
In actuality, this entire pilot, where nothing happens, is a setup for one line, the final line, the only line in the script that actually gets you excited. Unfortunately, BECAUSE it's the last line, it gets you excited for an episode to come, not the episode you just watched, where you feel beyond gypped that you just spent an hour of your life watching/reading. (Spoiler) That line is when Rustin Cohle says to the guys interviewing him: "It's started again, hasn't it? The killing. Him. And how can that be possible, when we got the bastard in 2000?"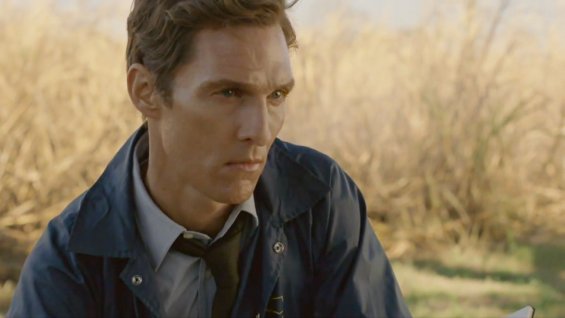 So how is it that a script/show like this can get so much heat, and land on such a quality network like HBO, when its pilot is so subpar? GREAT QUESTION! I'm trying to figure that out myself. But I'd like to venture a guess. Cohle is an interesting character. I mean, I wasn't interested by him. His bleak depressing persona actually kinda put me off. But his whole extreme philosophy about how life is meaningless along with the crazy attention to detail he has for investigating murders – I can see an actor wanting to play that role. And in writing, that's really what we're trying to do. We're trying to create characters so compelling that actors can't NOT want to play them. That's exactly what happened, with suddenly hot Matthew McConaughey coming on. He legitimized the project, which gets a known actor wanting to play opposite him (Harrelson), and all of a sudden everyone's saying this pilot is genius, when in reality, it's simply a well-known actor wanting to play a challenging role. If I were the head of HBO and someone came to me with a shitty pilot that Matthew McConaghey was attached to, I'd probably buy it too.
And I hate to use that word – shitty – but come on. The majority of True Detective is people talking about each other! That's never ever interesting. I think the biggest faux pas the script commits is that it masquerades as something deep, when in reality there's zero depth. The writing is dense, with thorough descriptions of characters and events (such as the way the dead angel body is posed), giving the illusion that we're dealing with something profound here. But it's all a magic act. Description is boring. Remembering old times or people when they were younger is boring. If your story is devoid of conflict or drama, then you don't have a story. And there is ZERO conflict/drama in True Detective.
The only real thing the script has going for it is the unanswered question of "why the fuck are we interviewing these guys?" I admit, that was the only thing I was looking forward to – the answer to that question. But not because the story did a good job making me want to know. Because I was dying to find some kind of point to what I was reading!
If this had showed up in my Inbox for an Amateur Friday slot, I would've been positive it was from a beginner. It takes good writers ONE SCENE to set up who their characters are. Not 20 pages! And the whole dead angel girl isn't even original. It feels like every other setup for a serial killer. So I guess I'm not surprised that Pizzolatto is fairly new to screenwriting. I mean maybe he goes into actually telling stories in future episodes. But this episode was one big boring setup where nothing happens.
[x] what the hell did I just read?
[ ] wasn't for me
[ ] worth the read
[ ] impressive
[ ] genius
What I learned: As David Mamet has often said, one of the most boring things you can write is a character talking about another character. There is nothing inherently interesting about it. Since this entire pilot is based around people talking about other people, it's pretty easy to see why it doesn't work.