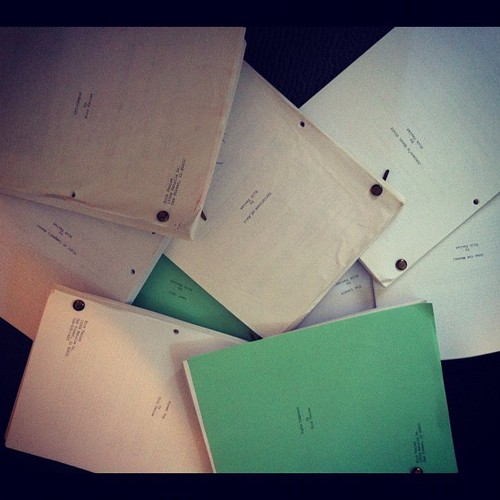 I know you're all wondering about the Scriptshadow 250. I've already started e-mailing the top 250. I'm going to be doing that ALL DAY. Since I'm also going to the movies, I may be e-mailing some people deep DEEP into the night. But if you haven't received an e-mail by midnight Sunday (Pacific Time), it sadly means you didn't make the cut. Make sure to check your spam and promotions folders just in case. And to help you pass the time so you don't go insane, here are 5 amateur screenplays to check out. Vote for your favorite in the comments. To make it easier on me, place your vote (My Vote = Script Title) at the top of your comment. Thanks. This should be a fun day!!
Title: By Forces Unseen
Genre: Thriller
Logline: A drifter with a secret past finds friendship and love in Portland's animal liberation underground, but the longer she stays, the more she puts everyone at risk.
Why you should read: Our relationships with animals are complicated, if not morally schizophrenic – pet this one, eat that one. Is the Animal Liberation Front made up of heroes willing to risk their freedom to save animals, or are they violent terrorists? Or something else? Regardless, I think these people lead interesting double-lives.
Title: Pinchers
Genre: Comedy, Horror, Sci Fi
Logline: The 100th annual Crab Fest is right around the corner and a small town starts to experience a series of grisly murders that could be the work of a serial killer… or giant crabs.
Why you should read: As a fan of Scriptshadow, I wanted to submit something that was a little more "fun". There's a lot of great scripts that come through the site, but I feel like there aren't a lot that fit into that "Tremors" or "Pirahna" mold. I wanted to submit Pinchers because I wanted to submit something that's meant to be watched on late night cable with beer and pizza. I'm excited to get feedback from a community of writers who may not read these types of scripts that often. After reading your review of "See Something" I thought it would be interesting to get your thoughts on a script like "Pinchers".
Title: La Guerra! (Spanish for War!)
Genre: Action, Comedy
Logline: A couple, who together runs a powerful drug cartel, files for divorce and ignite a turf war when neither party can reach an agreement as to who gets what share of the massive empire they've built.
Why you should read: I'm all about the big idea. The big concept. This script is proof of that. Not too long ago, you had a post asking everyone to talk about the kind of movies that they want to see made. Well, I only write the kind of movies that I want to see. This being one of them. I believe this has the potential to be one of those fun, summer tentpole movies. But is it any good? I'll let you decide…
Title: Born to Die
Genre: Horror-Thriller
Logline: A career con-man with a terminal illness gets a last chance at survival and redemption when the CIA tap him to help locate an old associate thought to be the source of a zombie pandemic.
Why you should read: As for me, I'm a Chicago-based amateur screenwriter focused on features and pilots and like everybody, looking for representation. I'm also looking to learn and improve as much as I can with each script. "Born to Die," is a horror crime-thriller in the vein of "28 Days Later" meets "Zero Dark Thirty." (i.e. Zero Dark Zombie) The zombie genre is well-trodden territory but what my story aims to do is focus on character, spine-tingling thrills, and thoughtful twists to create a unique take on why audiences find these films terrifying and compelling. It blends the horror and crime-thriller genre with the goal of creating an intelligent, thrilling, and terrifying script with a unique voice.
Title: The Only Lemon Tree on Mars
Genre: Science Fiction
Logline: When recent, inter-global events threaten to disrupt the idyllic life on the first Mars Colony, a woman with a secret to hide must do all that she can to prevent neighbors in her small town from taking up arms against each other.
Why you should read: I believe that audiences want to be challenged. Why? Because I go to the movies a lot and I like to be challenged. So, it stands to reason that when writing I choose topics that are challenging with characters who are flawed but relatable. This is what led me to write "The Only Lemon Tree on Mars." Like all good sci-fi there's an allegory about today buried in there; specifically the modern political process. And although there are a few action beats, it's really a drama about a woman struggling to make the world better despite the machinations of men. Most importantly, she does this by being a woman, and not acting like a man. In this day and age, that's an important distinction.