SCRIPTSHADOW TOURNAMENT CONTEST REMINDER: Remember guys – Your Scriptshadow Tournament scripts are due next Sunday!!! Here are the details if you're interested in submitting. Get cracking on those scripts!
Genre: Comedy
Premise: A corrupt politician recruits an aspiring law school student to help him escape New York before the cops can capture and throw him in prison for life.
About: This script sold to Sony a couple of years ago for three-quarters of a million bucks. Say what you want about Sony's trouble as a studio, but they buy more specs than anyone. That makes them friends to screenwriters everywhere! Writers Matthew Bass and Theodore Bressman are former assistants to comedy titans Seth Rogen and Evan Goldberg. It's said that they've written dozens of drafts of this script, as every few months a new political scandal hits the news that either gives them new ideas or makes their previous version dated.
Writers: Matthew Bass & Theodore B. Bressman
Details: 110 pages (8/30/13 draft)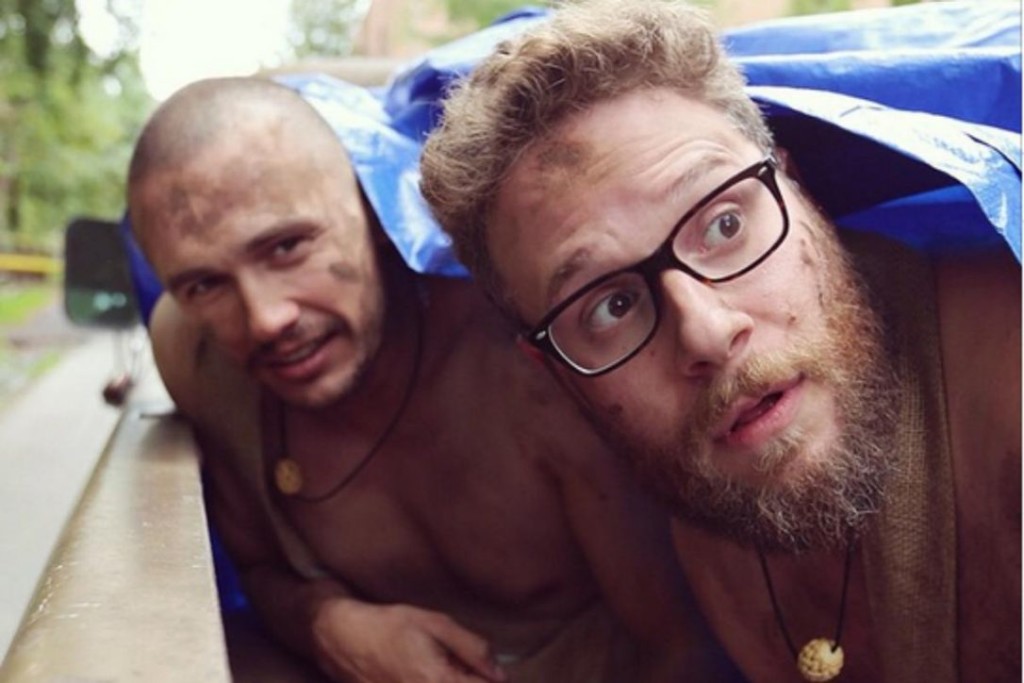 Will Rogen and Franco re-team for The Politician?
So Saturday I popped in the Sundance winning documentary, Weiner, about the infamous politician's attempt to get back in the political game, and found myself mesmerized.
It's a tough watch. You will never feel worse for a human being more than you will for Anthony Weiner's wife after watching this movie. I almost had to stop watching because I felt so bad for her. And yet it's one of those documentaries that you can't look away from.
This jogged my memory about The Politician's sale from a few years ago. So I pulled it out and gave it a read.
Now I advise against writing political comedies. While politics is one of the easiest things to make fun of, it's a sober reminder of real life to most people. And people don't go to the movies to see real life. They go to the movies to escape life. Look no further than Rogen and Goldberg's hit, Sausage Party, as proof.
Political comedies never do well. The best ones are Wag The Dog. Bullworth. Primary Colors. All of which had their fans but were box office duds. Even The Campaign, which had the two biggest comedy stars in the world at the time, couldn't reach the 100 million mark.
So write in this genre if you must. But I have warned you!
The Politician follows Henry Cashin, a low-life governor who cheats on his wife with hookers, uses dirty money to fund his campaign, and can't go five minutes without doing a line of coke.
When Cashin gets caught for all his naughty deeds, he decides to make a run for it. If he can get to the airport, he can fly his private plane to his secret house in the Maldives and do lines of coke on hammock ropes for the rest of his life.
Meanwhile, across town, we meet Joe, a kind-hearted aspiring lawyer who's able to quit his job at the Apple Store when he finds out he's been approved for a full ride at the New York City School of Law. This is much needed since his fiancé is the daughter of one of the biggest judges in the city. In Joe's eyes, this makes him a legitimate contender to be a part of the family.
Unfortunately, when he gets to the school, they tell him that the man responsible for approving these city scholarships, Henry Cashin, did so through corrupt means, and that since Henry is now a criminal, they can't offer Joe the scholarship.
Joe storm out, and by serendipitous fate (or lazy plotting) Henry rear ends Joe while on the run. Henry jumps in Joe's car and tells him he'll fund his law school if Joe will help him get to the airport. Joe reluctantly agrees, and is now abetting the most wanted man in the country.
In addition to the cops, we have by-the-books FBI officer, Jefferies, teaming up with fuck-the-books Federal Marshal, Gardini. They hate each other's guts. And there's also professional hitman Axel Wallace, who's been hired by corrupt real estate developer, Sam Shankrow, to assassinate Henry before he's able to reveal just how corrupt Shankrow is.
This shit show stumbles and bumbles its way around Manhattan leaving so much collateral damage, it'll be a miracle if the city is still standing by the end of the day. You get the sense, though, that if there's anybody who can survive this mayhem, it's Henry freaking Cashin.
The Politician has a nice approach to it. Give us a scorched-earth be-as-politically-incorrect-as-possible comedy, leaving no fearless joke unturned. If it had had a little more variety, I may have been on board with this. But The Politician's biggest weakness is its over-reliance on a single joke.
Henry Cashin's coke obsession is funny the first few times. I even laughed the tenth time it came up. But once the joke hits the 50 counter and we're not even at the halfway point? It starts to seem like you don't have any other jokes in the joke shed.
Recurring jokes are an essential part of feature-length comedy. But at a certain point, you have to give us some variety, man! I don't think Cheech and Chong mention pot in all of their movies combined more than this movie mentions coke in its first act alone.
So that bothered me because there's a couple types of comedy out there. There's blunt force comedy where you keep hitting them over the head with the same shit. And then there's clever comedy, where there's an attempt to be thoughtful with your jokes.
I'll give you the one clever example I saw in The Politician. Corrupt real estate developer Sam Shankrow hires hitman Axel Wallace to kill Henry. Having never done this before, Shankrow is terrified that his phone calls will incriminate him if discovered.
So he uses an analogy, calling for Axel to "deliver the pizza." The problem is, the analogy is so bad, neither of them are that sure what they're saying to each other. Does "delivering the pizza" mean that Alex has killed the man? Does it mean he's just now getting to Henry's location?
It gets even better when Henry escapes Axel and Axel must relay the information to Shankrow. Shankrow responds, "So you're telling me you're just sitting there with a cold pizza?!" Axel rolls his eyes. "Pizza's still warm. I just gotta drop it off at a different location. And I have a good idea of where that is." "So you have the pizza?" "No! I don't know! Fuck."
Whether you think that's funny or not, do you see how there's an attempt to actually be clever? There's some thought that went into the joke there. There's not a lot of thought that goes into having Henry do a line of coke every page.
This percentage breakdown is reflective of the rest of the script. 80% is over-the-top "MORE COKE!" type humor while 20% is clever thoughtful humor. And that leads me to today's big piece of advice.
This past week, I've read a lot of amateur scripts that are making a huge mistake. They aren't giving the reader a single "I haven't seen this before" element in their script. If there's nothing new about your screenplay, why would somebody buy it?
What does The Politician offer us that we haven't seen before? Running around New York? Acting crazy for laughs? We've seen that, haven't we? I'll tell you what we haven't seen before – animated sausages. That's something that nobody's ever seen before.
Now you may say, "Well, this script sold, Carson." Or "Taken wasn't unique and it sold." And you're right. But you shouldn't be trying to compete with bland ideas that managed to sell for reasons that may have nothing to do with the quality of the script.
As a spec writer, your job is to STAND OUT. I want you to say that out loud. "As a spec writer, my job is to STAND OUT." Because you're nobody right now. You're not Seth Rogen and Evan Goldberg's assistant hearing what kind of movies they'd love to make every day. So you need to stand out in some way. And the only way you're going to do that is with a major UNIQUE element that nobody's seen before.
Nobody saw cars transforming into robots in movies before Transformers.
Nobody saw a buddy cop movie where the cops took down aliens before Men in Black.
Nobody saw a Godzilla-like destruction movie told from the point of view of a video camera before Cloverfield.
Nobody saw magicians pulling off heists before Now You See Me.
Nobody saw a single man stranded on Mars before The Martian.
Nobody saw a buddy comedy between a man and his talking teddy bear before Ted.
Nobody saw a dream heist movie before Inception.
If you don't have a big "unique attractor" in your script, you will have trouble convincing anyone to read it, much less buy it. I'm not saying it's impossible. But a) the pool of people willing to read it will go down one hundred-fold and b) the level of execution will need to rise one hundred-fold. Do the math on what that does to your chances.
[ ] What the hell did I just read?
[x] wasn't for me
[ ] worth the read
[ ] impressive
[ ] genius
What I learned: So how big does the "UNIQUE ATTRACTOR" I referred to have to be to get people interested? Unfortunately that question is as hard to answer as "What makes an idea high concept?" But I can tell you this: The bigger and more involved your unique attractor is, the better off you'll be. For example, a vacation island with real-life dinosaurs that goes bad would be a more attractive idea than "Taken on an airplane." And if your unique attractor is something like, "Well, nobody's ever seen a female main character as smart as mine before," then it's time to pack your bags and go back to the drawing board cause that's not unique at all. This is a question all of you should be asking yourselves before every script you write. "What do I have in my movie that nobody's ever seen before?" If your answer is some tiny insignificant thing, you're in trouble.