Get Your Script Reviewed On Scriptshadow!: To submit your script for an Amateur Review, send in a PDF of your script, along with the title, genre, logline, and finally, something interesting about yourself and/or your script that you'd like us to post along with the script if reviewed. Use my submission address please: Carsonreeves3@gmail.com. Remember that your script will be posted. If you're nervous about the effects of a bad review, feel free to use an alias name and/or title. It's a good idea to resubmit every couple of weeks so your submission stays near the top.
Genre: Thriller
Premise (from writer): A brainwashed young woman, conditioned to track and kill the remaining members of her parents' cult, must outwit a relentless small-town Sheriff and regain her true memories before she kills her next target – the man she loves.
Why You Should Read (from writer): I submitted my last script, The Dark Parade, to Amateur Friday almost a year ago to the day. Whilst I had some great feedback and insight from the SS community (and the script got a few manager reads) – no one was gonna would splash down $150m on a VFX-heavy vampire spec from an unknown writer.
Writer: Paul Friend
Details: 101 pages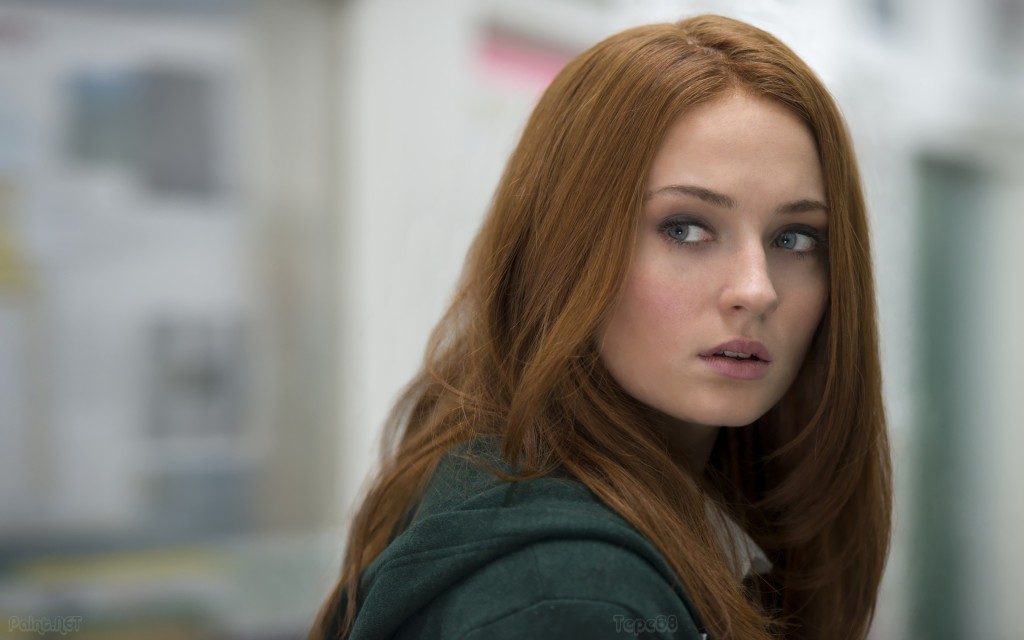 Up-and-comer Sophie Turner for Ellie?
The voting for last week's amateur offerings was once again close, which left it up to me to decide which script got reviewed. The leading contenders appeared to be "To Dust" and "Vickie." So how does one decide on which script to read? A good old fashioned First Page Showdown!
When all else is equal, let the first page tell you which script to devour. So what led me to choose "To Dust?" First, the writing was leaner. Short to-the-point paragraphs. On the first page of Vickie are two five-line paragraphs. That tells me this is going to be a bulky read.
Next, there are two separate underlined sentences on Vickie's opening page. Underlining is clunky and, for the most part, distracting, and two separate incidences of it on the first page imply there's a lot more to come.
But the thing that really did it in for me was the flashback 16 lines into the story. If we're flashing back on line 16, why not just start the story in a flashback? It seems weird to take us through 20 seconds of the present to then flash back – unless there's a notable piece of action that implies the flashback is organic and necessary. But that wasn't the case here. All that's happening before the flashback is that our main character is in a room.
These may seem like minor nitpicks but the first few pages are always the most heavily-scrutinized pages of a script. You've heard how readers are looking for any reason to say no. But this goes beyond readers. NOBODY has patience for something they're not enjoying or that they don't trust. So you need to ROPE THEM IN from the first page, the first paragraph, the first word and you do that by keeping things compelling and easy-to-read.
So, after that whole rant, maybe it's time we review a script today, yeah? Let's do it!
Ellie's a little weird. But don't be Judger McJudgems. You'd be weird too if you grew up in a cult and, at age 6, the police raided your compound, took you away from your parents, threw some pills at you, and wished you good luck in the real world.
21 now, Ellie's life is complicated by the memories of debauchery and horror she experienced as a cult child. As much as she wants to be normal, those memories refuse to leave her, and this twisted view of the world manifests itself in her sexual desires. Ellie spends her evenings seeking out sexual targets. It doesn't matter who they are – men, women, couples – as long as she can drink, forget, and fuck, she's happy.
That's until she goes home with a doctor and wakes up to find him stabbed to death. She could, of course, pull the denial card here. The problem is, she taped herself doing it on her phone!  Siri, how do you dispose of a body?  So Ellie gets the hellie out of that house, just before the police show up and start looking into what happened.
In the meantime, Ellie's surprisingly well-adjusted older sister, Tilda, who was also part of the cult, tries to get Ellie's priorities in order. And it looks like Ellie's about to do just that when she officially meets her long-time crush, Greg. But it turns out Ellie's midnight killer instinct wasn't a one time deal. Siri, what is that liquid they use to dissolve people in bathtubs? This leaves Ellie, who clings to her sanity, to try and find out why she's doing this and why she can't seem to remember it.  The answer, as you might expect, is going to shock us all.
To Dust is a pretty solid script. It achieved the most important thing a script is after, which is making me want to read til the end. I was definitely curious about if Ellie was killing these people. And if she wasn't, who was? I also enjoyed becoming familiar with the term "frog-marched," which I suspect may be Paul's favorite word.
Now since we were talking about second acts yesterday, and specifically inter-character conflict, I should point out that Paul did a good job of that here. Ellie and her sister, Tilda, had an unresolved conflict in that Tilda was the grown up one paying for everything and cleaning up all the messes, while Ellie was the one who did whatever she wanted and refused to accept the consequences. Those clashing philosophies allowed Paul to write some nice scenes between the two in the second act.
The problem is, Paul is playing with fire here. Which everybody knows leads to ashes. Which everybody knows leads to dust. Whenever you're writing the "murky" thriller, where everyone's motivations are shrouded in mystery and nothing is as it seems, the script can easily become frustrating, as the reader often feels like they're working hard and not getting rewarded for it. How many times is it okay to show Ellie do something horrible followed by her looking confused and scared? Sooner or later, the reader wants to know what the f&%$ is happening.
Indeed, the big problem here for me was repetition. Once we got to the midway point, I felt like the script wasn't evolving. It wasn't giving me anything new. So while the writing was still solid, I was losing interest.
Part of the problem may have been that Ellie plays a reactive (borderline passive) role in the story. She does something bad and then just hopes that they don't catch her. For all the confusion we see her go through, she never actively does much about it.
I wanted to see her be more proactive at some point. And we get a little of that, like when her and Greg go to her old home. But with this being one giant mystery, you probably want your main character to be active in solving it.
The whole way through this, "To Dust" was hanging onto a "Worth the read." Fingernails were scraping, and there was a lot of looking back to see how big the drop was, but I knew it was going to hinge on the ending. When you play "everything's a mystery" until the very last scene, then your last scene better be fucking jaw-dropping.
To Dust didn't have a bad ending. But it was kind of predictable and not as earth-shattering as I would've hoped. Also I wasn't even 100% clear on what happened (Were her sister and the Sheriff working together? Why did they want Ellie to kill people again? What did that accomplish? I'm not sure I ever got an explanation there).
So this one didn't quite make it to the finish line for me. But there's still some really good writing on display here. This is the kind of script you read and say, "Okay, his next one might be the one that breaks him in." But you got to pick the right concept. I've seen a lot of writers who I thought were ready to take the leap with their next script cripple themselves with lousy concepts. Maybe we can help Paul find a great idea because he's a writer who should be working soon.
Screenplay link: To Dust
[ ] what the hell did I just read?
[x] wasn't for me
[ ] worth the read
[ ] impressive
[ ] genius
What I learned: This lesson is a reaction to "Vickie." "Clean eating" is all the rage these days. Well let's apply that rage to screenwriting!!! Try to keep your script-writing as clean as possible. Underlined words, long paragraphs, clunky punctuation (lots of ellipses) – they all have their uses. But they should be used as little as possible. Try to have just words on your screen if you can. Think about it. What's an easier sentence to read?
The ninja warriors dash across the lawn and LEAP onto the roof with trained precision.
The NINJA WARRIORS dash like TIGERS… FWOOSH! They're in the air now… MOON-light glinting against THEIR swords… … … THEY LAND on the roof without a sound…–!
Keep your sentences naked of excess so they're clean and easy to move the eyes through.