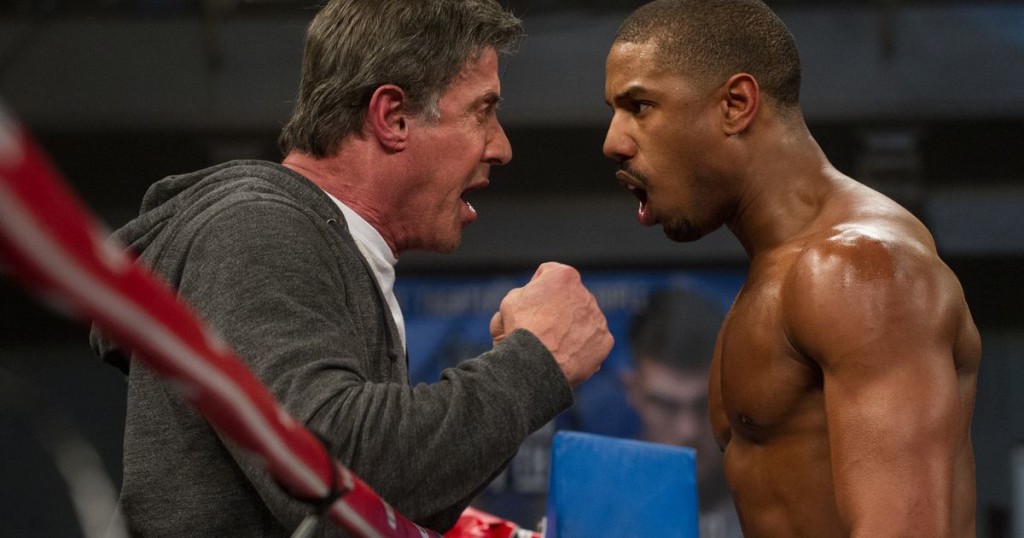 Guys, I'm too wrapped up in Thanksgiving duties to get anything up these next few days (fully expect to hear some jokes off of that unintentional phrasing). So I'll leave you with some things to discuss, starting with Max Landis's baffling decision to keep badmouthing his peers. Landis took to his favorite delivery device, Twitter, to tell the world that The Revenant (my old script review here) sucked, making fun of DiCaprio, Hardy, and Inarritu in the process. Is there anyone out there as confused by this as I am? I think Landis is operating on this belief that he's "keeping it real." And I suppose he is to a certain degree. But it's a bad look when you're attacking three of the most talented people in the industry while you're putting out rotten turkeys like American Ultra and Victor Frankenstein. It's kind of like the bat boy for the Seattle Mariners telling Derek Jeter his swing sucks. Wait til you get a jersey with your name on it before you start taking on the big boys.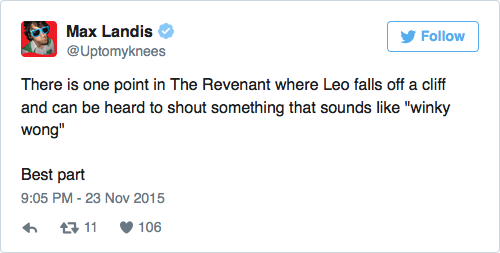 There's a subplot to all this. After Landis's American Ultra bombed, he went on a Twitter rant (man, this guy likes Twitter) about how his movie failed because the public only wants to see established properties and IP. They refuse to take a chance on something new. So the fact that he's now writing about one of the most famous characters of the last 100 years, Frankenstein, should warrant an interesting reaction if the movie doesn't do well, especially in the wake of the movie he's blasting, which is about as original as a Hollywood film gets.
Moving on, Thanksgiving is usually one of the better moviegoing weeks, as studios try to capitalize on families being in that holiday group-activity spirit. But I can't say I'm too excited about this week's offerings. Pixar's The Good Dinosaur looks to be aimed directly at the Kids Aged 2-4 demographic. And The Danish Girl seems to be less about telling a story and more about winning an Oscar for its lead. The wild card is Creed, with Fruitvale Station director, Ryan Coogler, coming back to direct his star, Michael B. Jordan, again in this Rocky 6.5 vehicle. Deadline had a nice interview about Coogler pitching Stallone on himself as director before he'd even made a film (he would direct Fruitvale later). One of the best things about the interview was Coogler realizing, while shooting, that a key punch in one of the fight scenes didn't look real enough and the dilemma posed by getting Jordan to take a real punch despite not legally being able to tell him to do so. In today's Concussion-obsessed world, that turned out to be a risky ass move.
I have a couple of issues with this one though, despite the trailers looking solid. First, Rocky Balboa (or "Rocky 6″) was way overrated. Stallone tried to make it out to be him "correcting his wrong" with Rocky 5, and making something grittier and more in tune with the original film. That's great. But why the hell would your main fight be an exhibition match?????? One of the first things we're taught in screenwriting is STAKES. The stakes need to be high for the audience to care. And the climax? The big fight? It has to have the biggest stakes of them all. So why should we care about a freaking exhibition bout? Huge screenwriting fuck-up there. They needed to figure that out before going in front of the camera.
The second issue is that, from the trailers at least, Creed is propped up on a shaky foundation. Jordan plays Adonis Johnson, the son of Apollo Creed, who famously fought Rocky Balboa in the first two films (and was killed by Drago in the fourth!). Somehow, Adonis has never met his father. And grew up in an orphanage or something. So let me get this straight. The son of one of the richest boxers in history didn't inherit a single dime from him? I'm guessing he's maybe an illegitimate child then? Hmmm, I'm smelling a fish. Clearly, they know this series works best with an underdog hero. And the entitled son of one of the best boxers in the world isn't underdog in any sense of the word. This forced them to pull out all the stops to turn someone who would obviously be famous to someone who was unknown, hence the "foster child" angle. Whenever I feel those screenwriting gears straining underneath the page – especially when it's to keep a franchise alive – I get skeptical.
But hey, I hope I'm wrong. Unlike Landis's Victor Frankenstein, which is coming in at 13% on Rotten Tomatoes, Creed is trending at 93%, a full 80 points higher.
So, I send the question out to you now. What do you think of all this? And what are you going to watch this weekend (doesn't have to be anything I've mentioned)? Just a warning: I will automatically delete anyone who answers, "Jessica Jones." (that's a joke btw – though I will be watching you – oh yes, I will)
Oh, and if all of that bores you, tell me what you think of the new Captain America trailer! Tony's maaaaa-aaad…