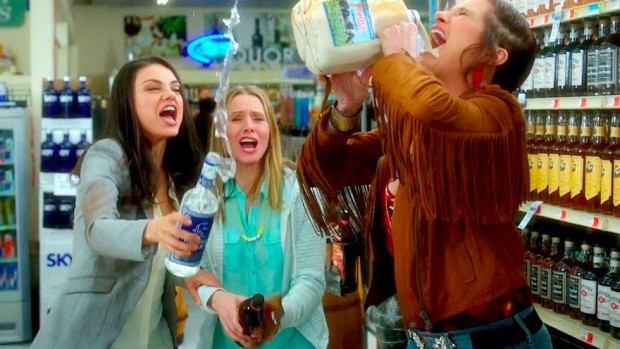 Summer's just about wrapped up, and boy what a disaster it has been! Unless your name is Ellen, you came out of this box office bloodbath in search of your limbs, many of which were chopped off before the Saturday matinee receipts were counted.
But as bad as Hollywood has been in predicting what the public wanted in 2016, I was surprised to count twelve – that's right, an ENTIRE DOZEN – original ideas in the top 50 films of the year so far. That's, like, 20%! Now, if you're wondering about pure spec scripts, that's where things get a little depressing. There were only seven pure spec scripts.
But that's okay. Oscar season will add a few more to that list (legendary spec script, "Passengers," is sure to lap the competition). And today isn't about depressing statistics. It's about understanding what original material gets picked up by the studios so you know what to focus on.
Most writers get this bullshit touchy-feely advice of, "Just write whatever you want. As long as it's good, people will buy it." That's not true. If you write about the first group of Navajo Indians to join the American school system, your script will not have to be "good" to get noticed. It will have to be SPEC-FUCKING-TACULAR.
This is a CONCEPT and GENRE driven business. So, let's check out which original scripts made the top 50, and, therefore, what Hollywood will be seeking from you moving forward.
Title: Central Intelligence. (TRUE SPEC)
Genre: Buddy Comedy
Box office rank: 13
Box office take: 127 million
Thoughts: The buddy comedy is a tried and true formula that Hollywood will always come back to. Most writers think of it as bottom of the barrel dreck, but I think there's a lot of ways to reinvent this genre that writers aren't taking advantage of. Write a good buddy comedy with a fresh take and I guarantee you someone will buy it.
Title: Bad Moms (TRUE SPEC)
Genre: Comedy
Box office rank: 18
Box office take: 87 million
Thoughts: Bad Moms has thrown a wrench into Hollywood's female-driven comedy agenda. With Ghostbusters and The Boss bombing, it looked like this trend was over. But then Bad Moms surprises everyone with a strong showing and now they're like, "Should we? Shouldn't we?" I'd say that if you're working on a female driven comedy spec, you're still in business. But the next one of these that bombs, it could put the kibosh on the trend.
Title: 10 Cloverfield Lane (TRUE SPEC)
Genre: Horror/Sci-fi
Box office rank: 24
Box office take: 72 million
Thoughts: I know, I know. This is a franchise! But technically, it wasn't when it was bought. It was a normal spec about people trapped in an underground bunker that was later turned into a Cloverfield film. This is great news for spec writers – that you can write something that may be used in an existing franchise. The contained horror spec will always be a smart choice as young and hungry production companies are all fighting for these cheap-to-produce films.
Title: Sausage Party
Genre: Comedy/Animation
Box office rank: 25
Box office take: 69 (and rising)
Thoughts: Sausage Party is as big of an outlier as there is. There are no comps for this film. I'm actually shocked that a studio funded this. Before you say, "They do anything Seth Rogen wants." That's not exactly true. They just cancelled "The Something," the Seth Rogen project I reviewed awhile back about a group of guys in space who meet a ship full of women. It's not like studios just greenlight whatever the hell these guys want. Still, I'm not sure if there are any lessons to learn from Sausage Party outside of, "If it's funny, someone will buy it."
Title: Lights Out
Genre: Horror
Box office rank: 28
Box office take: 64 million
Thoughts: A little shout-out to my buddies at Grey Matter here. They took this film, which cost nothing (like barely any money), and made a ton of dough off of it. This was based on a short film that the director made, which kind of makes it an adaptation, but not really. This is actually a great way for a spec screenwriter to promote his stuff – make a short movie and go viral with it!
Title: The Boss
Genre: Comedy
Box office rank: 29
Box office take: 63 million
Thoughts: I'll try to say this nicely. This feels like an idea that a husband and wife would come up with – the kind of thing an agent would tell a newbie screenwriter, "Ehh, it doesn't quite work." But nobody can say no to Melissa McCarthy these days, so her and her director husband get to make The Boss. Despite this being in the top 10 for original ideas, it was deemed a huge disappointment, grossing half of what they had hoped. Maybe this means no more Melissa and hubby team-ups (hopefully).
Title: The Shallows (TRUE SPEC)
Genre: Thriller
Box office rank: 36
Box office take: 54 million
Thoughts: Easily the sharpest concept of the bunch. I've had my issues with Jaswinski's writing, but he tuned into the public conscious here. This is 1-character show that starred one of the more boring actresses in Hollywood and it still killed at the box office. If there's a spec success story that promotes the power of a good concept is, this is it.
Title: How to be Single (EDIT – SORRY, THIS IS BASED ON A BOOK)
Genre: Romantic Comedy
Box office rank: 42
Box office take: 46 million
Thoughts: I tried to watch this and it was simply the WORST first ten minutes of a movie I saw all year. I have no idea how anyone read this and thought it was worth making. I guess we can chalk it up to the female-driven comedy phase.
Title: Money Monster (TRUE SPEC)
Genre: Thriller
Box office rank: 45
Box office take: 41 million
Thoughts: This feels like an idea that a bunch of old people would come up with, so it's not surprising it was directed by and starred a bunch of old people. My issue is that they thought it was a clever idea and it was so not a clever idea. It was, quite frankly, a bad idea. So how did it get made? A good role. George Clooney got to do a bunch of things he'd normally not be able to do. This is why it's always a good idea to have a really big character somewhere in your script. It's the insurance policy that just might get your script turned into a movie, even if your script sucks.
Title: The Nice Guys
Genre: Buddy Comedy
Box office rank: 48
Box office tank: 36
Thoughts: I honestly don't know if this was a hit or not. If it cost 15 million, then it did pretty well. Although you'd think with Ryan Gosling, it would've done better. Here's my take on it. Audiences don't like the 70s. The over-the-top outfits and big mustaches and weird hair – it feels like a different world to them. What movie set in the 70s that's not about war has done well? Like over 50 million? Anything? I would be willing to bet (and this is partly because there's no way to test it), that if they had made a buddy cop movie with Russell Crowe and Ryan Gosling set in the present? That it would've made triple what this made. That's how big of a hit the period setting was on this.
Title: The Boy (TRUE SPEC)
Genre: Horror
Box office rank: 49
Box office take: 35 million
Thoughts: Another low budget contained horror film. I really liked both the script and the film for The Boy. Spooky dolls sell!
Title: Dirty Grandpa (TRUE SPEC)
Genre: Comedy
Box office rank: 50
Box office take: 35 million
Thoughts: One of the saddest moments of my cinema-loving life was watching Robert DeNiro jack off for a cheap laugh. It hurt my soul. With that said, I find that these movies get made because they give older star actors an opportunity to be in a film that's going to be on 4000 screens. That opportunity doesn't come around as often when you're in your 70s.
Not that I have to put a spotlight on it because it's pretty obvious, but in case you weren't paying attention, here are the genres of the top 12 original ideas of 2016 as of August 24th…
Comedy
Comedy
Horror
Comedy
Horror
Comedy
Thriller
Comedy
Thriller
Comedy
Horror
Comedy
Any questions on which genres you should be writing to get Hollywood to notice you?