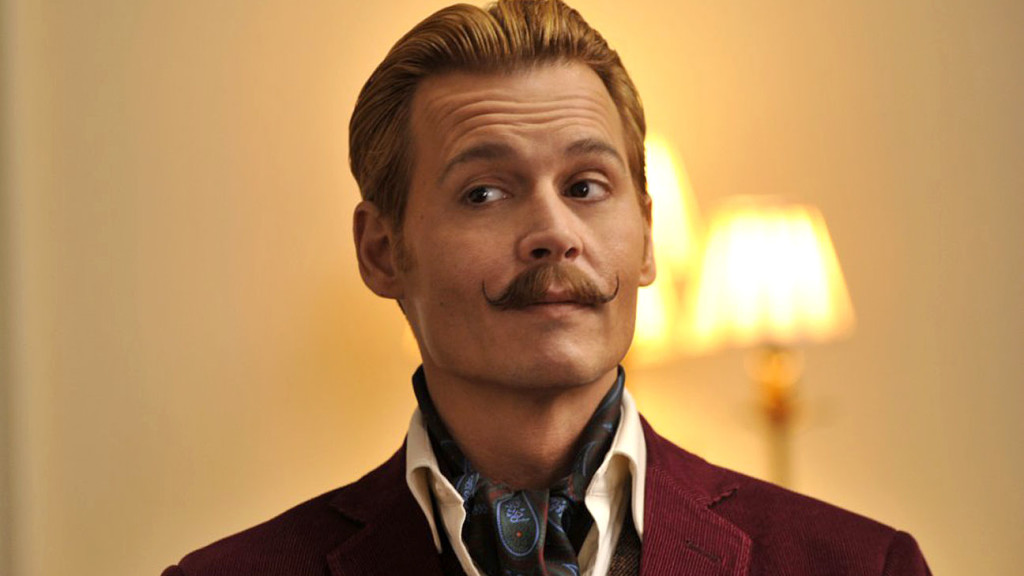 As American Sniper tore up the weekend with another 65 million, two new films were left trying to fight over the scraps. One of these films starred J-Lo. The other, Johnny Depp. Which one do you think won? Ready to be shocked? J-Lo's film, The Boy Next Door (15 million), crushed Depp's film, Mortdecai (4 million). Now I'd previously read both of these scripts and liked them both. But this was a surprise. Depp losing to J-Lo?
Many people are trying to figure out how this happened and nobody's come up with a convincing answer yet. Deadline's saying it's because J-Lo is playing a part that caters directly to her audience while Depp is not. What?? Depp is playing EXACTLY the role his audiences like – a goofy weird character that requires some element of make-up between him and the audience (in this case, a mustache).
Here's the real issue. Comedies are becoming harder and harder to make. Not only are studios frustrated with their weak international box office, but the elements have to be just right. Comedies without a proven commodity in the protagonist role are darn near certain to fail. If you don't have Will Ferrell or Seth Rogen at the center of your film, audiences probably aren't going to show up.
Also, studios prefer grounded comedy concepts as opposed to broad uber-goofy comedies that don't exist in reality. What do I mean by this? Well, a grounded comedy is a comedy like Neighbors or Bridesmaids or The Hangover. These are situations that could happen in real life. So they're GROUNDED. A non-grounded comedy would be the body switching film, The Change-Up, which is based on magic, or White Chicks, where nobody acts even remotely like people in the real world would.
There's also a third lesser-known deviation of the grounded comedy, which I call a "Grounded Tweener" (not to be confused with a "Rounded Weiner"). These are movies that are slightly goofier than regular grounded faire, but can still technically happen. Something like "The Interview." It's a pretty goofy idea to think two crappy entertainment news show producers could take out the leader of North Korea, but there's nothing in the movie that couldn't technically happen in the real world.
While Mortdecai's events could technically happen in the real world, none of the characters in the script act like real people at all. They're all acting in a heightened goofy manner that doesn't exist in reality. It's not that it's impossible to make these films work (The Pink Panther worked), but the tone and the humor and the directing have to be JUST RIGHT or else the whole thing comes crashing down. One look at the trailer confirms that that's exactly what happened here.
Now I'm going to contradict myself later in the week when I review a funny amateur script with an "ungrounded" premise. But that's what I'm trying to tell you. Even if you get it right, producers are still going to be hesitant because they know how difficult it is to transfer broad comedy to the screen. That's not to say the industry will always be this way. The 80s and 90s loved ungrounded comedies and everything in Hollywood is cyclical. But for right now, if you're writing a comedy, you probably want to ground it in some way.
Speaking of comedy, some of you might be laughing at my dismissal of several recent screenplays, which have since gone on to become big box office or critical successes. These scripts would be American Sniper, Birdman, and True Detective. Now there are a few of you (I won't name names) who have used the success of these projects to prove that people like myself – that is to say, people who push a type of script formula – have no idea what they're talking about and that writing a screenplay should be this lawless stream-of-stream-of-concious experiment where rules don't apply.
Here's the problem with that assumption. I like offbeat "non-formulaic" scripts just as much as the next guy. The Imitation Game, Foxcatcher, and Nightcrawler are all scripts I loved when I read them.  I actually love when a writer breaks the rules and makes it work.  Those are the moments when scripts feel the most original.  But I'm not going to lie. The success of those first three projects has baffled me to a certain degree. I thought the American Sniper script was boring, the Birdman script an aimless ESL nightmare, and True Detective was overwritten and "try-hard."
But as I zoomed out, I found that the scripts all had one very positive thing in common. In fact, it was the exact same thing that the other three scripts I mentioned had going for them. Each script had a fascinating central character. Take a look:
The Imitation Game (Alan Turing) – A gay autistic mathematical genius.
Birdman (Riggan) – A Broadway director who's losing his mind.
American Sniper (Chris Kyle) – A national hero whose job it is to be a serial killer.
Nightcrawler (Louis Bloom) – A crazed sociopath who will do anything to get a story.
Foxcatcher (John du Pont) – A mentally unstable recluse.
True Detective (Rust) – A philosophical nihilistic mess of a man.
The lesson here is a simple one. Character first. As much as I love story and despise scripts that don't put any effort into that area, a script can survive most  issues if it has a fascinating key character. In the end, we go to the movies to see people – to see what makes them tick. A story is merely an avenue to provide characters with difficult choices – choices we'll enjoy watching because we're captivated by the person making them. And I'm not saying that every script has to be like one of these – dark heavy pieces with a troubled main character. But whatever story you're telling, it's a good idea to ask yourself, "How can I make my main character stand out?" Cause that's the common thread with all the scripts that break through.
Finally, today, I want to talk about loglines. Quite a few of you signed up for logline assistance after my post on Thursday, and I've noticed that one particular mistake is being made more than any other when it comes to writing loglines. It's something I've talked about before but it continues to be a problem. I call it "logline schizophrenia."
There are essentially two parts to a logline – the setup of the main character and the key element of conflict they'll be engaged in. When both of these elements work together, the logline works. When they don't, you have logline schizophrenia. And usually, when you have logline schizophrenia, you have script schizophrenia. This is why you'll hear people say, "Don't start a script until you get the logline down." They're saying that if you can't make your one-line story summary make sense, what makes you think you can make an entire script make sense? Let's first take a look at the logline for The Imitation Game to see a logline that works.
A mathematician who doesn't work well with others is tasked to join a group of code-crackers in hopes of solving the elusive Enigma Code that Germany used during World War 2.
Okay, so the two elements here are 1) a mathematician who doesn't work well with others, and 2) a group of code-crackers trying to crack Enigma. The mathematician element in the first part connects with the code-cracking aspect in the second part. And a character who "doesn't work well with others" in the first part connects with the joining "a group of code-crackers" in the second part. There is a cohesiveness about this logline. Now you may say to yourself, "Well duh Carson. That's obvious." Well no it isn't. Not if the loglines I get are any indication. I would actually say that 80% of all the loglines sent to me are discarded for this very reason. I'm not going to give you actual loglines because I don't want to embarrass anyone but here are a couple of VERY close approximations to the loglines I receive.
A health-conscious chef has his life turned upside-down when his cousin, who plays a well-known clown for a national TV show, shows up needing a place to stay.
Let's take a look at the two elements. 1) A health-conscious chef – As random as the adjective "health-conscious" may seem, I see this ALL THE TIME. Writers give their protagonists adjectives that are completely irrelevant to the story. 2) His cousin, a clown on a TV show, shows up needing a place to stay – What exactly in the second part of this logline connects with the first? A TV clown and a health-conscious chef? The average person is going to look at this logline and be confused. Let's look at how we might create a more coherent logline from these elements.
A famous TV chef known more for his outrageous personality than his food, gets an unexpected visit from his estranged brother, a stuffy Michelin star chef who despises everything his brother stands for.
Granted this logline isn't perfect, but you can see how the elements actually line up this time around. We have a glitzy chef who prefers style over substance, being forced to live with his chef brother, who demands substance over style. Also, because the elements line up, so does the conflict. We know exactly what these two are going to be at odds about. Whereas in the first logline, we don't see any clear conflict. Why, for instance, is the chef's life turned "upside-down" by his brother showing up? Because he's a clown? The logline doesn't tell us how that would matter. Again, it's too schizophrenic. Let's look at another one.
When a mild-mannered accountant unexpectedly develops the power to manipulate fire, he starts robbing local banks, eventually becoming the most notorious bank robber in history.
Again, the schizophrenic nature of this logline may seem obvious to you ("What does a guy who's developed fire super-powers have to do with robbing banks?") but here's the funny thing I've learned about schizophrenic loglines. It's easy to spot them when they're not yours but tough to spot them when they're your own. Bad ideas often sound good in our heads because they came from our heads. Our brain has connected them because it wants the logline to work. It takes someone else to point out that the two elements don't go together. So what could we do to make this logline work? Well, we'd have to change it pretty drastically.
The world's best bank robbers form an "all-star" team and start robbing banks of billions of dollars, claiming they won't stop until the one-percenters start sharing their wealth.
Again, maybe not the best logline, but one in which we can clearly connect the two halves. At the beginning we're talking about bank robbers and at the end we're talking about robbing banks. Now some of you may be saying, "Well not every movie can be broken down into a logline like that." True. I'm not claiming this is required 100% of the time. But almost all of the cases of mismatched loglines reside in book adaptations, biopics, and real-life scenarios – projects that are usually developed in-house. If you're trying to get the attention of the industry with a spec script, your logline will be your main selling point – and if it sounds clunky or schizophrenic, people probably aren't going to ask you to read it. Keep that in mind when you're writing your next script!