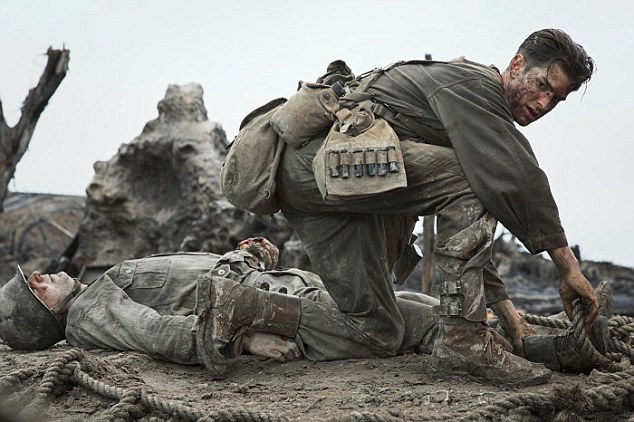 A common theme kept popping up in the last three consultation scripts I've read. A theme so prominent in the screenwriting trade, its primary descriptor sends chills down screenwriters spines. I'm talking, of course, about THE CLICHE.
We've spoken generally about cliches in the past, and how to avoid them. If there's a line or a scene or an idea that you've heard before, it's in your best to interest to go with another choice.
But all that does is put the onus on you to think something up. And thinking stuff up is hard! The reason we come to Scriptshadow is so we don't have to think! So that Carson can give us the answers that make screenwriting easy.
Okay, okay. My apologies. I've been slacking.
So here's a more active way to solve the cliche problem. It came to me while reading a classic movie scenario. Two soldiers on a battlefield. One gets shot and he's not going to make it. This is the final conversation they have before the injured soldier's death.
In the scene, the writer wrote a beautiful interaction between the two characters, whereby they were each able to say the things they'd always wanted to say to one another. Time stopped so that this idealized exchange could continue unimpeded until the very last breath.
Which is the reason it didn't work and felt so cliche.
It was at that moment I had an epiphany about what exactly "cliche" was. Cliche… is the absence of truth. Cliche is the idealized "movie logic" version of a moment. The lighting is perfect. The characters speak in poetic prose. It's a romanticizing of what a real world moment might be.
To avoid cliche, you must turn to truth. And truth is messy. The lighting is never perfect in truth. People never say the perfect thing at the perfect moment in truth. Whatever you pursue in life never happens the way you plan for it to. To avoid cliche, look for the mess. Look for the things you DON'T want to happen. Not the things you do. Look for the things that will make the scene MORE difficult to write, not less. The more you mess things up, the further away from cliche you'll be.
So let's get back to that scene. We're on the battlefield. One of two soldiers has been shot and they're dying quickly. You could make the argument that this scene is doomed from the get-go. You've already created an idealized cliche situation. So it's destined to be bad.
But that's not true. In real life, we do have war. In real life, we do have soldiers who get shot and die in front of other soldiers. So there's truth to mine from this situation. What you want to avoid is playing those last moments out in an idealized fashion. Instead, look for the mess.
And that's not easy. Because unless your name is Ernest Hemingway, chances are you've never been on a battlefield. But that's okay. You're still a writer who's capable of imagining a realistic scenario. So again, I'd ask you, look for the mess.
For example, let's say these two characters do need to say some last words to each other. Let's start by making that difficult. Maybe the Captain is off to the side, screaming to our hero, "LET'S GO LIEUTENANT! WE'RE GETTING PICKED UP IN 20! WE NEED TO LEAVE NOW!" And he doesn't just say this once. He KEEPS yelling it over and over again. This erases any chance for a well-lit smooth uninterrupted final conversation. Already, the dialogue is getting messy. And as we've established, messy is good.
Maybe the hero wants to go for that big heroic moment and carry his friend back to safety. So he gets him under his shoulders, waits for the gunfire to stop, lifts him up and starts to run back for cover, takes two steps, collapses, and crashes back down. He's not strong enough to carry his friend. THAT kind of shit is real life – when you realize just how heavy a man is when you're exhausted and in the middle of a firefight.
Maybe, instead of our dying soldier begging our hero to tell his wife and kids that he loves them more than anything, he tells our hero that he knows of a secret massage parlor down by Lower Wacker and to ask for this woman named Cara, because she'll do anything you want for a hundred bucks. That's the kind of weird messy shit people really say when these once-in-a-lifetime moments happen. They don't speak to each other in pre-rehearsed loving lines that make total sense.
Are you starting to get the picture here? Whenever you find yourself inside a moment that has the potential to be cliche, seek out the truth of the moment. And never forget that truth is messy.