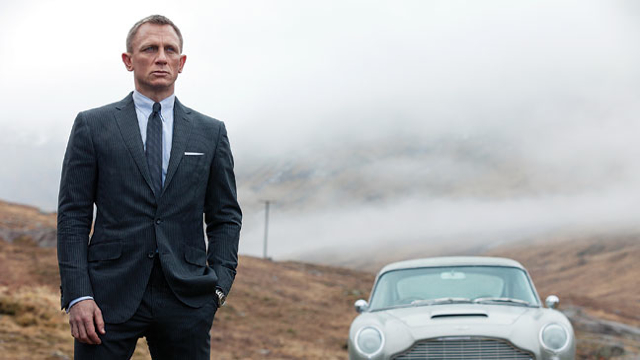 Scriptshadow Challenge: Describe James Bond in the comments section with what you learned today. Upvote the best descriptions!
Let's talk about character descriptions for a minute, shall we?
You ever see that show "Botched," about botched plastic surgeries? They need to make a show about botched character descriptions. Because I see them in nearly every script I read. For whatever reason, character descriptions trip a lot of screenwriters up. Luckily, you've got the guy who's seen it all. Who's read over 7000 screenplays. And he's going to tell you what kind of descriptions work best. So, let's jump into it.
There are four descriptions you'll be working with.
1) Your hero.
2) Main characters.
3) Secondary characters.
4) Bit players.
Your hero gets the all-star treatment and can command anywhere from one to three sentences of description. This isn't just to fully describe your hero. The long description is a visual indicator to your reader that this is the most important character in the script.
Sometimes, for story purposes, you'll need to introduce other characters before your hero. This can lead to confusion, since typically, the reader assumes that the first character introduced is the hero. If you keep those pre-hero descriptions short then give us a big juicy description when your hero arrives, we'll immediately know, "This is our star."
Your main characters (the love interest, the villain) will get one to two full sentences of description. Secondary characters (the weird co-worker, the neighbor) will get one-sentence descriptions. And the bit players (a thug) will usually get a single adjective.
Descriptions are sort of like loglines. You're trying to give us the highlights of that character without getting too specific. And here's the important part. It's more about the ESSENCE of the character, as opposed to the baseline visual facts of the character. I want you to read that sentence again because it's where everybody screws up. Here, I'll give you an example.
TOBY HANSON, late 30s, is tall with brown thinning hair, brown eyes, and glasses.
Everything I just told you there were facts. It doesn't tell you anything about the character. Here's the real description of Toby Hanson, the main character from the script, "Hell or High Water," by Taylor Sheridan.
TOBY HANSON, late 30's, a kind face marked by years of sun and disappointment, rides shotgun. It's not the face of a thief, it is the face of a farmer.
Notice how we barely get any facts here. It's more about the essence of the character, with the key phrase being, "a kind face marked by years of sun and disappointment." Wow, that tells us so much! It tells us that this is a nice man who's had a rough life, all in just 10 words! That's how you pull off a description.
Moving on to main characters, here's a description of Carolyn Burnham from Alan Ball's Oscar-winning screenplay, American Beauty…
CAROLYN BURNHAM tends her rose bushes in front of the Burnham house. A very well-put together woman of forty, she wears color-coordinated gardening togs and has lots of useful and expensive tools.
That main character description is actually a little longer than the description for Sheridan's hero. But that's partly because Ball introduces Carolyn in action, tending her rose bushes. He needs to get through that first sentence before he can fully describe her. And, again, this description is bleeding with essence. She's "a very well-put together woman." She "wears color-coordinated gardening togs," and has lots of "expensive tools." Tell me you don't know this character after reading that description.
Another description trick is to focus on how a character chooses to present himself/herself to tell us more about him/her.
For example, if I tell you that Jake has blond hair, you have no sense of who Jake is. But if I tell you Jake's blond hair is always meticulously combed, never a hair out of place, you have a much better feel for Jake. He obviously cares about how he looks. If I tell you Carl wears jeans and a t-shirt, that tells you little. If I tell you Carl wears "skinny jeans and one of those overpriced vintage rock t-shirts that only celebrities can afford," that tells you a lot more, doesn't it? And all of this falls under the same umbrella. You're trying to convey the ESSENCE of the character. Let's see how we can use what we just learned to describe a secondary character.
LOGAN, 25, sports a boring navy blazer and boring khaki pants, the same outfit he wears every day of the week.
Finally, when you're describing a character with a name but who's only going to be in the script for a few scenes (a bit character), try to find that one adjective or phrase that captures them then move on. We don't want to confuse the reader with some long description, making them think this is going to be some main character, then we don't see them again for 60 pages.
PARKER, 40, always bitter about something, approaches the group.
In the end, screenwriting is still an art form and therefore the way you describe your characters is up to you. The above suggestions are merely guidelines based on reading a ton of scripts and seeing what works best. I'm actually pretty lenient when it comes to description length as long as the description is good. So you can play with the length if you want. But one thing I won't budge on is the essence. A description is meant to convey the essence of a character. Always favor that over a perfect physical description, although preferably, you would do both.
Just to show you that you still have plenty of creative leeway when describing characters, here's a rule-breaking description of Nick Sax from Tuesday's review of "Happy."
NICK SAX is projectile vomiting into a urinal. Oh, what fun!
He steadies himself, wipes his mouth with a sleeve. Look at this guy: 40s. A 6'2" locomotive wreck in a worn out trenchcoat —
He steadies himself in the mirror… this is the face of a man who's lost it all. Skin flaking with eczema; dead-eyed – but with something volcanic smoldering down deep behind them -